Tonk write lighthearted and amusing yet pensive ballads, calling forth time-honoured images of corralled cattle and a life on the open range; their recent debut provides the ideal means to yee one's haw during these surreal days. 
Tonk are a home-grown country band with a welcome personality and sense of humour. The vignettes of sinewy agricultural workers and blue buckaroos that appear on their debut record, Songs to Glorify the Peasant and His Tractor, evoke a sense of isolation and adversity which act as a fitting analogue of life sequestered at home during these long days in lockdown. This project, which was released from isolation back in April, is both compelling and sincere, weaving a vivid tapestry of beer drinking, heavy hardware lifting and cowboys with a predisposition to the blues.
Despite the preconceived notions some may have about country — perhaps predicated on encounters with tasteless, cliché-riddled pop country or "bro-country" — the genre is (and always has been) deceptively diverse. Increasingly, the traditional tenets of country are challenged by alternative and independent artists; those looking to defy boundaries, offering an antidote to the formulaic and commercial sound prevailing in the mainstream, particularly with respect to the heteronormative and culturally conservative status quo. Yet, it is feasible to achieve an innovative or unconventional sound whilst simultaneously honouring the traditional motifs of the genre, as well as the resonant and poetic songwriting upon which it was founded. Tonk strike this balance effectively. The nascent band's balladry is both refreshing in its approach and brazen in its country twang.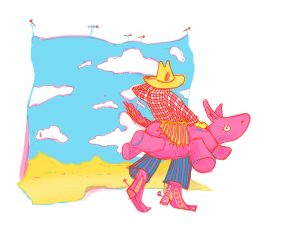 There's some deliberation as the members of Tonk consider their affinity for country. "Personally, I think I got hooked on country when I finished school and started doing physical labour", says vocalist Quin McCormack, who, along with Ogwaho Powless (guitars and banjo), Nick Short (drums), Grant Whitaker (bass) and Dan Thow (vocals, guitar and piano), have carved out a niche in the Vancouver scene during the year and a half or so they've been playing together. They may not have appeared on stage alongside many other country acts but with a local indie circuit which is so diverse, nobody arrives at a show expecting to hear a line-up of bands that sound alike. "We definitely stand out genre-wise but audiences have been receptive," Dan observes. "I think our take on country fits in with the bounty of other sounds in Vancouver. Hopefully we have made some new country fans or inspired people to start country bands." Grant continues: "… I think people are more into country than you'd expect." 
When asked about their shift into country from other genres, the group describe a natural transition. "It was actually rejuvenating for myself transitioning to country. I bought a Gibson acoustic and started writing songs," Dan explains. For Quin, it involved picking up a new instrument altogether, the lap steel guitar. The gliding country staple, used for mood enhancement and soundscape formation, was an acquisition both challenging and rewarding. "Most of the slide guitar on the album is on a lap steel which has less moving parts [than a pedal steel], but I am definitely a beginner. Country is kind of a nice genre to practice music and technique because the traditional songs are usually just a few basic chords. Which doesn't mean it can't be complex. [I've] been practicing the pedal steel a lot during quarantine so hopefully that'll be in whatever future Tonk stuff."
Songs to Glorify the Peasant and His Tractor is a collection of tracks brimming with playful and intriguing lyrics. The lead single Silt, is but one example of the rich and creative narratives which appear on the project, with its infectious "hard body, soft brain" hook. "When I started writing Silt I was kind of aiming for it to be about a romantic labourer but I think I got kinda disillusioned after the first verse," Quin recounts. "I was working as a painter and coming home covered in dirt and stuff everyday and like relishing the muscles I was getting but also mourning my arts degree I guess."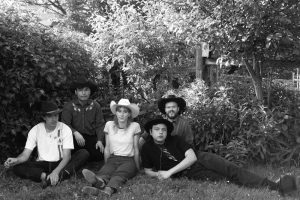 "I remember talking to Quin about lyrics when we were working on songs," Ogwaho recalls. "… it often seemed that the lyrics ended up sounding like a medieval peasant trying to write a Bakersfield country hit."
A balance of irony and sincerity is one of the salient features of the record. Quin reflects on the process of writing songs: "I think for most of the songs I sing on the album we would be jamming and [would] come up with something we kinda liked and then I would go home and labour over the lyrics. For a lot of them I was pulling lines from these kinda stupid medieval limericks I was writing a few years ago haha. Dan's songs are definitely different, he shows up with like fully finished songs to practice. I was really hesitant to record honestly 'cause I wanted to keep editing the lyrics. I think part of why country music appealed to all of us is because it often makes fun of itself a little. … [T]he lyrics can be incredibly sincere and heartbreaking but they also don't take themselves too seriously. … John Prine and Billy Joe Shaver are really great examples of that." When Nick was mixing the album, he asked the rest of the band how they wanted it to sound. "Like Honky Tonk Heroes by Waylon Jennings," was the unanimous reply. Other primary inspirations for the album include the likes of Gram Parsons and the Flying Burrito Brothers. "We definitely got real into outlaw country, but also the unique take Gram Parsons had on the genre," Grant explains.
The album was released at the end of April, so how did COVID affect the launch and promotion strategy for the record? "I don't think we really had a strategy to begin with," Quin muses. "But we canceled our release show which was too bad. I think [it would have been] mostly a chance for us to have a bit of a party and play with some other really good bands. We made the album on a slim budget so it wasn't like we had to cover costs. People have still been super supportive and kind though."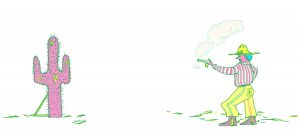 Grant agrees: "It was weird to just send it out there so unceremoniously but it did give us a chance to focus on how we got it out and to what platforms." As I lament the unfortunate nature of the situation, Ogwaho interjects: "I think one fortunate thing is that people have more time, and maybe more willingness, to listen to music on streaming services during COVID." I looked into this and, as it happens, when it comes to country, he's completely right; data provided by Spotify suggest that country music specifically has seen an upsurge of streaming during lockdown. Intriguing.
So, what's next for Tonk post-lockdown? The overarching sentiment is that the band are eager to get back onstage again, playing alongside other people. "The release show was postponed and hopefully we can play that when the time comes", says Dan. "In Nashville too, of course."
"Hopefully someone from the Grand Ole Opry is reading this," adds Ogwaho.
For the time being, Nashville will have to wait. At present, Tonk seek to get back to making country converts of the patrons of dark Vancouver bars; by means of deadpan stories which can detail anything from struggling with rental payments to inadequate equine knowledge. They'll continue to play their alternative brand of dusty, "tear-in-your-beer" ballad, which can be witty and self-aware, but often vulnerable and always unpretentious. Above all, Tonk prove how, by challenging the audience's expectations, a true-blue country band can, in itself, be a subversive thing.