Victoria's community for the arts is abundant with incredible talent. However, bifurcated down separate avenues, the music and the visual arts scenes have been staying in their respective separate lanes for the most part. This long-standing inherent division is being bridged with the help of alphbt., an arts initiative led by Mikayla Koch and Zane Coppard, two phenomenal creatives in their own right. 
An inclusive, necessary and almost natural conceptualization to pop up in Victoria's arts scene, alphbt. values simply bringing the community closer together whilst providing a platform for artists, of any medium, to bring their vision to light. Speaking with the duo behind the initiative, we unpacked some of the work that they have done thus far, goals, as well as how they even came to be in the first place.
M: What was your vision for what alphbt. could contribute to Victoria's arts community?
Z+M: alphbt. was created to foster a safe space for artists to get to know and support other artists, as well as charitable organizations, in our community. We are completely not-for-profit, so all of the funds generated go right back into the community by means of donation or holding more artist centered events.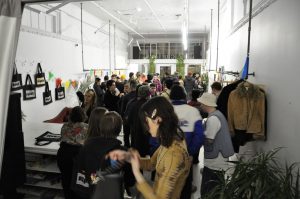 alphbt. is truly for the people and by the people. No matter which way you look at it, it's clear that the biggest focus of it all is to pour back into the community. Whether it be bolstering relationships between fellow creatives or channelling funds into pertinent local causes. One of the main aspects of the initiative, like they said, is getting to know other artists. There are several ways they go about doing this but one particularly prominent instance of this took place this March with the launch of their first zine. They organized a launch party in the form of an art show to promote the release, and the event featured 24 different local artists.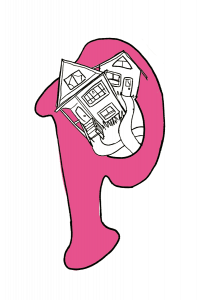 M: How did the idea to create alphbt. come to you guys?
Z+M: Originally Zane operated a creative entity called 'Art Until Death' but decided to dissolve that. We created alphbt. from a similar idea but more inline with both of our interests, again playing with the idea of better in-meshing visual arts, music and cause. 
M: What is the significance of the name "alphbt." itself? (AND, what's the story behind the mascot, so to speak, Nigel the rat?)
Z+M: If you think of the alphabet itself, it is all encompassing; non-exclusive. We would like to do our best to replicate this in what we do.
Nigel the rat is an off-beat play on a typical cartoon character, he is a light hearted way of signifying that we don't take ourselves too seriously. 
Even within the simple meaning of their name, they hold themselves accountable to their commitment to inclusivity. Needless to say, this is somewhere that a lot of platforms tend to fail. In looking at the pool of people alphbt. has spoken to in their interview series "5 Photos, 5 Questions," their commitment to being a platform for all is starting out quite strong. Considering how BIPOC, queer, and creators of other marginalizations are present within every community and yet somehow underrepresented in the arts: it is not just a breath of fresh air, it is a must for these outlets to give space to those folks. Glad to see alphbt. striving to do exactly that. All the while, maintaining a particular down-to-earth lightness and humility.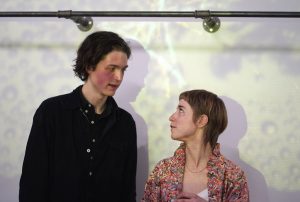 M: Since coming out with your "5 Photos, 5 Questions" series and hosting your zine launch, what's your favourite thing you've seen emerge from the work you've done so far?
Z+M: It was really nice to see all of the support from the zine launch. From the artists themselves, to the sponsors, to the attendees, there was a lot of love going around which helped everything come together very seamlessly.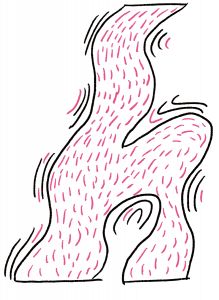 It is a massive pleasure to see the aspirations of alphbt. coming to fruition so perfectly to plan. It is undeniable that this community, already full of so much love and camaraderie, will only grow to become more interconnected and vibrant with the work of Zane and Mikayla's initiative at play. Really, it goes without saying that this is just the start, so you can't help but wonder with such bright beginnings, what else does the future hold for alphbt.? I'm hyped to see. 
Additionally, the intent behind "5 Photos, 5 Questions" is so brilliant at bringing an openness and authenticity to local artist relationships with each other, and their audiences. The series works to shed light on who each creative is beyond what they create.
M: How do you typically track down artists to feature?

Z+M: At this point, mainly personal relationships but we're always open to talking to new folks. We try to have the feature out around a time when the artist is releasing work. 
M: Your zine proceeds were directed towards Suicide Prevention Education & Support, what made you choose this?
Z+M: It was chosen for both personal reasons as well as knowing that it is one of many topics that is still rather difficult for people to talk about openly. "Need2" (https://need2.ca/) has a lot of great support not only for prevention but also for those affected by suicide in any way.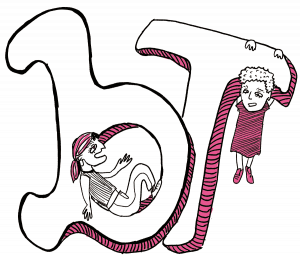 Ending on this point, it further goes to show that the crux of alphbt. is supporting the community. That is reflected in their goals, as it is reflected in their actions. For them, it's all about bringing people together and building a platform that is conducive to that.
The fondness amidst Victoria's art scene is contagious and the growth of the community, as a more unified entity, is an inevitability. alphbt. acts as a link between people who were bound to come together somehow, I think. With their initiative bringing creatives of all mediums together, they just expedite the path to that togetherness. I guess you could say alphbt. is essentially the mother of all icebreakers, except way cooler.
To keep up to date with alphbt:
IG: https://www.instagram.com/alphbt.crtv/