DIY venues don't last forever— especially in Vancouver. With ever-increasing rental prices, it's a wonder they exist at all. No one knows better than the co-creators of 648 Kingsway, Clara and Sho, who have been working tirelessly against the rental crisis since they took over the venue in late 2022.
"We haven't paid ourselves, not once. At first we didn't even know if we were going to be able to make rent," said Clara, referring to early days when performances were scarce and members of 648's board had no choice but to pay out-of-pocket to keep things afloat.
But, sooner than expected, things took a turn. 648's commitment to showcasing BIPOC, LGBT+, and female-fronted talent has resonated with Vancouver's music and arts community and now they have more performance requests than they know what to do with.
With this increase in demand comes a sense of freedom that Clara and Sho celebrate; the freedom to be selective about who performs at 648, and the ability to prioritize the marginalized communities they created the space for in the first place.
With 648's consistently jam-packed events schedule, one might assume they're interested in growing the space into something even more ambitious — however, they're quick to dismiss this. For Clara and Sho, the intimacy and impermanence of 648 is the whole point.
—————————
PM: What is 648 Kingsway? And what inspired you to create this space?
Clara: So, the Toast Collective was the original group, and that got passed on to an artist collective called The JAM. They were at a point where they just didn't have enough people to afford the space. The JAM was in this nebulous [period], and that's when Sho and I met. When we picked it up, the core of what we wanted was a space that was different from the other venues in the city. As much as some of those venues are really incredible, and do what they set out to do really well, I still felt like there wasn't a place where events could happen without needing to follow a really complicated agenda. We wanted to be more specific with which shows we put on, and we wanted to prioritize the BIPOC community in Vancouver. We wanted [to welcome] whichever weirdos wanted to be a part of the space. […] because there's a crisis in spaces in Vancouver. There's nowhere for people to go and shit's expensive.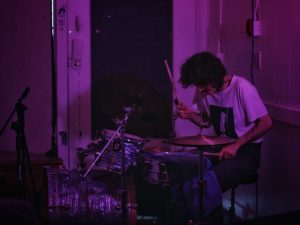 PM: In relation to the crisis of spaces, I'm curious about how you both are tackling that? What have been your biggest challenges so far?
C: Lack of funding. We haven't paid ourselves, not once. At first, we didn't even know if we were going to be able to make rent. We had a system where people were pitching in, but after we started to get the ball going, it was clear that there was enough of a demand. It seemed clear that a lot of people were looking to book. I feel like we have 50 unread messages that I haven't had the time to get to, because I don't have the time, and I'm not being paid to do it. So that becomes the hardest part.
PM: Yeah, labors of love are taxing. It's a lot to ask, to put that burden on your shoulders, so I commend you both for taking it on.
C: I mean, I've been working a lot on a bunch of different brand statements in order to formalize things because we want this to be sustainable. Like, I can do this. I've been carving out the time to make it happen, to be there every single night. It's doable, but it can't go on this way.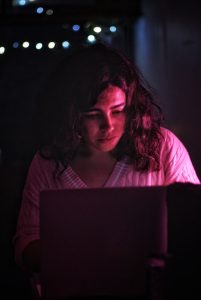 PM: Definitely. I was hoping that you could touch on the kinds of events and performers that you're focused on hosting– it seems like there's been a wide variety so far.
Sho: The word that I like to use is hybridity. Just being able to bridge communities. That's kind of the main idea behind 648 — to have an assortment of events so that these communities can collaborate. We have a theater production coming in June, and there is Audio Pollination — an event where we pair three musicians with one visual artist to get on stage and do whatever they want. Then we have our regular music shows. There's always something different happening. There's also repeat events, like the weekly capoeira.
C: I totally forgot about capoeira. I'm Brazilian, and that's a part of Afro Brazilian culture. It's something that I did a little bit in my childhood, and I got in touch with some of the folks who are organizing the progressive Vancouver front. They've been putting on these [capoeira] events, and we offered our space to host them.
PM: That's awesome. It must be cool to get to collaborate with such a diverse set of performers. You mentioned earlier that part of the inspiration behind creating 648 was to help create a space that felt truly safe and accessible to everybody. What are the ways that you both are working to achieve that?
C: One thing is that I'm definitely not afraid to cancel certain shows to book others. I think that it goes without saying that those who actively message us to book shows represent the majority, and that's not the goal. If there is an open spot I will try to book something that's as diverse as possible. We work towards tokenizing white people often. […] I try to hold a pretty tough fort, because as a woman who is doing sound every night, there are always guys that will try to take over; or ask for the organizer when I'm right there. So I've had to take on this persona of being "the tough one" and that usually keeps people in check.
We have more practical ways of addressing [safety and accessibility] too. For example, we usually take a door cut, but that's done on a case-by-case basis. It depends on who's performing, who the audience is, how much money is made — there are nights when we don't take a cut to ensure artists are being paid as well as they possibly can. We actively build relationships with bands and artists who are active political organizers.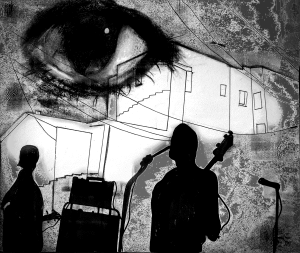 PM: You mentioned earlier that 648 used to be home to The Toast Collective, and later The JAM. Could you elaborate on the transition from those collectives to 648? What would you say makes 648 different?
S: I don't know much about Toast to be honest. We missed out because Clara and I are both newer to the city. When I stepped in, I had experience in promotion and booking shows and that's what we've fostered in the 648 era. Dropping it as an artists studio [as per the JAM] and returning to its Toast Collective roots of being a community event space.
C: I think JAM didn't have as much community involvement as we do. They were a group that were trying to use the space to further their artistic practices. What I've heard about the legend of the Toast Collective is that it was this unique space with a lot of experimental shows and acts. A lot of bands grew out of that, and developed really important connections within the city. For us, what sets 648 apart is that we're in a different time with different needs. There's so much incredible BIPOC talent popping up in the city, and it requires new spaces. […] We can have just POC, Indigenous, Black, and female-fronted artists every night of the week and still make rent. That's the shift. With my Afro-Brazilian background, and Sho's intersectional background, we want to see ourselves represented in the art that we're putting up. And we want to show respect to those artists who represent us.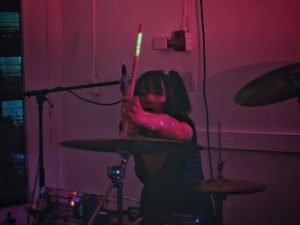 PM: Definitely. I was writing an article a couple of months ago that was about diversity in Vancouver's DJ scene, and a lot of the feedback I got was that there's actually a lot of collectives and venues who are making more of an effort to include BIPOC and gender diverse artists, but the bottom line is, if those communities aren't represented in leadership, how true does it really feel? How are those values actually reflected in the space? I think the fact that you're actually able to make rent ] by having the people that you want in your space goes to show the real demand there is for spaces like this. So, at this point what has been your favorite or most memorable event so far?
S: For me, it was probably the first 648 show. It was headlined by Dushine, Talon and Rivan. It was a hip hop show and a lot of them were still in high school. I was kind of nervous about it because it was our first show. They had asked to do a rehearsal the night before, which was something I hadn't really experienced before, and during the rehearsal, I saw how excited they were to be in this space — hyping each other up. I was like, "this is gonna be so sick." And it was huge success! When things get tough, I think back on that show. I'm like, "it's for those kids, man!"
C: The first show that I put on was called Ru(I)Do, which means noise in Portuguese and Spanish. It was an experimental jazz show. There was this Cuban drummer who was just shredding, and it was some of the best music that I have experienced in my life. I couldn't believe that it was at our home; at our little tiny venue.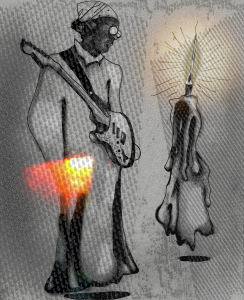 PM: Sho, I think I forgot to ask you about this earlier, you mentioned that you have some past experience with putting on shows. Could you tell me about that?
S: Yeah, it was kind of the same thing, on a different level. I grew up in a small town in Treaty Seven, and my brother and I would make music together all the time. When I was about 13 our parents started taking us into the big city nearby and I discovered all-age venues. Back at home I was like, "what the fuck? Why can't we have that here? There's nothing to do here!" So I started asking around. I would ask my school if we could use our theater to put on shows. There was this youth club I discovered by accident and noticed they had this big room. So I just asked them, "could I put shows on here?" and they were like, "yeah." I would ask whoever I could get to play at our shows. We did that from when I was 14 through to the end of high school. Towards the end I started making connections within the city close by, and even across the country. I brought bands from Ontario out to play in our little town, and this put us on the map for a second — just doing completely DIY shows. Those experiences were really formative for me, being the only one in my town that was willing to try and organize.
PM: So, what would you say are your goals and plans for 648? Where do you see this project going?
C: What I like about the space is that it has an end date, as all Vancouver spaces do. I don't think we will be around for more than five years. I think if we can make sure that everybody t is getting paid, that people are safe, that the acts that we want to book are being booked, and that we're bringing in people that are going to continue to make this place a community, [then that's] a good feeling. I don't think we need to be any bigger. We want to continue to be accessible, small, unnoticed, and still putting on shows that prop-up the musicians and the communities that we represent..