I sat on the steps of Koerner's Patio not knowing what to expect — or, as the youth say, I wasn't sure what the vibe was going to be. 
The girl sitting next to me, in a neutral sweater, was trying (with little success) to apply eyeshadow with the help of her front camera. "Is it too much?" she asks, turning to her friend. Meanwhile, a group of early 20-somethings enter donning campy outfits and suave attitudes. 
Amid all the chitter-chatter, the drag performers ran in and out of the pub, in their high-heeled boots and glamorous ensembles, as they got ready for the evening.
Similar to the weather, it seemed like it was going to be a chill evening. Gauging by the crowd, the show felt like it was for everyone – like the audience could choose how they engaged with drag, while still remaining in their comfort zones. 
At least that's what I anticipated, when my thoughts got disrupted.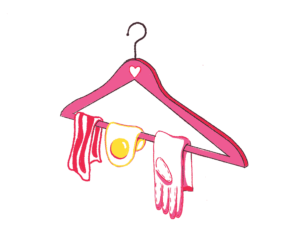 "Straight people, this is a safe space", smirked Continental Breakfast, host of the UBC Drag show Fashionably Late as they paraded on stage gently commanding the crowd's attention.
"Do I attract you? Do I repulse you with my queasy smile?
Am I too dirty, am I too flirty? Do I like what you like?
I could be wholesome, I could be loathsome, I guess I'm a little bit shy
Why don't you like me, why don't you like me, without making me try?"
The evening kicked off with Mika's beloved Grace Kelly blasting through the speakers and Continental Breakfast swerving to the beat in their Freddie Mercury-styled mustache, and their lemon-coloured suit which was adorned with dangling pearls. 
Held back in April, Fashionable Late was organized by UBC Drag – the brainchild of artists Exter, Carrie Oki Doki and Count Cupid – all of whom wear multiple hats: they are students, drag performers, as well as the showrunners. UBC Drag runs in partnership with the Pride Collective and puts on monthly shows at Koerner's Pub. 
I spoke to Carrie Oki Doki to get a behind the scenes look at the trio's labour of love and was enamoured by the young drag artists' perseverance in facilitating queer nightlife on campus. 
"It's really brought a new perspective on how I could live my life and what my future is going to be because I always thought it was going to be either this or that," expressed nineteen-year-old Carrie Oki Doki, one of the youngest drag artists at the show, "but meeting other performers has made me realize that you can do both."
She told me about the team's vision which is to accurately represent Vancouver's drag scene and showcase performers from all types of artistry. Carrie Oki Doki also pointed out that oftentimes drag exists in small pockets around the city, depending on where the performers are, and not many people hear about it. 
"A lot of my drag is coming from a place of frustration from the lack of people of colour in vintage fashion," shared Carrie Oki Doki whose sartorial inspirations come from late 1940s and early 1960s fashion. 
"When I was looking for inspiration on Pinterest, I got very sick of seeing all the models essentially only be white," she further explained.
When Carrie Oki Doki first started out a few years ago, she viewed her queerness as seperate from her Asian heritage. But through performing drag, she has come to acknowledge her Chinese culture, and been able to connect the two aspects.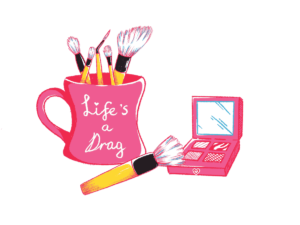 Fashionably Late can be described as happening in two-parts. The first half of the evening, the drag artists performed phenomenal dance numbers to hype music and twisted their bodies in ways I couldn't even in my dreams. There were acts by young and seasoned performers alike — such as Rouge, Maiden China, PM, Skim, Minor Disappointment, Count Cupid, Carrie Oki Doki, Exter, and Batty B Banks. 
DJ Paisley Eva deserves a mention, whose talent shined through smooth transitions between performances, and in keeping the audience engrossed throughout the evening.
The viewers had eased into the show and were bopping to the electrifying and whimsical performances which were both enjoyable and digestible. The high energy was contagious and the raw and fluid expression of sexuality was liberating.
Only a little while later, Continental Breakfast takes the stage to chant, "Land Back" .. I can't tell you what happened exactly before, nor after, but I can tell you that moment stood out to me. It separated the two sets, making them distinct. It also showed that they meant business.
While drag is fun and often perceived as an escape from binaries, the performers made another thing clear – you can't pick and choose only the shiny stuff, leaving out the hard truths and ignoring the substantial fodder for community conversations that the artform has the potential to ignite.
It also quantisentially encapsulated the essence of the show – Act 1 held the viewers' hand and let them settle down – while Act 2 was fiercely unapologetic, more political, and made you check your privilege. 
The latter is what I didn't expect at all, feeling an array of emotions – delighted and sentimental, but mostly grateful to bear witness and experience this unfiltered hope.
The drag artists were vulnerable and earnest, allowing the audience to let their guard down as well. They poured their hearts out, making the audience laugh one second and cry the next – sometimes simultaneously – only further emulating the beauty and the power of drag. 
"If I would have had that when I was in school 10 years ago it would have changed my life," Continental Breakfast told me when I caught up with them after the show.
They were nervous when performing at the first UBC Drag event back in November. It is no secret that educational institutions tend to be both heteronornative and cisnormative — and they didn't know what the reception would be like. 
"Allowing queer people to thrive as outwardly queer on campus, while studying what they want to is going to make a difference in the system. It takes time but I feel that it is like decolonization. It is harm reduction," shared Continental Breakfast reflecting on the show.
They also relayed how it makes them happy that all their struggles — all the adversity their queer elders had to suffer —  it was not for nothing.
At the event, Continental Breakfast made efforts to remind us what is often forgotten — the history of drag — and how it started off as an act of resistance. 
"They [media] take whatever part of the culture they like, throw a rainbow on it, and try to sell it back to us without realizing that drag was initially Black and Latinx folks exploring gender fluidity before drag was even a concept," Continental Breakfast told me. 
Just like anything else, drag culture has been commodified and made palatable — for oftentimes a white audience. It is viewed as mere entertainment, which pushes  BIPOC folks out of these queer spaces.
"It's Black and Indigenous femmes that are constantly being targeted and fighting the most to protect their rights while people continue to profit and benefit from all the work they've put up," they further added.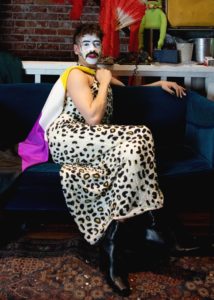 It is worthwhile to mention that one of UBC Drag's goal is to bring intersectional queer perspectives to their shows — and that much was evident. It was heartwarming to see BIPOC, and gender-diverse artists with varying sexual orientations, all come together and take up space and make noise.
I recently tried to sum up the second half of Fashionably Late to a friend and here it goes: it defied the status quo. It pushed boundaries. It made you feel uneasy and melancholic – but it also held you and gave you a hug. 
Batty B Banks seamlessly danced to Peachez' My Reality on the table, and the lyrics really pulled at my heartstrings.
"Y'all playing games
We gonna play some too
Black lives matter
Talking about the gay ones too."
When Maiden China's second performance finished, the audience began chanting "China, China," To which they quickly responded, "But not in a nationalistic way."
During Count Cupid's second act, they whipped out a trans pride flag from their sleeve, and waved it around the venue while performing to the band Rio Kiley's Better Son or Daughter and the audience could barely hold back their tears when screaming, "We love you, Count Cupid!"
It was these acts of subversion – big and small – in all their glory – that made the show so refreshing. So powerful. It didn't shy away from the current political climate. Along with their art and hypnotizing acts, the performers also brought their multifaceted identities to the stage. 
They elegantly embodied the ethos of the spirit of drag, and demonstrated why the artform continues to be a tool of queer rebillion and an expression of queer joy.
UBC Drag is creating a safe and inclusive space for young queers on campus many of whom might never have seen drag before and this is their first entrypoint. They are also not walking on eggshells and requesting a seat at the university's table. They are building their own table, slowly, one show at a time, with and in community.
If you were at Fashionably Late,  you could easily tell the crowd was charmed by Continental Breakfast — their wit and their sass, their knack for storytelling. But make no mistake, they also didn't mince their words when the topic became somber. 
They dragged straight and cis people, which you would expect going in to a queer scene, but they also nudged the audience into recognizing their responsibility as settlers — which you would least expect, and yet is so crucial. 
As I wrapped up my chat with Continental Breakfast, I was curious about their land honouring which was peppered throughout the show, and their intention behind it.
"I'm just trying to help. I'm trying to make people be more compassionate and I try to bring people together, but also make them act with grace," explained Continental Breakfast.
Continental Breakfast also shared that this is their way of paying back — passing on the knowledge and history that they are learning now, as an adult. Things they wish were taught in school. 
For them, being Indigeneous and a settler on the Coast Salish lands comes with its own set of  complexities which they are trying to balance. On top of that, they are cognizant of all the pain and violence that goes on.
"I feel like I use that word [grace] a lot, but I think it's really important because we need to be gracious and walking gracefully will make the world around you a better place."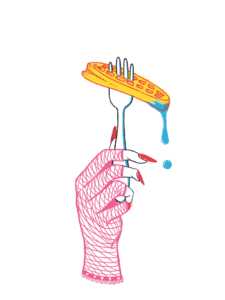 "Is that the reason you chose Grace Kelly as your opening act?" I asked half-jokingly.
I try to be like Grace Kelly (mmh)
But all her looks were too sad (ahh)
So I tried a little Freddie (mmh)
I've gone identity mad
"I think so. It makes me feel really good. Because land acknowledgements are very serious. They can get really grim because things are really fucked up. So it is a nice light way to start the show. It feels like drinking soda pop," smiled Continental Breakfast.