"I think more people need more petty teenage drama to focus on while the world is on fire."
Haleluya Hailu's very first EP entitled Greetings and Salutations is described as "a story of astrology and partying and regretting things, inspired by the sounds of the 80's but also nothing like it." It's a clash of emotions, a whirlwind of petty recollections and an ode to Teenage Dreams 2.0  — the overlooked and underrepped narratives from outside of the traditional,  frankly, washed-up,  cool girl club. Although almost entirely DIY'd by Hailu herself, this EP is unquestionably full and whole. It feels like adolescent euphoria. It feels like the purple rage of an angry teenage girl. It feels like a best friend, ripping out entries of her diary and screaming every word of those torn lined pages. Hailu is a 17-year-old singer-songwriter, producer and performer "inspired by teen angst and bruised egos," bred from culture-rich roots, moulded by sprinting races to catch the startline, and much bigger than any box Vancouver's arts community (or any institution) could compress her in. So much so, that she — along with her collaborators in The Sunnyside Collective — are forging a brighter alternative to the cubic confines of our local scene.  Haleluya Hailu as a bold, singular force is known for waging war against her school district for their repeated instances of anti-Black racism. Her activism story was plucked by media outlets, and after the movement's momentum diminished, Hailu was bombarded with microaggressions within the institution — more than ever before. But Hailu is more than a story of protest. She, even while only in high school, cemented herself into the art's community as a radio host, a widely networked collaborator, an artist and an organizer. While years younger than so many surrounding her in the industry, she could beat them all in a contest of promise and potential. Haleluya Hailu is a beaming superstar. A Leo, aware of how incredibly talented she is, and miraculously humble all the while. Her aptly titled debut EP is exactly as it declares, a greeting and salutation. We are incredibly fortunate to make her esteemed acquaintance.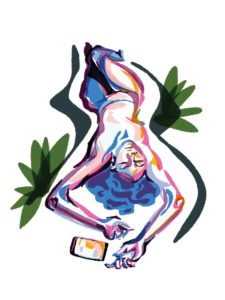 Maya: This is your first EP, essentially an introduction! So let's get into who you are. How did you begin making music? And if your cultural background had a part to play in it, tell me about that too.
Haleluya: If you ask my mom, the first song I ever wrote is when I was like six — on one of those keyboards that have little presets — that was my first time toplining I guess. But the first instrument I really taught myself was the ukulele. Later on I learned sax through band, and I was like, "this stuff is kind of cool." By ninth grade, I'd already been writing songs casually, but I started taking it a little bit more seriously. Next thing you know, I won my school district talent show with two songs I wrote. From there I found myself connecting to the local music community. I was in a really great music production school program which was so great because the teacher running it put a lot of his own time and energy into it. From that, I  started learning production and really working on being a better songwriter.
My parents are both Ethiopian. I was born in Israel, a lot of people are surprised that there's a huge East African diaspora in Israel. So, my parents are really cultured people. They kept me connected to my culture my entire life. I speak Amharic, and growing up I was constantly listening to Ethiopian music. My parents used music to learn English when they first moved here, so I had a pretty good collection of North American music as well. One of my earlier memories was my dad having a heavy Queen phase. Same with Nirvana. Looking back — how could anybody learn English from Nirvana? My parents are amazing folks who spend a lot of time exposing me to new cultures and ideas. And I think that's what makes my storytelling and art interesting.
Maya: Greetings and Salutations is a gift to listeners. It's a dose of bright and nostalgic escapism — hugely appreciated in these times. Has the gift gone both ways? What has making and putting out this EP done for you? Mentally, emotionally, spiritually, what are the feelsssss?
Haleluya: Well, the writing started during the summer. The weird covid summer. It really hit me that I was not going to get the grade twelve year I thought I was going to get. And it also hit me that I did not like a lot of the people I went to school with. It's no tea, no shade! But realizing, "alright, a lot of these kids don't give a single crap about me" is a thing you have to kind of come to terms with as you finish high school. I watch all of these classic high school movies, and I think about how I didn't get "that experience", didn't get to be a cool 'Regina George', or I didn't get to have a movie Sunset ending.  So why not go and create that idealized kind of thing myself? The title comes from the first scene of "The Heathers" where the protagonists Veronica and JD meet each other and JD goes, "Greetings and salutations. Are you a Heather?" And she responds with "No, I'm a Veronica." That's the kind of teenage girl I love. So, the EP has a little bit of what happened in my personal life. Just petty teenage drama. I think more people need more petty teenage drama to focus on while the world is on fire.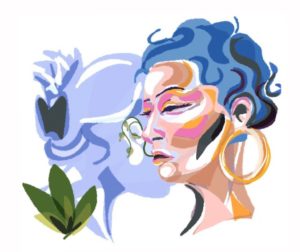 Maya: You're deeply involved in community radio, you've contributed to zines, you write music,  make dope music videos and you've contributed to an artist collective. I point out your roster of accomplishments not only to hype you up, but also to ask what your experience was like making your way into the arts community. Did you seamlessly fall into it or was there more of an intentional push? gimme the timeline
Haleluya: I mentioned I was in this music production program and we had a bunch of co-op  type work experiences, and one of the options was volunteering at Red Gate. That work placement ended up falling through, but, when life closes a door it opens a window. The second coolest work placement was getting to run a radio show at CJSF — which is at SFU — a couple bus stops away from my school. My teacher was like, "OK, so these are the 8 people who signed up." We immediately thought: let's gender this. It was four guys and four girls, so we jokingly made this a competition — Let's see who's going to make the best radio show — and it got pretty competitive. Our show was called "Vibecheck" and the brother show was called "The Uncovered." We worked so hard to outdo each other booking artist interviews. I remember we even emailed Peach Pit's management and we got a one liner; "Sorry, we'll pass." We were like "Oh my God, they emailed us back! That's so cool!" We really emailed everybody. Once we got going, we started doing interviews almost every week, live in-studio. That's kind of how we got involved, and from some of the people involved at CJSF, we formed our artist collective.
Maya: So, going off this 'sense of community,' and also just being a Black artist (and activist) in Vancouver, did the BLM movement impact your relationship with your creative community or your process of making music at the time?
Haleluya: Yeah, I had a conversation with a friend of mine a couple weeks ago and I kept trying to put into words this thing that I had felt since August. When I first started to become involved in community radio, and an artist collective, the goal in my head was that I wanted to be a part of the Vancouver creative community. But I was aiming to be a part of the white Vancouver creative community. Like, look around! If I ask somebody who's involved in the community, "Hey, name three bands really quickly that are from Vancouver," they're going to name bands that are basically all white, and mostly all men. The more I've gotten involved, I'll sit down, interview somebody and I'll be like, "So, how'd you get into music?" The response will be "so my brother/uncle/cousin's parents set up studio time for me. And my friend's an engineer, and my best friend is the head of Capitol Records." It's always this kind of thing where they already have a bucket-load of privilege and it sucks. On top of that, I find a lot of these people aren't as willing to support BIPOC artists. I don't know if it's intentional or not, I know it sounds bad! But when you grow up around mostly people that look like you, I think — even if it's not intentional — you're a little bit startled when people who don't look like you ask for help or advice. To live in Vancouver, and be able to afford a car to drive all your stuff down to a house show, and have all of that equipment in the first place, is too much for a lot of people. Although the community is built on asking and borrowing, it's asking and borrowing from people that you already know. I remember in August, I looked around me and I thought, I don't know if I want to be a part of this very closed off  "I have to be friends with somebody to feel included" type of community. It can be surprising because Vancouver is not like super white, there's  huge diversity. It's just all about access, access, access. And I'm lucky that I've gotten access to stuff that not many people do have here.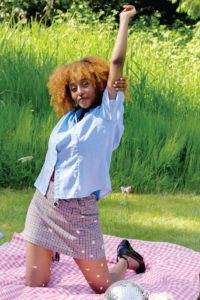 Maya: Oh, for sure. White folks in Vancouver's art community seem to have their peer's backs intrinsically. Lately, we've seen controversies and callouts surrounding that come bubbling up.
Haleluya: Yeah, yeah, yeah. And I realized exactly this while interviewing for Vibecheck. I feel I've become friends with a lot of the people who have come on, and I keep up with lots of people, but I've noticed that between some of the white artists and the people of color, [i have a] much truer connection with the people of color. I feel like with a lot of the white indie acts that I've interviewed, there's always an arm's length distance established.
Maya: Absolutely. Also, I need to know where you found an alternative to the white indie scene because I'm still trapped in this shit!
Haleluya: I haven't found it! That's what this artist collective is supposed to be. Me, my friends, we never necessarily felt embraced by the creative community so we're trying to make something out of that.
Maya: I really liked what you said in your interview with Rhythm Changes, where you referenced what Tyler the Creator said about not wanting to be shoved into a stereotype-charged genre box. Being Black in the arts scene in Vancouver is both a huge and significant reality, while at the same time an overlooked and dismissed reality.  What would you say has been your highlights and lowlights of being an artist despite these ingrained challenges?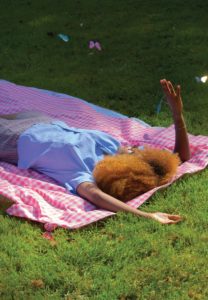 Haleluya: A highlight is putting people that've pissed me off on blast sometimes. As a Leo, I'm a little bit petty, but I'm not confrontational. So I'll just go home and I'll write a very angry poem about you. Yeah, I think that's my favorite part about being an artist, being able to document my life in a very cool, poetic way. I think a great thing is I love talking to other artists genuinely. I love listening to other artists talk about things they love. Music is so amazing and I'm just so happy to understand how it works. My parents weren't the parents that put me in piano lessons when I was five, learning about music production is something that I thought was so out of reach. Again, I was not born into a musical family. I was born to a music loving family, though. I have all of this stuff I want to learn, so I'm always constantly playing a game of catch-up. There's two types of people in the world: jealous and envious people. Everybody gets jealous because it's a natural human emotion. You can either get jealous, and move on with your life, or become envious and just hate people for being better at a particular thing than you. I've always been able to say "OK, I'm a little bit jealous that you have all of this experience," so I'll obsessively practice or study because I want to be that good. It's tough to play ten years of catch-up, so I think that's the hardest thing that I have to deal with.
Maya: You're a freaking pop star, dude! Something about the perfect euphoric teenage nostalgia that is packed into this EP is so addictive. Given the fact that you're an ~unstoppable talent~ any big upcoming plans? Or distant small ones? Down to hear any and all.
Haleluya: There is new music coming up at the end of the year! There is new visual content coming soon too, because I'm shooting it next week! You can keep an eye out for other projects from and in collaboration with Sunnyside Live in the future!
To see what else Haleluya is up to, her instagram is @haleluyahailu. You can also see what she's working on with the collective at @sunnyside.live and keep an eye on her radio show at @vibecheck.show which airs on 90.1FM CJSF Tuesdays at 3pm. Finally — Hailu would like to extend a loving shoutout to Aster Aga and Berihun Hailu for being the coolest parents who raised the coolest kid.