The crowd who came to see a show raising funds for the Tsleil-Waututh Nation's Sacred Trust Fund and the Secwepemc Nation's Tiny House Warriors — two Indigenous organizations fighting against the Kinder Morgan pipeline expansion — was sparse, with maybe only 20 people standing in front of the venue's small stage. However, the audience's size did not diminish its enthusiasm for the five standout bands on the stacked bill.
New band, Céline, featuring Tom "Tommy Tone" Whalen on drums and Sonya Rez from Necking on bass, began the show with their first ever set. They seemed to be having a lot of fun on stage, playing an upbeat punk with confident vocals and powerful drumming. Their energy set the tone for the following performances.  
Hardcore punks, Bedwetters Anonymous played next, but not before screening horrendously corny commercials for The Gap and Cadillac from the early 2000s on the screen behind the stage. The send-up of consumerism and excessive capitalism reminded the audience of the show's purpose: to help stop big oil companies from exploiting Indigenous lands for profit. Bedwetters followed this interlude with a set of very fast and short songs consisting of snaking guitar leads and wildly skillful drumming. All three members performed in their socks.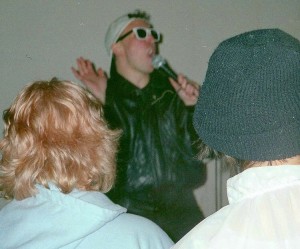 Tom Whalen came back for the next set as one half of Smoker, an ironic '80s synth pop duo whose shtick is promoting cigarettes. The two sang over pre-recorded tracks including "Smokin' in the Streets" and "Teach Your Baby to Smoke" while flexing their '80s dance moves with completely deadpan expressions. The hilarity of the performance aside, Smoker displayed substantial talent for pop songs.
Continuing Bedwetters Anonymous' use of commercials to satirize capitalism, Champion Lawnmower performed with aptly chosen lawnmower infomercials playing behind them. Although I've seen them live countless times, the group's melodic guitar and bass riffs, well-timed song breaks and humorous lyrics make for the kind of music you don't get tired of.
Closing the show with a significant change in tone was industrial dark-wave duo, Wire Spine, joined on guitar by one of the members of Bedwetters Anonymous. With Red Gate's sound system turned way up, the drum machine beats of their backtracks practically shook the venue as the group performed. Frontperson Jesi grooved wildly to the almost sinister sounding synth melodies.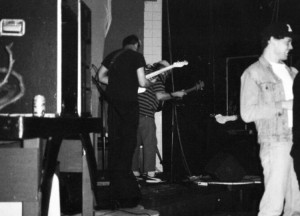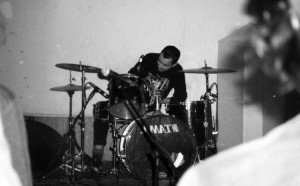 As I left Red Gate's East Hastings location for perhaps the last time (it closes at the end of May), I walked out with a sense of empowerment, fuelled by social justice and anti-capitalist themes. The show was a reminder of the importance of supporting Indigenous issues and the role that local artists can play in this process. Here's hoping for more politically-charged shows at Red Gate's new location, with a better turnout next time.