"There were clouds of smoke coming from our breaks after rolling down to the bottom of this one hill," said Quinn Lee of Body Lens, carting his guitar amp.
"We immediately went to buy a fire extinguisher, just in case. Our van is so heavy with a five-piece band and all of our gear. The hardest part of a tour coming from Lethbridge is the driving – we just want to get here and play!"
CiTR Music Director Myles Black adjusted his microphone in the control room. This was the maiden voyage of his new performance and interview show Chaotic Music Meetings. He pointed through the big glass window at Body Lens, who nodded and took their cue in the station lobby.
The band formed a circle facing one another. With the chime of an opening guitar riff, they synced into the groove of their first song, casting a dramatic new wave spell. Riff after riff of progression washed over us in the lobby, the repetition proving hypnotic.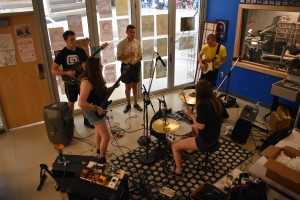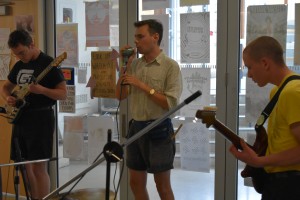 Brandon Wynnychuk gripped the handle of a vintage microphone that, in another life, might have adorned a high school principal's desk. His vocals hinged on being a rhythmic, rather than melodic element in the band's sound – in my mind I could hear the Eastern European cold wave stylings of Super Besse, tossed in a dissonant blender with The B-52s' "Rock Lobster."
After their 20-30 minute set, Myles asked guitarist Benny Roy where the band's name comes from. One meaning was a take on body image and how we perceive ourselves. Another, that our bodies are like a lens through which we experience the world and nature. Drummer Rebecca McHugh lifted out of her chair a few inches to emphasize, "I like that one."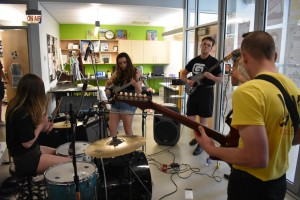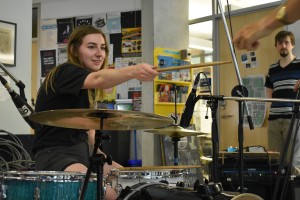 After the interview, Nardwuar the Human Serviette tumbled into the lobby preparing for his own radio show.
"That was fantastic! And I loved the vocals!" he said, pulling a screen from his pocket: "You sound just like a band from Toronto in the late 70s called The Government. Can I propose you do a cover song?"
A song called "Hemingway (Hated Disco Music)" blasted through the  tinny little speaker. We had a good laugh. Could it be that Brandon had found his long-lost  singing soul mate?
I asked if there was anything important a fan like me should know about them before they continued on their western tour. Setting down her bass guitar case, Brittney Ruston told me that "the most important word is 'slam'. It's the super verb. It's the super noun. It can mean anything you want it to! We use it every chance we get. I like to tell her, 'Rebecca, you are the slammer!'" Rebecca laughed and nodded: the title and her drumming style definitely matched.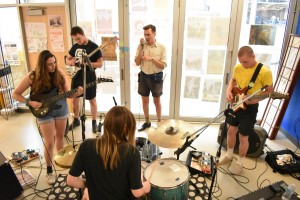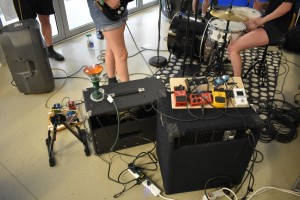 Now I had my answer, should  someone ask me what I thought of the Body Lens live experience. I'd grab them by the shoulders with eyes wide, one eyebrow raised, and I'd shout my preferred variation of the band's Lethbridgian power word:
"SLAMMIN'!"
x
You can find more of Body Lens on their bandcamp… and be sure to give the performance and interview a listen for yourself:
You can check out the Chaotic Music Meetings Episode June 15, 2018 here