It might just be me, but the Astoria seems to book certain bands a lot. Case in point: Supermoon's release party for Playland, their sophomore effort and Mint Records debut, which also doubled as the kickoff for their West Coast tour.
Sure, they might have made a last-minute venue change from the Cobalt, but it seemed that most of the bands that played were Astoria mainstays — at least, that's what someone I bumped into at the show implied, joking about "Astoria house bands." For what it's worth, nearly every time I've seen Supermoon it was in the Astoria, so my observations are probably a bit biased.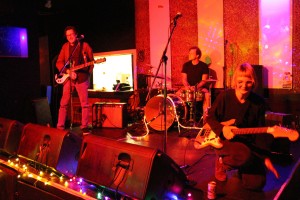 Regardless, the show was more than decent from the get-go. Shrouded Amps started the night off on an appropriate note, sounding like the Spacemen 3 if they were on Flying Nun Records. Rumour was that Shrouded Amps had only played one other show before, but their performance didn't betray it, given that they had worked on these songs for a year and a half.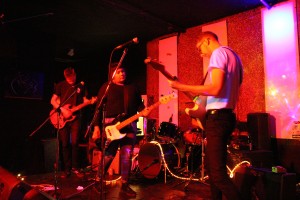 Wiggling in after Shrouded Amps was Woolworm, who were careful, it seemed, not to upstage the night's headliner and their friends with sardonic banter or heavy music (à la the Vampirism EP.) Instead, they played a serviceable set of early Death Cab for Cutie-esque blanket rock, moving through their repertoire with remarkable economy.
Saving his characteristic dry humour for the end of Woolworm's set, frontman Giles Roy introduced Supermoon with a bundle of overextended metaphors, telling the audience that the quartet would "rock [their] socks off," such that they would have difficulty finding them in the aftermath. "You'll find my socks and think they're yours, and I'll be like, 'No, they're mine,'" Roy deadpanned. His enthusiasm for Supermoon, however, was almost certainly evident to everyone in attendance at the show — and for good reason.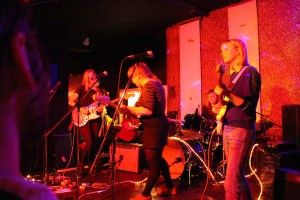 Playing all of Playland from beginning to finish during their set, Supermoon showcased their deepening songwriting chops: a knack for writing hook after twisty hook into their songs and for writing lyrics so relatable that they might make you a little embarrassed about reading way too much into them.
Toward the end of their set, bassist Adrienne Labelle thanked the audience profusely for coming out to Supermoon's show on a Thursday night, and gave a shout out to their parents before playing one last song, "Powersuits," as an encore before passing the stage to show closers DUMB.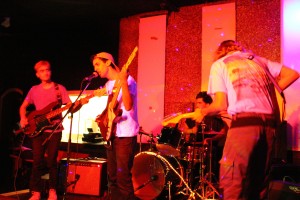 "We'll do an encore if you promise to stay for DUMB," Labelle told the audience, which had understandably thinned out, given that it was a Thursday night.
Those who stayed, however, were in for a treat when DUMB got going. Their set was perhaps the tightest of all the bands on the bill and their cranked-up garage rock sound was best suited to the Astoria. Playing an encore and disbanding in a squall of static and feedback, courtesy of guitarist and pedal maestro 'Fowlder Macteb,' DUMB put on their best performance that I've ever seen, no doubt about it.