Picture yourself in an indoor climbing gym. A fancy, state of the art one, with walls forming angles you didn't think possible for the human body to manoeuvre. Now imagine the space is dark, and instead of people dangling off the walls, there are projections, and the ambient sonics of Michael Red, a.k.a. Souns, are bouncing throughout the space. If this sounds strange, it should — it was planned that way. And if it sound enticing, you should probably make arrangements to head to Victoria on June 18 for the festival this show is part of — the first annual Pretty Good Not Bad Festival.
"Victoria has a very robust local community of experimental and weird music going on, and a cool visual arts scene and multimedia scene as well," says Chris Long, one of the festival organizers. "And while Victoria has a pretty robust ecosystem of events, not a lot of them are really tailoring to that [community]."
This gap in programming is what led Long and the rest of the PGNB organizing team to imagine new possibilities for shows in Victoria. The small but talented team consists of Long, Phoenix Bain, Dan Godlovitch, Toni Hall, and Alyssa Hrenyk, all of whom have strong backgrounds in the local music community. Following a restructuring of the non­-profit society Animal Productions (previously run by Bain and CFUV Music Director Ali Lopez) into the Pretty Good Society in December 2015, the team dove headfirst into programming their brand new festival — which Long says has been one of the best parts so far.
"There's a stereotypical Vancouver Island programming stream, that is very, very common, very familiar, and totally fine, it totally represents the interests of a lot of people. But Pretty Good Not Bad is really trying to dig several layers below that, and showcase not only the local but international talent as well, that is a little bit weirder, and a little bit more experimental."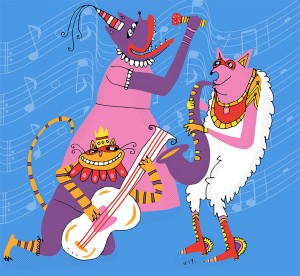 And dig below it they have. There is the aforementioned show at the Crag X climbing gym, where attendees are encouraged to bring pillows and lie on the floor to take everything in. There is the "Ambient Picnic" — an afternoon of free ambient music in the heart of downtown Victoria, where artists from all over the province will swath Centennial Square with experimental sounds. There are three nights of free noise music shows, programmed by the Cavity Curiosity Shop. And beyond music, there will be smaller but compelling visual arts and dance components to the festival as well.
"Visual art, along with dance, is one thing that we want to see grow as the festival moves forward, and integrate that in a more meaningful way so it's a little more embedded," says Long. "Music will always be the anchor, because we have such a strong musical background … but as the organization and event grows, we will definitely be bolstering different parts of the programming."
One of the mission statements of the Pretty Good Society is to "reframe our collective concept of 'a performance,'" an idea that the organizers are excited about, as it marks a significant shift away from the framework they have used to put on shows in the past.
"Bigger festivals are all interested in selling tickets, and while we obviously want to sell tickets to our shows, our programming is the most important thing," says Long, when I ask him about how the festival seeks to bring its mission statement to fruition. "We all have to be comfortable with a show that isn't packed. Because we all come from that background where you promote the shit out of your shows and do whatever you can to sell it out, and the reality in a market like Victoria is, some people just aren't interested in modern dance and electronic music, but that's totally okay — it's still valid to make space for it."
When I ask Long what he is most excited for, he looks as if I'm asking him to pick his favourite child. He ultimately settles on the Laurel Halo show on at the Alix Goolden Hall on June 17, which will also feature projections by local artist Corey Arnold, a.k.a. Comp_zit, on a massive 30-­foot screen. The show marks Halo's Western Canada debut, and as the festival opener, it looks like it may also mark the beginning of a new chapter in the musical landscape of Victoria.
x
Pretty Good Not Bad Festival runs from June 17 – 19 in downtown Victoria. You should check out the full schedule at prettygoodnotbad.ca because in our opinions, it's pretty good.