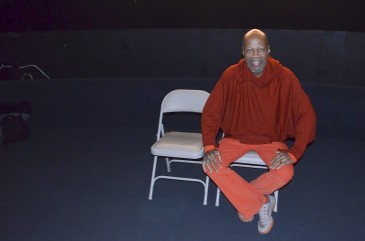 After three decades of transfixing stoners and young couples with trippy visuals set to Radiohead and Dark Side of the Moon, the HR MacMillan Space Centre at Vanier Park in Kitsilano put on its last laser show in January 2012. Since then the Planetarium Star Theatre has settled into a more conventionally educational and science-related projection schedule, but many mourn the loss of an iconic Vancouver cultural staple. Last Thursday's performance by Laraaji was a special opportunity to revisit the planetarium's golden era of transcendental musical experiences.
Laraaji, born Edward Larry Gordon, is a guru in more than one field. While studying and engaging in Eastern mysticism in the late '70s, he began making spiritually infused ambient music busking on the streets of New York City, using the ethereal sound of modified zithers and dulcimers channeled through layers of effects. Laraaji has released over three-dozen albums since then, and also became a leading practitioner of laughter meditation, which he promotes with workshop tours around the world. He led a session at Skylight Gallery a day before his performance, a primer for the following night's journey.
The evening opened with Montreal-based producer Ramzi, aka Phoebé Guillemot. Her wildlife-themed music is wonky and weird, like a psychedelic trek through some kind of alien rainforest brimming with life forms. Sitting on the floor, surrounded by equipment, she unraveled an extended jam combining jungle noises, grainy samples, and slow but explosive drum loops.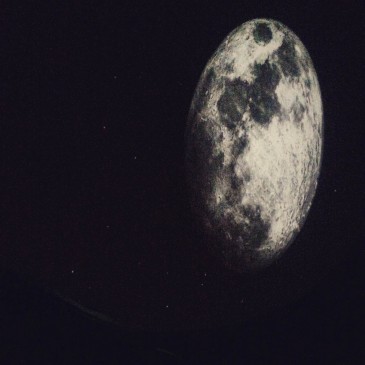 Laraaji's set began after a short intermission, without any kind of announcement — he simply began playing subtle drones and chimes that transitioned naturally from the audience chatter as it died down. His setup consisted of several stringed instruments, bells, and other percussive elements, as well as his own voice, all fused together in a melting pot of reverb and delay. The expansive sounds slowly filled the room, reflecting off the domed ceiling as it displayed projections of a rotating night sky, transitioning throughout the night to constellations, auroras, and a graphical representation of cosmic rays flowing around the Earth's gravitational sphere. The set felt like a unified, floating stream of consciousness, punctuated here and there with rhythmic sequences. There were also occasional bouts of hearty laughter from Laraaji, promptly echoed by several audience members who presumably had attended the meditation session the night before.
The space center proved a perfect environment for such a performance. Having been an avid planetarium-goer as a child, the setting added a nostalgic flavour to my enjoyment of the night. The reclined seats encouraged a closed-eye, post-conscious liminal state, amplified and guided by the music, and I'm not at all ashamed to admit that I pleasantly dozed off a bit towards the end of Laraaji's set. Awakening for the final minutes of music was like returning from a vision quest, and I felt content and refreshed walking across the dewy grass fields of Vanier Park on my way home.