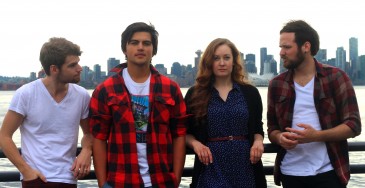 "We wanted something to do with travelling or a feeling of transience, not having a permanent home. How would you describe it, Taylor?" Jillian Levey, who provides backing vocals, keys, and percussion in the Tourist Company, is describing the origins of their name. She motions to bandmate Taylor Swindells, taking a sip of her chai tea latte in the process.
It's a rainy Sunday afternoon and I'm sitting inside a crowded Starbucks with three of the progressive folk band's members: Levey, Swindells (vocals/guitar), and drummer Brenon Parry—only missing bassist Josué Quezada. Surprisingly, none of the band members are originally from Vancouver. "Jillian was born in South Africa, Brenon is from Arizona, and I'm from out East," Swindells explains, while remaining member Quezada is from Guatemala. "We're kind of transient, so we wanted [the name] to be as well." Even so, their latest release, Space Race, seems to have found them a home within the Vancouver music scene—and the hearts of its loyal supporters.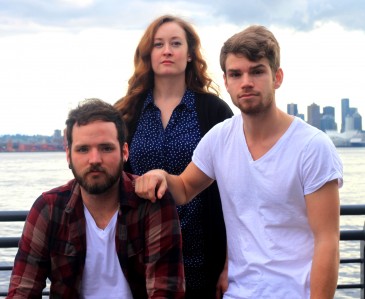 The original trio of Swindells, Levey, and Parry started playing music together in 2010 after meeting at a camp ministry and released their debut album, Brother, Wake Up, in May of 2013. Following the addition of Quezada last fall, the band decided to take a more lengthy approach with the Space Race EP—released on May 6. "A lot more time and attention went into how we got the sounds for each song," says Parry. Levey nods in agreement, adding that there are "a lot of layers to [the album]—a lot of intricacies."
The band attributes their dynamic sound to working with fellow musicians Jordan Klassen and Dan Klenner, who produced and engineered Space Race, respectively. Both are mutual friends through the band's manager, Alex Wyder: "We asked Jordan [to produce the album] because we like his artsy mind," says Parry. "He's just this really creative person." As luck would have it, Klenner had recently opened a studio space—coincidentally named The Space Studios—in East Vancouver around the time they were looking to record. "Jordan and Dan went above and beyond trying to make each song have its own unique sound. Songs that are high energy reflect that in the sounds we got out of each instrument; [same with] the smaller, more delicate ones."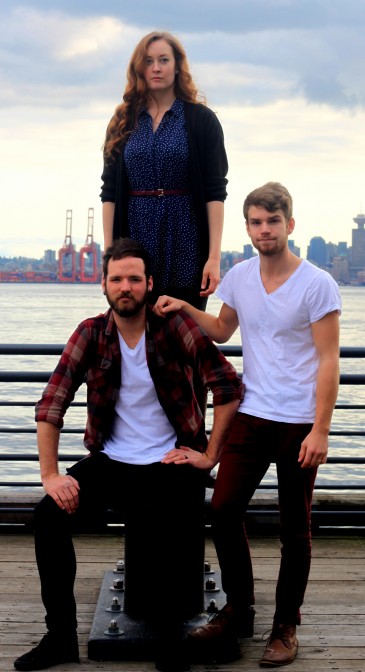 Inspiration for the album's theme—the race to the moon during the Cold War and the optimism that surrounded it—originally stemmed from Swindell's life-long fascination with space. "Taylor likes to write with a story in mind," explains Levey, adding that their releases are formed around concepts pitched by Swindells. "Science at the time was so optimistic about their idea of what the world would be [like] 50 years from now," Swindells says of his interest in the era. "When I pitched it to these guys, they were like, '… Sure.'" He lets out a small chuckle. "I'm too much of a nerd for my own good, I guess."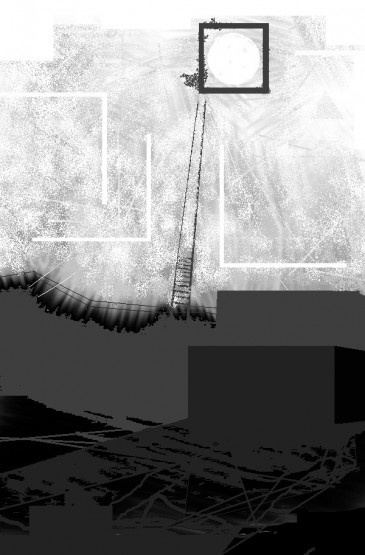 Interestingly enough, the band had already written a full-length album before the conception of Space Race even came into play. However, they decided to put the project on hold, opting instead to do "something that [they] could afford to do earlier." The decision seems to have paid off, with the group crafting a short, yet astonishing journey through time and space. Opener "Irrepressible Future" is an upbeat, folk-rock number, accented with sweeping vocals and xylophone magic. The looming desire for innovation during the era can be described perfectly by closing lines, "I don't wanna die until you know who I've been." "They've Got Us on Our Heels" is another standout, and provides contrast with "Irrepressible Future" by drawing inspiration from the darker, despair-filled atmosphere of the Cold War. The vocal dynamics between Swindells and Levey are heartbreakingly haunting, yet there is something sweetly poetic about their lyrics: "We woke up today / Our futures planned / Walking side by side / So unaware that they were planning our demise."
Releasing Space Race is not the band's only recent accomplishment. Earlier this year they entered the CBC Music Searchlight competition on a whim—and ended up being crowned the Regional Champions. The band was blown away by the support they received from family, friends, and even fellow competitors. "The other artists were so supportive and positive," says Levey. "It was such a great surprise, actually. I didn't expect that."
Swindells is quick to agree: "I think it's unique to Vancouver. The community of musicians are really supportive of each other—it's not like you're all competition."
Without any major touring plans in the foreseeable future, the band has a few local shows already on the horizon. "Hopefully this fall we'll be going out and touring the EP," Parry says.
And how about that full-length album? "We're working on it already," shares Swindells. "I don't stop writing 'cause I'm just obsessive like that."
That being said, the band plans to take their new-found knowledge into the current writing process, noting that a lot of their previously written material probably won't survive. "Our sound changed a lot with recording the EP," Swindells explains. "It shaped a lot of the way we do things, so the older songs just didn't feel like they followed suit with the [direction we were] headed." One detail they have settled on is the theme: a World War II love story.
With the Tourist Company's innate ability to weave stories into wondrous soundscapes, it is most definitely another adventure you won't want to miss.
Don't forget to check out the Tourist Company at either of their next shows: June 7 at the Fox Cabaret with Colour the Wild and June 28 at the Narrows Pub, where they'll be sharing the bill with Rococode.