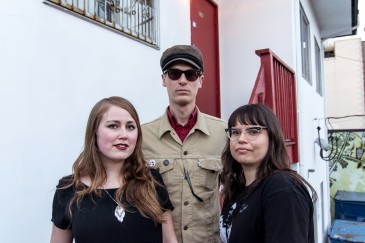 "We were all friends from playing in other bands." Mike Flintoff, thin, sanguine, and bespectacled, sits at a 90 degree angle from me in the noisy Mount Pleasant bar where I'm interviewing the Flintettes, one of Vancouver's newest and most promising pop groups. It's trivia night, so we're all shouting over the din of a multiple choice quiz; every 10 seconds, a new song blasts through the speakers, and barflies shout out guesses for the name and artist. Flintoff and his bandmates—bassist Marissa Johnson and drummer CC Rose—seem unfazed. They're used to a little bit of noise.

They're telling me the story of the first show they played together—10 years ago, when all three were in different bands. "I was playing with the Parallels, Marissa was playing with the Weathered Pines, and CC was with Vancougar," Mike remembers. The three debate over whether the show, a triple bill at The Marine Club (now closed), was in 2004 or 2005 (it was actually 2006); either way, it's clear the trio's history goes far beyond the Flintettes. All three are long-term members of Vancouver's tight-knit community of musicians, and sitting with them as they share a pitcher of beer and trade barbs and in-jokes, it's clear that they go way back.
As the Flintettes, the three are a force to be reckoned with—a concentrated dose of sun-soaked power pop with a strong '60s influence and enough high-octane hooks to make the Beatles blush. "File under pop" is how they describe their own sound, and they leave it at that. Their new EP, Open Your Eyes, is a roller-coaster debut from a group who knows exactly what they want to say—and they say it pretty fucking well.
"I'm not afraid to embrace pop," Flintoff, the band's principal songwriter, admits. "It used to be kind of a bad word for me, and I think it got to a point, in this band, where I thought, 'You know what, fuck it! I love pop music, let's just write pop songs.'"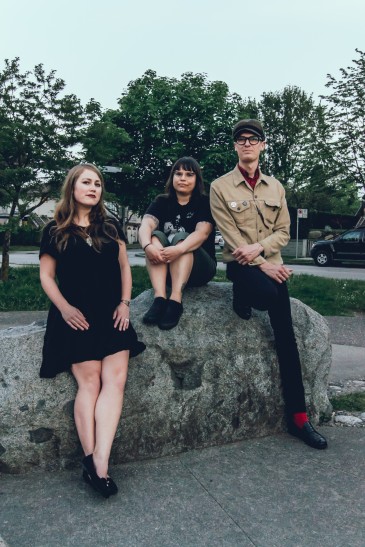 All three band-mates share a love for pop music, along with an affinity for cheap beer and the Kinks. It's easy to play spot-the-influence with the new record—Mike's vocals have definite shades of early Elvis Costello, and Johnson and Rose's chemistry as a rhythm section would feel right at home within the grimy walls of a late '70s CBGB's. "This band, I think, is the culmination of all of our influences," Johnson says. One of the biggest strength of Open Your Eyes, then, is its ability to mix its influences into something warm and familiar, but completely new in its own right.
For the Flintettes, there's a simple secret to their success: having fun. "It's definitely not our first times around the block writing music or playing in bands," Flintoff notes.
"We kind of wanted a band that was just fun," Johnson adds. "Our other bands were perceived as more serious projects, so it was like, 'Let's just have this side project that's really fun.' But it's ended up being the most productive band of all my projects."
"It's a combination of the music being fun to play and catchy, and also that we all get along really well and have a great time hanging out together as friends," Rose adds. "I think, inevitably, that ends up coming through somehow." It's easy to hear on the record, too. The chemistry the three share inside our cramped booth in The Five Point is the same chemistry you hear on tracks like "What Was One," whose call-and-response vocals add a playful, spontaneous quality to the standard pop rock formula.
"I'm just as excited about a weekly practice night as I am about going to a show. As long as the three of us are together, and we're getting to have fun playing our songs," Flintoff says. After years of playing music in Vancouver and elsewhere, the Flintettes are all about having a good time, and ignoring the drama. "The main focus is to have fun and to enjoy playing music, and not get too riled up about turnouts and venues and money and band politics and stupid bullshit not worth getting riled up about," Rose says. "Having played with bands in this town for almost 20 years, I just won't take any shit. I don't care about any of that, I just want to play music."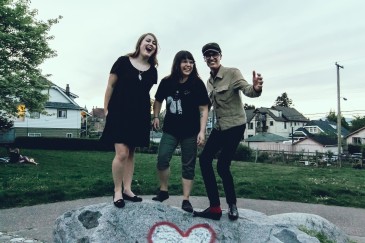 As I'm sitting with them, the three are recovering from a weekend of shows in Victoria—they can hardly contain their excitement about playing for an island audience. "As a drummer, I just really like playing catchy songs with a good beat that people want to dance to," says Rose. "That's been a goal my whole life, to play in a band that plays songs that people want to dance to. So even if it's only like 15 or 20 people, and they're all dancing, I'm very satisfied."
So, what's next for the Flintettes? They seem hesitant to plan too far in advance. There's a new single coming out soon, they say, with a darker feel than Open Your Eyes' shimmery pop—and they make sure to thank their label, La-Ti-Da Records, which Flintoff describes as "a real ma and pa shop." About the closest I can get out of them in the way of a future plan is an idea for the photo shoot: a dip in Flintoff's claw-foot tub, filled to the brim with poutine, another of the band's shared loves. "You have to eat your way out," Rose jokes.
If there's one thing we can say for sure, it's that the Flintettes have no plans of slowing down, and they intend on keeping their focus on casual fun totally intact. "When it becomes work, it's not fun anymore," Rose muses. With these three, it's hard to imagine anything seeming like work.
If you're in the mood for some non-stop pop, look no further than Open Your Eyes, available as a limited-edition seven-inch through La-Ti-Da Records or as a digital download on the La-Ti-Da Bandcamp page.