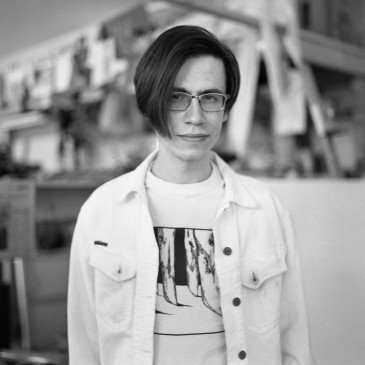 "When I asked my dad if I could get a guitar, he wasn't into it. He said it was a phase and thought I should get a parrot because it would last me longer," a man pensively recalls from behind wire-framed glasses. "They live for 40 or 50 years," he adds, cracking a smile. This is just the first of many light-hearted anecdotes Spencer Davis shares with me as we sit down to discuss his many projects, music as a dialogue, and how to have a good time in "No Fun City."
Best known for his role as unaffected bass player in local aggro-rock outfit Cowards, whose early recordings found a home on Majorly Records last month under the title World Leaders in Male Chastity, the tireless musician maintains a lighter, yet determined air behind the antagonism of his Albini-esque stage presence.
"I started out playing with Sydney [Koke] from the Courtneys. It was this noisy, messy kind of thing, but we had a lot of fun," says Davis, recounting the details of his first jam sessions in his hometown of Calgary. Then, as with most high school bands, graduation happened, reality sunk in, and the players went their separate ways.
For Davis, the natural progression was to escape the endless prairie winters, and so he made inroads from Calgary to Vancouver eight years ago, where he did guitar and vocals for local noise-rockers Fortress. Since then, Davis has been involved with a variety of projects, such as the short-lived and challenging work of Glass Armonica, whose self-titled EP, which can still be found online, is a worthwhile journey into cross-cultural experimentation. Meanwhile, Davis' most recent undertaking finds him at the opposite end of the spectrum, playing spastic garage psych alongside veteran rockers Jeremy van Wyck (Shearing Pinx, Aerosol Constellations) and David Rogers (Basketball, Aquanaut) under the Tycho Brahe moniker.
Somewhere between these commitments the dynamic multi-instrumentalist always finds time to return to his solo projects: S.P. Davis and Nervous Operator.
"I've been working on the S.P. Davis stuff for around 10 years now," he says, describing the patient, progressive twang reminiscent of early John Fahey.
Although his songs have been written slowly over the past decade, they are never agonized over and develop through an organic process that has taken on its own electro-ambient alter-ego: Nervous Operator.
"It's fun because I can be booked at a noise show and show up with my acoustic guitar," Davis notes, explaining the interchangeability of the two monikers. "For me, [songwriting] needs to be like a ballast with two opposite ends. I'll work on one project to the point where I'm sick of it and then be able to work on something completely different."
Shuffling between acoustic and electronic means his solo live shows (whether as S.P. Davis or Nervous Operator) takes sidestepping an audience's expectations further than just extending a solo or taking cues from a genre. Challenging the tradition of catering to audience expectations is not a new concept in music, especially in live performances, where bands in both jazz and noise circles continually change their sound or collaborate with others to skirt expectations. This, Davis insists, is part of a larger dialogue about challenging perpetuity and stasis: "I don't do a lot of improvisation at shows, but I definitely love the organic songwriting process."
Nevertheless, the Calgary native's inquisitive nature spurred him to keep that dialogue open. The medium of music has given him an outlet for ongoing conversation that transcends not only listeners' expectations, but borders and cultures as well. Viewing music as a component of this larger dialogue, he sees it as a balance between bringing together communities and nurturing individual catharsis.
With this in mind, Davis gives no credence to the "No Fun City" subtitle when considering Vancouver's music scene. "It's always been a struggle but it's all about yourself: if you're a fun person, you're going to have a fun time wherever you go. If you're expecting the city to give you a good time, then you'll be upset. If you go out to make a good time, then you'll have a good time."
Whether curating shows at the Red Gate Art Society or performing in one of a handful of local bands, the tireless Vancouver mainstay shows no signs of stopping, "My dad is actually very supportive now. He says I should apply to 4AD. That's his favourite label."
Spencer Davis will perform back-to-back daytime sets with both Tycho Brahe and as Nervous Operator at Red Cat Records on June 7 as part of this year's Music Waste Festival.