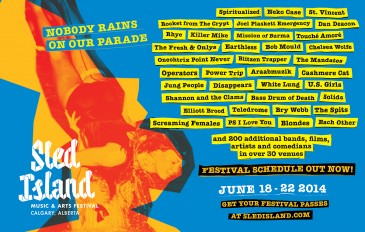 It's that time of the year when bands and music fans alike prepare for the annual pilgrimage to Sled Island, a massive multi-day festival that takes place in Calgary, AB. Since 2007, Sled has been a lightning rod for talent from both Canadian artists and beyond—and this year's line-up is no different.
An attendee could go crazy trying to take in everything over the five-day extravaganza, but Discorder will be doing our darndest to bring you as much coverage as possible for the duration. Representing the magazine at this year's Sled are Editor-in-chief Jacey Gibb, Real Live Action editor Robert Catherall, and, reporting on the festival for her second time, former Discorder Editor-in-chief Laurel Borrowman! Each morning we'll have a roundup of the previous day's events, including what bands/shows we were lucky enough to catch, what the festival vibe is like this year, and all the funning you can fit in a modest word count.
The Discorder crew aren't the only Vancouverites road-tripping across the Rockies  for Sled though, as the festival boasts a number of Vancouver-based bands playing this year. Not that we're bragging, but a few of the West Coast acts we'll be keeping an eye out for are Johnny de Courcy, Dead Soft, War Baby, B-Lines, Mu, Village, Dirty Spells, NEEDS, Crystal Swells, Tough Age, Dead Ghosts, Jay Arner, supermoon, White Lung, Young Braised, and more!
That's all for now, folks. Check back here on Thursday morning to find out how Laurel's first day of Sledding went!