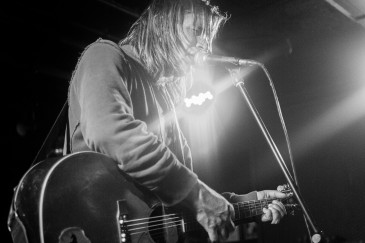 The '90s nostalgia train chugs ever forward, building with it some sprightly momentum that's easier to see than those Magic Eye illusion thingies ever were, and more digestible than those Pizza Lunchables ever were, too. Sure, the decade was synonymous with grunge and gangsta rap but it also brought alternative music into the vernacular and, for better or worse, the mainstream. Some of the power pop heavyweights of that era fared better than others—there's a shit ton of poseurs who just aped Eddie Vedder, most of them named Scott (Weiland, Stapp, I'm looking at you!)—and of those who made it clear, the Lemonheads have a modest but utterly laudable legacy.
Their frontman, Evan Dando, remains relevant via sporadic but delightful releases and he tours his oeuvre tirelessly. Dando's current solo Canadian tour with Sara Johnston (of Montreal famed '90s-era electronica act Bran Van 3000) opening, touched down at the Biltmore Cabaret for an early show promising and delivering wistful and rollicking pop in profusion.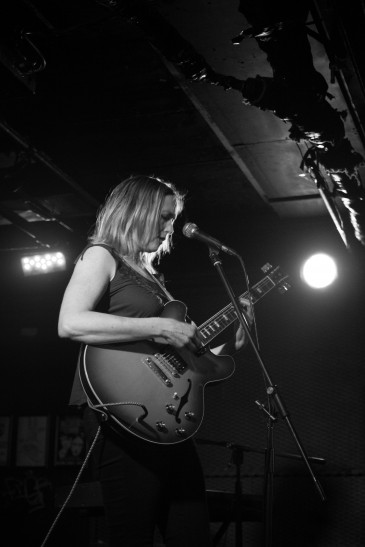 The crowd was sparse but building when Johnston took the stage, and while she was cheerful and feel-good, her songs were a little dull and unadorned in that exhaustively exuberant kinda way. I feel bad admitting it but I found her too complaisant and folksy in a Sarah McLachlan vanilla kinda way. Fine and inoffensive, just not my cuppa tea.
Johnston closed her set with a cover of Billy Idol's "Eyes Without a Face" for some reason, reminding me that I dislike the original version a fair bit and found hers somehow even more rasping and shrill. Maybe needlessly singing a few verses in français is what did it, or perhaps that Johnston's plumbing of the Me Decade went back a little too far for what I was after. Regardless of this lapse nothing could impede the elation of knowing that Dando was up next as the now buzzing throng edged up to the stage in eager anticipation of our favourite long-haired poster boy of all things alterna-awesome.
Dando didn't disappoint, opening with "Tenderfoot," a fan favourite originally performed by Aussie slackers Smudge back in '94. Later in his set Dando would do another Smudge cover, "Divan" which was divine. Both those Smudge ditties were penned by Tom Morgan, one of the Lemonheads during their heyday, who also contributed hugely to It's a Shame About Ray, their chef d'oeuvre.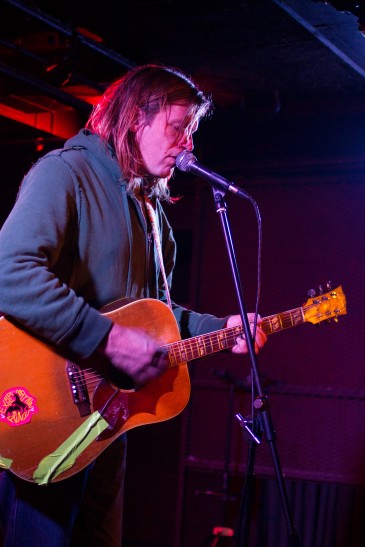 After a couple songs, Dando, who wasn't fully engaging the crowd but still playing his heart out, left the stage in search of a capo. With the stage empty I had a brief panic attack. When he was in and out of rehab in the mid-'90s and every now and then since, his stage shows can get a little whack. I'll never forget the disaster that befell Richard's on Richards in 2001 when a very intoxicated Dando leapt off the stage, fists flying. That set was interrupted frequently by antagonistic fans and Dando's engaging with them. This reached a debauched crescendo when a drop-down drunk Courtney Love (accompanied by a painfully embarrassed Charlize Theron) joined him on stage, demanding he replay half his set (which he did) before flashing her boobs and her bird to the stunned audience, and later commandeering his guitar for a set of songs nobody wanted to hear.
Thankfully Dando was back on stage in no time, capo in hand, and he dove back into a set peppered with some of his greatest hits. "The Outdoor Type," "Confetti," "Being Around," and "My Drug Buddy" had everyone dizzy with delight. Playing requests like "The Great Big No," "Ride With Me," and "Skulls" more than made up for the fact that his banter was non-existent. He ploughed through an enshrined tally of tunes, his voice intact and sunshiny as ever. He could have played all night long and the crowd wished he had. But, since Dando seemed to be enjoying himself on stage and rumours of another Lemonheads LP keep breezing by (though the lack of any new songs played didn't suggest such), hopefully he'll be back before us again posthaste.