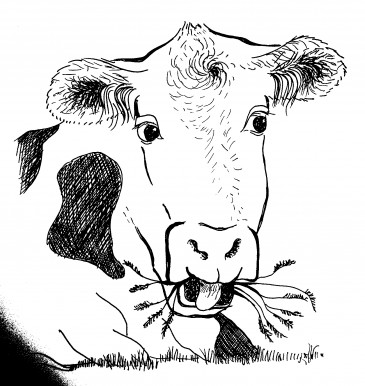 I remember it clearly. Discorder's art director, Jaz Halloran, and I were sitting across from each other, partaking in a few beverages post-office hours at the Gallery. It had been one of those days where you didn't get as much done as you wanted to but you had a beer in your hand and the company was good so none of it really mattered. Halloran was going on about the special effects in the new Star Trek movie—actually kind of old by this point, but new to him—and how visually satisfying it was to watch.
"People get paid to make that kind of stuff! That's their job, making these big blockbuster movies." I agreed with his musing and casually sipped my drink, when it suddenly dawned on me where the conversation was going: Halloran was about to tell me he was leaving the magazine.
His departure was by no means sudden. That conversation of ours took place about seven months ago and I'm only now getting the chance to write about it. Numerous people have asked me why Halloran is leaving, just as we've found a groove with the new format, and it's been immensely satisfying telling people the truth: that there's no behind-the-scenes controversy and no one's being fired or forced to resign. It hardly even feels like Halloran is quitting, but rather just moving on from the position. In his own words, Halloran told me he wants to leave the magazine while he still likes the job he's doing and I can respect that. It's been an incredibly organic progression and as much as I'll miss sharing weekly office hours together, I'm excited to see what he does next.
On the topic of new beginnings, Halloran's departure has another significance for Discorder: over the past year, nearly every major position within the magazine will have traded hands with someone new. We'll be welcoming our 2014/15 student liaison, frequent contributor Joshua Gabert-Doyon, after the summer's end; our new web editor, Marcin Lasinski, has been rocking and redefining Discorder's presence on the web and beyond; starting in June, we'll have a new editor taking over your much-beloved Under Review section; and even I myself didn't take over as EIC until last September. A lot can happen in just 12 months' time and the same applies to the next 12, which means this merry band of merries is going to be a whole lot of fun to work with.
I've spent the last nine months of my life brainstorming, collaborating, arguing, and creating with Halloran and I'll miss it dearly going forward. Since he announced his resignation, our running joke has been it's because he's too old and we're having Halloran "put out to pasture" with the other 30 year olds. Kind of a dark gag when I write about it, but I know Halloran will appreciate it and so I'll end on that note. Enjoy the pasture, Halloran. Hope it's as green as they say it is on the other side and thanks for all your years of Discorderly conduct
So it goes,
Jacey Gibb