It's been four long years of scrounging and cajoling, but all-ages advocates Safe Amplification Site Society (Safe Amp or S.A.S.S.) now has a place to call home, physically. Astorino's has been hosting Safe Amp's programming since March, after the organization signed a rental agreement entitling it to the space up to nine days out of every month. It was only on April 27, though, that Safe Amp threw an official opening party for their new — albeit temporary — venue.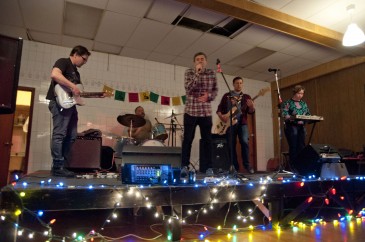 Appropriately enough, Collapsing Opposites kicked off the night's festivities; frontman Ryan McCormick is also a Safe Amp co-founder. Collapsing Opposites made the best of a muffled P.A., and McCormick conveyed a muted excitement on stage, admitting he was feeling under the weather.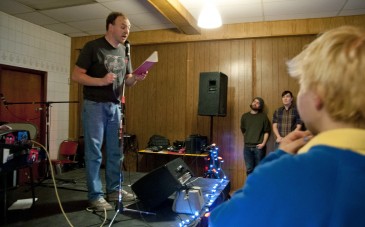 Next, one-man spoken word and keyboard sensation Chris-a-Riffic, was even more excited about the new venue. "Utopia is here, where the grass grows inside," he remarked gushingly, pointing out a vine growing through a crack in the wall. Chris-a-Riffic was more than a spectacle. His set was a marvel of participation, be it bantering with the audience or leading call-and-response clapping sessions. Alas, the exuberant family man had to bid farewell fairly quickly, along with most of the tot-toting folks in attendance.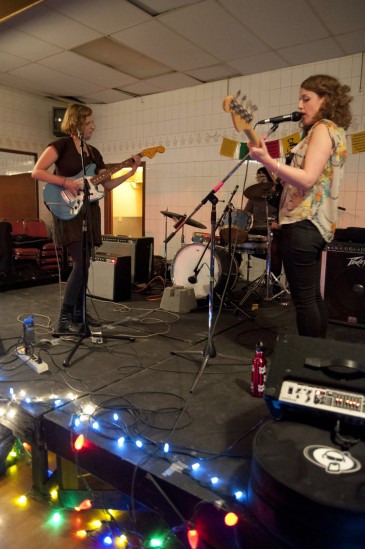 When PUPS came on stage, Rose Melberg remarked, "I've been told I play too hard." She was talking about her drumming, but she could easily have talked about PUPS' material, which chugged more than it chimed. That wasn't a bad thing. Sharing vocal duties, PUPS did hew closer to their pop roots towards the end of their set, the jangly numbers made all the more sweeter in contrast to the grinding ones.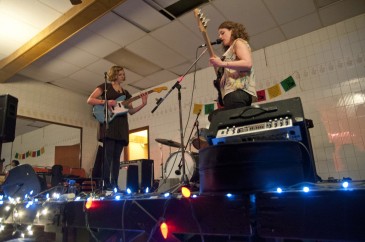 Chasing PUPS was Fake Tears, which featured Larissa Loyva (Kellarissa) and Elisha Rembold (Lost Lovers Brigade). Fake Tears's pulsing synth-pop was a somewhat of a departure from their usual material, though Loyva's ethereal sensibilities were still very much evident in her vocals.
Village dealt in similarly gauzy music, playing reverb-drenched dream-pop. Despite being a bit nervous about their sound on stage and their (lack of a) set list, they still played a pretty sexy bunch of songs.
Chung Antique, from Seattle, played competent, even-tempered math rock. Not that there's anything wrong with loping, elliptical riffs, and jazzy drumming, but this reviewer likes to rock out. Thankfully, Chung Antique closed their set with more energy than they started with. The gently swaying crowd took things up a notch and formed a conga line, seeing the band off.
In contrast, Cascadia closed with a convulsive, cathartic set right from the get-go. Cam Borthwick's extremely sloppy guitar work seems to have become a recurring theme of Cascadia's live show, but don't mistake this for incompetence or apathy. Coming across increasingly like a thrashy My Bloody Valentine, Cascadia are as murky as the mighty Fraser and possessed of an equally relentless undertow. To top it all off, the end of their set segued perfectly into the music on the P.A. What a way to close a show!