The delightful sun-soaked season invading Vancouver can be demanding; the urge to live life like you're in a '90s pop video becomes insatiable, forcing you to spend a ridiculous amount of time roasting on a beach or cramped in the backseat of a car, on your way to this weekend's festival or camp out. But no matter how you're spending the UV-heightened days, a pleasant summer soundtrack is a necessity. Might I suggest keeping Vancouver quartet Young Pacific in heavy rotation?
Formed in 2009, the band originally burst forth from the creative womb while bassist Mike Noble and keyboardist Djavin Bowen were playing backup for a singer-songwriter acoustic duo. When the pair realized that they shared a wealth of musical similarities, they added singer/drummer, Brock Weiderick, to the roster and adopted the name Young Pacific, a shout out to their coastal origins and wrinkle-free faces.
After several gigs and recording their first self-titled EP, the band found themselves pining for a new direction and began a creative metamorphosis, and in September traded their old singer for their current one, Devin Miller. Noble noticed an immediate shift in how the band functioned. "Once Devin came along, it started to pick up. I couldn't tell you why. Our songwriting got astronomically better."

A musical devil's advocate, Miller's persistence and self-pessimism have improved Young Pacific's dynamic, growing the group into a more layered ensemble. A prime example of this is new track, "Modern Eyes/Traces of Gold," where the last half of the nearly six-minute song finds the group trailing off into a slow climbing, climactic jam that showcases the potential within these young coastal rockers.
Since the lineup shuffle, the band's chemistry and cohesion have both improved immensely. "I took the opportunity seriously," Miller explains on a patio at New Westminster's River Market. "I put in a lot of work right away. On my end, I was pushing pushing."
Another distinction between the sound of the first EP and the latest, Lone Fire, was the band's approach to recording. Instead of funneling a ton of money into securing professional studio time, the band took up creative residence in the studio/garage of George Knuff, bassist for local indie rockers 41st & Home.
"Instead of throwing down our money and saying, 'We have five days to record this,' we literally had all the time in the world to try this and try that. It was a lot of fun, but a lot of trial and error." Miller found the informal, hands-on environment to be creatively nurturing, but almost frustrating.
"It was a lot of being really nit picky. A lot of the stuff that we recorded we would end up rerecording because maybe we weren't in a good mood that time. I'd just kind of do my OCD thing. One night, I stayed in there till 3 a.m. in the freezing cold, surrounded by garden tools and bicycles." While Young Pacific's first EP was recorded in five days, their second one took closer to three months between last December and early April.
Even if you were familiar with the band before, you'll be pleasantly surprised by the fresh slab of tracks circulating online via their Myspace and Bandcamp pages. The four latest songs are exclusively Miller-era pieces that tiptoe the line between folk-rock and pop. And so far, they're garnering an overwhelmingly positive response from fans, new and old.
"In the last nine days, we've had more hits and plays [on our Myspace and Bandcamp] than in the last year and a half." Noble says in semi-disbelief. A stand out moment came in February when they played the Cobalt to 300 of their sweatiest, most excited fans. "After that, so many people were like, 'This is what Young Pacific is now.' If you'd gone online a few weeks ago, all you would've found is our old EP, but that's not what we sound like anymore."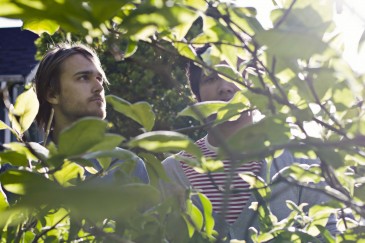 Strong ties in the local music community have also played a factor in Young Pacific's recent success. "A lot of bands we've played with [in the past] were sharing our EP and were like, 'Check out our friends!' so that's been great." Over the years they've had the privilege of sharing the stage with local groups the Ruffled Feathers, Chimpanzebras, and the Zolas. More recently, they've become the unofficial companion band of Good for Grapes, and will open at their tour kickoff show later this month at the Rio Theatre.
Despite the band's recent successes, including securing a spot on The Kulth music festival lineup this summer, Miller is content to simmer and take things a step at a time, which includes holding off on seeking a record label to call home.
"I'm kind of scared [of signing to a label]. I like this do-it-yourself thing. Mentally, I'm not prepared for that right now. That's for when it's almost becoming a career."
Noble is still absorbing the moment, savouring the little things that make being a musician so fulfilling. "It's weird to think that someone right now might be listening to one of our songs."
With the creative juices flowing and a catalogue of unpolished and unreleased material ready to be refined into rock-pop gold, Young Pacific are set to take the Lower Mainland music scene with renewed drive and youthful ambition, for this season and many more to come.
Young Pacific perform with Good for Grapes and Derrival at the Rio Theatre on June 15. Tickets are $10.