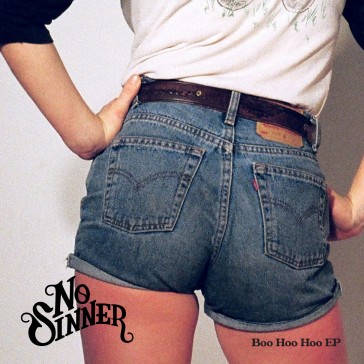 Never mind the silly bio on their Bandcamp page, complete with mystifying, pretentious phrases like "The weird mixed-language of millennial Vancouver: a creole of rugged Canadiana and rap vernacular." No Sinner's debut EP is a solid effort from the young band, who have been plying their trade for over a year.
Everything about No Sinner is slick, but in the best possible way: lead singer and songwriter Colleen Rennison's delivery, to her backing band (Ian Browne of the Matthew Good Band on drums, Black Mountain's Matt Camirand on bass), to the name itself ("Rennison" spelled backward turns out to be a very evocative moniker for the band).

With her powerful gospel vocals, Rennison belts out the lovelorn lyrics she co-wrote with ex-Hot Hot Heat bassist Parker Bossley over blues-rock recorded as hot as the denim short shorts on the cover art. One Herohill review drew comparisons to Etta James and Janis Joplin. At the risk of making a tasteless, tortured parallel, here's one more: Whitney Houston at her most soulful.
Rennison's lyrics seem to speak of some definite issues. By the third track, "Call My Name," things become increasingly, and perhaps uncomfortably, Oedipal (not that's a bad thing—far from it). "Running" might refer to such lyrical chestnuts as "Canadian thighs," and there's a spoken word bit stuffed (a la "Video Games") in the middle of "Call My Name," but the unpretentious songwriting of both songs keeps them well away from Lana Del Rey levels of dopiness.
By the time the EP's coda and title track, "Boo Hoo Hoo," rolls around, one thing's for certain: No Sinner are, if anything, quite an accomplished band.