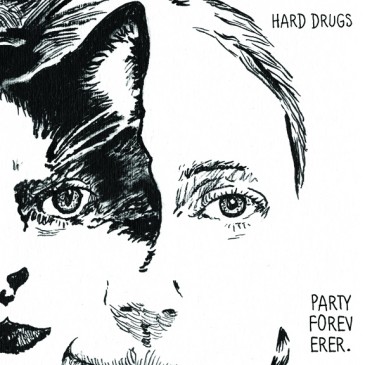 The opening track to Hard Drugs' sophomore effort, Party Foreverer, "Hit the Ground Runnin'" does just that: kicking the album off with lo-fi power pop guitar, recalling a post-modern take on "Jessie's Girl," before a lone bassline heralds a symphonic explosion of lush teenage bliss. The track features the album's best ready-for-the-summer lyrics, including the anti-anthemic statement, "I like to hang out, but who doesn't?"
Hard Drugs is the brain child of Blood Meridian's Jeffry Lee and his wife Jenni Lee Nelson. Like Lee's previous group, Hard Drugs mixes roots and folk music with a modern indie rock ethos and atmosphere.

The album eschews the long-form storyline of Hard Drugs' previous self-titled LP for a collection concise rootsy indie pop tunes. The album's country-fried style is most apparent, unsurprisingly, on "I Wanna Move to the Country," where the urbanites pine for a simpler life and marital bliss overtop a hip-shakin' hoedown that Lou Reed would dig.
Most tracks feature Lee and Nelson's close harmonies blending together like an East Van hipster version of the grievous angels, Graham Parsons and Emmy Lou Harris.
The album closes on a euphoric note with the one-two punch of "Love Won't Tear Us Apart" and "1500 Miles." The former sounds exactly how one would imagine a Bizarro version of the Joy Division classic would sound like: organic, optimistic, and celebratory. "1500 Miles" is a Stonesy riff-rocker and a stuck-on-the-road anthem.
On Party Foreverer, Lee and company offer the perfect soundtrack to a never ending summer of Friday barbeques and Saturday hangovers. If your friend's got a porch and Palm Bays, you may want to think about bringing some Hard Drugs to her next party.