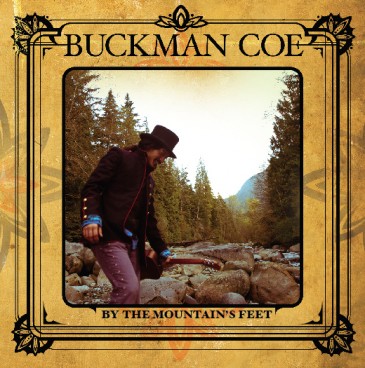 It is important to note, when introducing Vancouver-based yogi and folk artist Buckman Coe, that the term "yogi" should take first position. The singer-songwriter's latest release, By the Mountain's Feet, is one of the most optimistic albums I've heard in some time, laden with the personifying, loving, at-one-with-the-earth type of language that one would come across in any yoga studio. But this isn't to suggest that Coe is some sort of contrived act or incapable artist. In fact, his message of unity and simplicity is delivered quite naturally, and simple associations with the likes of Ben Harper won't do him justice.

Nevertheless, the album isn't devoid of aggravated undertones. On tracks such as "The Apocalypse is Not Guaranteed" and "Paranoia," Coe's frustration with the mishandling of the world is evident. On "Paranoia" he sings, "Oil spills are the price of their greed/ They are selling arms to watch both sides bleed." There is a mood of lamentation in the album's second half, apparent in tracks such as "Brother" and "Leaving Samsara." But his soothing vocals maintained throughout can only be imagined as sung with a smile on his face.
Diverse musical arrangements and intricacies complete the album; Coe's skills on guitar are on display, along with an impressive backing band complete with a range of percussion, keyboards, mandolin, banjo, violin, cello and even a mandotar.
Coe's album is steeped in nature, lamenting today's sorrows while hoping for tomorrow. It's put best on "Promise," when he sings: "Truly great humanity/ If we look inside we will find it." Coe should have a future in North America's folk scene if this album is any indication of his potential. For now, it's a good dose of optimism for those rainy Vancouver days.