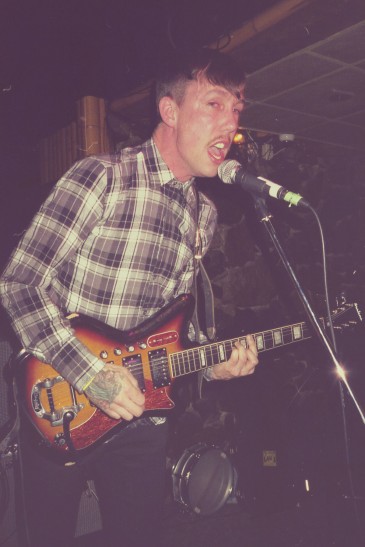 Maybe I'm old and jaded, or maybe I've listened to too much Smersh and Boyd Rice–warping my idea of what weird is–but for an event labeled Wyrd Fest, put on by WeirdCanada.com in the basement of the Waldorf Hotel, things seemed pretty tame.
When I think of weird music I think of Yoko Ono, Diamanda Galas, etc. Historically, Vancouver has always been a hotbed of far-out sounds and audio weirdos, from Numb and Skinny Puppy back in the day to a current crop of unique artists, including Dandi Wind, Fake Shark Real Zombie and Kellarissa. At the very least I expected more of the line-up to be like Role Mach, Dirty Beaches, Pas Amore, and Hobo Cubes, who were, in my opinion, the four highlights of the show.
It's not that the other bands on the bill weren't full of energy and enthusiasm, it's just that it's the same old shit that's been worshipped by college radio for the last 10 years. Kind of poppy, but not enough to actually be popular; kind of rock, but not hard rock enough for the Fox Seeds crowd; kind of punk, but not enough to satisfy the mohawk contingent. It was sloppily played, repetitive and half-assed, yet earnest; weird only by self-definition or in comparison to mom and dad's Eagles collection. Even the bands at Wyrd that I liked were doing things that had been done before, and done better. And these were the band I liked! This was seriously the best WeirdCanada could come up with?
Now, I will grant that my opinion wasn't the opinion of much of the audience, who dug the garage rock vibe of bands like Babysitters, B-Lines, Needles // Pins, Grown Ups, and Manic Attracts, though the crowd started to vanish after Ketamines' set–a good 2 hours before the official headliner, Red Mass, played.
Role Mach was the first band to really make a mark, with their heavy drums, brass, drones, and doomy jam sounds. This was a good start, albeit coming an hour and a half into the show.
Velvet Chrome picked up the doom with some jangle and plaintive shrieks thrown into the mix, while the next act, Dirty Beaches, played his dark, echo-y sparse grooves.
We then returned to the garage-rock sound of the Famines before my pick of the night, Pas Amore. Blending synths, loops, drones and brass in an improvisational style, these Montrealers could have played three times as long and it still wouldn't have been enough.
Feral Children were alright, and their brand of indie rock had enough of an experimental, slightly atmospheric tinge to make them just different enough to stand out from the rest of the bill.Too bad they wasted too much time tuning up on stage, as they were losing the audience and they sounded fine before they stopped to muck around.
Then it was Hobo Cubes, a one-man improvisation of live-manipulated loops, drones, and noise consisting of one of the guys from Pas Amore. A subtle organic feel seemed to rise up out of the meditative drones.
The progression of the last few bands made me hope the night was getting better and better, but alas came the dancey, somewhat Metric-like Long, Long, Long and Silver Dapple. Both bands had great energy and got the crowd bouncing, albeit not nearly as much as Gobble Gobble, who brought us their take on circuit-style "oontz oontz."
Next up were the Ketamines, whose jangly garage rock grooves got the crowd dancing, though many of them slipped out as soon as the set was done.
Organizer Aaron Levin preceded the next performance by Wyrd Visions with a request for the crowd to be quiet, adding "this is really special to me." Most of the remaining crowd was quite copacetic with this, sitting cross-legged on the floor with rapt attention, but there were also small groups shushing each other and giggling with rolled eyes at being told what to do, and quite a few took Levin's advice to leave the room to chat with their friends rather than talk over Wyrd Visions.  Musically, Wyrd Visions delivered slowly building songs, which were lovely but sprawled a bit too much.
Despite Dirty Beaches introducing TONSTARTSSBANDHT as one of his favourite bands, the outfit left something to be desired between their blues-influenced jams, indecipherable effects-laden vocals and derivative riffs.
Second to last was a band CiTR Music Director Luke Meat insists I should like: Femminielli. Minimalistic, gothy, synthy new wave sounds. Think Sisters of Mercy breeding with circa 1981 Duran Duran. It was decent, but nothing that hasn't been done a million times before.
Headliners Red Mass were OK, but their boisterous indie rock didn't exactly impress me.
With all the truly weird and original Canadian talent out there, if there's to be a Wyrd IV, they need to think outside the hip-this-week box.