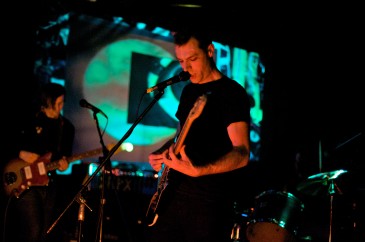 The very first Junkyard night — a new monthly collaboration of musicians, visual artists, and photographers with a common counter-culture theme — kicked off at Pat's Pub with an organized punch. A trio of noisy local acts showed up to support the inaugural event, which, contrary to the name, was packed more with precious metals than scrap.
Bathed in the liquid glow of a film projector, Student Teacher oozed cool. Their guitar-heavy setup had me all kinds of excited. The quintet's shoegaze set was slow to boil though, with early tunes sounding overly-distorted and lacking clarity, singing duties included. Lo-fi enthusiasm was definitely a must to enjoy this act, especially with the dissonant nature of some of their tracks. Student Teacher roared back to life in the latter part of their set, though, with an emphasis on girl-fronted crooning and long, effects-heavy instrumental pieces awash in feedback and amplifier ebb — this time in doses that didn't drown all the instruments in a sea of sound. The final noisy, post-rock track saw the band moving around their instruments like children on a playground, putting a satisfying physical emphasis on the crazy manipulated tones coming from the PA.
Judging by the packed crowd, it was obvious that Peace was the band most people came to see. As far as buzz bands go, this is one whose hype might be justified: the vintage rockers build on a solid foundation of 60s New York style with infectiously fuzzy beats. Rolling-thunder drums and powerful bass licks anchored each simple, spastic song. While singer Dan Geddes' monotone delivery might not suit everyone, Peace's lyrics do their best to stay out of the way of each track's instrumental offerings. Peace played a varied bevvy of songs, including some fresh from their new album "My Face."
Headliners Shearing Pinx needed no introduction. Having released over 50 records over the last six years, mostly on singer Nic Hughes' Isolated Now Waves label, their d.i.y. attitude and fierce ability to turn out music has plastered their name across the city and abroad. The dark, rabid orchestra of noise the band turned out conjured images of the dirtier parts of Vancouver thrown in a melting pot and boiled down. Songs like "Selfish Acts" and "Magnolia's Tomb" were filled with abrupt flashes of noise. Drummer Jeremy Van Wyck's frantic performance was worth paying particular attention to, though Hughes' grating vocals were frighteningly intense as well. The music relied on unexpected volume twists and math-heavy guitar screeching to keep the crowd off-balance, but hardcore fans still couldn't dance fast enough to a varied set list that pulled from their entire catalogue. I left the show feeling pretty light-headed — if it's possible to get whisky-drunk on music, Shearing Pinx got me there.