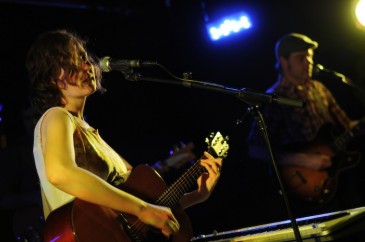 Maybe it was rumours of the impending rapture, or maybe the Canucks game was a contributing factor, but attendance for this early show at the Biltmore was sparse.
Even so, a slow trickle of music lovers came buzzing in as Ryan Beattie breezed to the stage to play a set of songs under his Himalayan Bear epithet. For those who follow Victoria, B.C.'s music scene, Beattie is an accomplished and prolific artist, known for his other projects like Chet and his goods-delivering guitar work with Frog Eyes. On this night, Beattie was joined by backing vocalist and violinist Megan Boddy (Frog Eyes, Meatdraw) and drummer Marek Tyler (Immaculate Machine), both on loan from headliner Kathryn Calder's band. It was apparent that there was Vancouver Island-bred talent to spare. Beattie treated the small but appreciative crowd to his brand of reflective and sentimental songs, most from Himalayan Bear's 2008 outing, …Attacks The Brilliant Air. His atmospheric, delicate and shimmering guitar on "A Light Grows Brighter" and "The Lost Love" was reminiscent of Santo & Johnny's haunting ring. Beattie's real gift, however, was his dulcet vocal delivery. His batch of love songs, honeyed as they were, went down easy.
The Biltmore was a little livelier by the time Kathryn Calder and her four-piece band took the spotlight, but the crowd still seemed tenuous. Considering the draw of Calder's other band, the New Pornographers, it was a little surprising. But Calder, cute and personable, played well and charmed with her adorable asides as she more than once thanked the crowd with, "Aww, you're so sweet!" Calder mostly focused on last year's indie pop offering, Are You My Mother?, but she also had a handful of new songs to charm the coterie gathered around the stage. Her music is very precious— even twee at times,— but, while pleasant, didn't seem to have the buoyancy that Himalayan Bear had displayed prior. Songs like "Arrow" and "Slip Away" satisfied her fans but couldn't help but remind me of the somewhat vanilla dourness of 90's-era Lilith Fair folk-rock. There's really nothing wrong or reproachful about that, but when your opener outplays you, well… whatcha gonna do?
All told, it was a nice night out, and it ended early so those needing to repent before the spurious rapture could still squeeze in a few Hail Mary's before the end of the world.