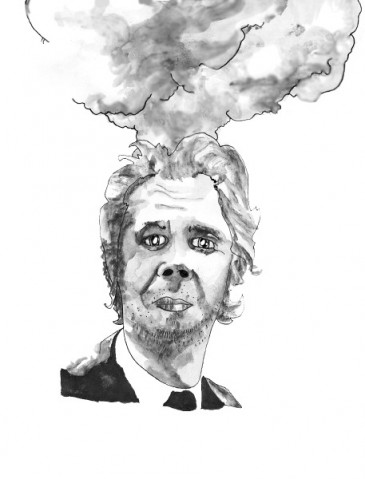 Upon first hearing Cloudsplitter's name, it's easy to conjure up images of a loud, assailing, hardcore metal band that takes itself deplorably seriously. One can even picture the sharp, metallic font with a dieresis over the "ü" amidst bolts of lightning, coiled serpents and pentagrams. But such imaginings deny the Americana air and folk frame of mind at the crux of this band, which is about as far removed from metal as you can get.
"I never thought about it that way," singer Dave Gowans says with a chuckle of the misconstrued moniker. "The title of the band actually comes from a Russell Banks novel, Cloudsplitter. It's a really long book, one that I struggled with, but after awhile it stuck with me and I really got into it. It inspired some songs that I was writing about coping and survival. It was nice to see these themes emerge, like how I struggled with that book and then all this beauty emerged."
Cloudsplitter (the band) can be as sombre as the Banks novel suggests, but also restrained and laid-back. As evidenced on their newly released self-titled album, their sound is a wry kind of folk fuzz with a country complexion. Though flirting with the Bakersfield sound, which is to say country with a hardy rock 'n' roll influence, the act coalesces this with '70s era outlaw country along the lines of Waylon Jennings and Merle Haggard.
In the decade or so before Cloudsplitter, Gowans had made a name for himself as the front man for the celebrated indie rock band the Buttless Chaps. "The Chaps mutually agreed we'd done as much as we could so we all just said 'it's better to stop,'" he says with a nostalgic inflection. "Take a TV sitcom; maybe Cheers or Seinfeld went on one or two seasons too many, y'know? You always gotta think of, like, Fawlty Towers, where it was eight episodes and it was done. It leaves you wanting more. But it was sad, ending the Chaps."
"The reason why Cloudsplitter formed in the first place was that the Chaps got asked to open for the Mountain Goats and there was a scheduling conflict, so the Chaps couldn't do it," Gowans continues of Cloudsplitter's roots. "Being a massive fan of the Mountain Goats I was like, 'I have to play this show,' so I asked the promoter if my other project could play—a kind of quieter set, just me and Ida Nilsen (Great Aunt Ida, the Beans) and Jesse Zubot (Fond of Tigers)—and the promoter was into it. So we did a couple of shows like that. It's been a lot of circumstance and synchronicity that got us going."
Following their formation, Cloudsplitter released a limited edition, self-titled, seven-song EP in 2009 with the lineup of Gowans, Nilsen , Zubot, Dan Gaucher (Stop Time) and Jesse Gander (the Buttless Chaps, Black Rice); a dream team of talented friends. "The current roster of Cloudsplitter is different than on those early recordings," admits Gowans. "Ida and Dan moved to Toronto—a lot of people move East, it seems." Gowans is now joined by Doug Liddle (Swank) on banjo, electric guitar, lap steel and musical saw, Stephen Lyons (Fond of Tigers) on drums, and Gander slapping a mean bass while also contributing keyboards and vocals.
Having numerous musicians in your social circle and running Red Cat Records exposes Gowans to a huge cross section of music. One might expect this could lead to Cloudsplitter trotting out loads of recognizable influences in their songs. Interestingly, the musician explains this isn't so.
"A lot of the music that I listen to doesn't sound anything like the music I make, and that surprises me," Gowans confesses. "I listen to a lot of electronic music or '80s stuff like Echo & the Bunnymen, Joy Division and Wire, and I like lots of current stuff too, but that doesn't seep into what I'm making so much."
Cloudsplitter opens with "Broken Yet Forgiven," a number full of gentle, languid tremors, from its almost breakable banjo strumming to the subdued way Gowans and company croon of "a glorious haze to take it all away." The poetry of the Banks' novel is tangible in such tender moments as those. Gowans' tender trill is a far cry from that of, say, Ian Curtis, though themes of failure and want may be something that connects Gowans to his preferred performers.
On top of eschewing the influence of Gowans' favourite bands, Cloudsplitter isn't an extension of anything he's done before. Where the Buttless Chaps were more of a cheerful alt-rock band that drove down country and electronic backroads, Cloudsplitter is on a somewhat twistier and downcast path. This can be attested to by shaky banjos and eerie musical saws, or the melodious chord progressions of "Death on the Plain." The song features a hauntingly delicate finger-picking intro reminiscent of Nick Drake, although more spare and bittersweet than anything the Chaps ever laid to tape.
"The Chaps had an identity that is different from Cloudsplitter. This is more hemmed in, different instrumentation and a different feel. I'm not singing in a falsetto or affecting a British accent or anything like that," jokes Gowans. "If you're to generalize [Cloudsplitter's] sound, it's down tempo folk rock, really, but restrained. We really are trying for a minimal approach, which is different for me. It's a fun and different dynamic. And it's exciting, too."
Gowans and company are planning a string of shows in support of the new record, with a planned performance on June 4 that will find them at Lana Lou's as part of the Music Waste Festival. More dates will be announced soon and it looks like the forecast for Cloudsplitter will be calling for thunder, harmony and dramatics in the days ahead.