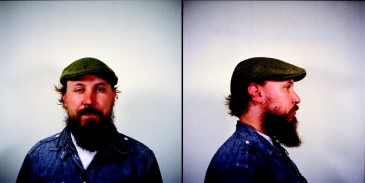 Five years before Brent Butt was known as the face of the most successful Canadian sitcom in television history, the star of Corner Gas hosted a popular stand-up comedy show at a now-defunct Vancouver nightclub. One of the perks of hosting the show at the Urban Well each week was the perfunctory free meal. Half way through the show, while comedians good and bad took their turn on stage, Butt sat at the bar and ate his complimentary dinner. Known as one of the great gentlemen of Canadian comedy, friends would jokingly say, "Don't come between Brent and his food." One night in early 2002, an amateur comedian named Graham Clark did just that. Clark had only been telling jokes for a few months and Butt could safely assume that Clark would be just another amateur comedian of fleeting ability. After introducing Clark, he made a beeline for the nightclub's trademark pasta dish. Three minutes into his meal, as Graham Clark's amplified routine echoed through the venue, Butt stopped eating. "His ears perked up," said Jamie Hutchinson, Butt's business partner at the time. "It's the only time I've ever seen Brent stop in the middle of a meal to watch a stand-up comedian." Clearly, Graham Clark was not a run-of-the-mill joke teller.
"I was 14 years old, living in Calgary," recalled Clark. "I sent in a script for Seinfeld to the studio and it came back with a [rejection letter] but with an invitation to attend this Warner Brothers writers workshop. My parents [thought] it was a scam. But it was actually a well-known sitcom-writing thing … my parents thought I would fail math if I went and took this workshop in the middle of the school year. So they didn't let me go." The people that did attend the workshop that year went on to high-level writing positions at a variety of well-known television programs. Clark kept writing material in the meantime, developing comedy routines while his body had barely developed pubic hair. "I had read interviews with guys like Woody Allen. He had just sent in jokes to guys like Sid Caesar. [Caesar] accepted them … [Allen] was writing jokes for TV when he was just a teenager. So, I thought that's how you break into show business … easy as that. That's what I was thinking… apparently that's not how it works."
Clark performed stand-up comedy for the very first time at the age of 15. "I did a talent show affiliated with the Calgary Stampede called The Youth Talent Showdown. It was almost entirely country singers and maybe a couple girl groups dancing to TLC songs," he recalled with a laugh. "I was the only comedian. I don't remember any of my jokes. It was hosted by this guy, Buckshot, who was a regional [children's] television host. I lost the talent show." Reflecting on this failure, Graham concluded the fix was in "because I wasn't a country singer. It was inside a theatre that I think might have doubled for cattle auctions." The early career of any stand-up comedian will introduce them to less-than-ideal performance situations. Today, at the age of 30, Clark seems to have encountered more than most. Known by his peers for having an unparalleled work ethic, Clark's career path was ironically chosen, he said, out of laziness. "I did [stand-up] again a couple years later when I was 16 … there was always some amateur night at the pool hall near where I lived. I tried it a couple times and it went well. But [I thought], 'I don't think you can do this for a living. This seems like a very ridiculous way to make a living.' So, then I went to film school." Clark left Calgary and enrolled in a Vancouver film program where he made an amusing documentary about "the funeral and casket industry." After graduation he found himself working on various film sets doing a number of exhausting, menial jobs. "I worked in film for a year. Then I [thought], 'I should try doing that thing where you only have to work a little bit.'
Although he has gone on to share the bill with well-known comedians like David Cross, Patton Oswalt, Emo Phillips, Joan Rivers and the Smothers Brothers, Clark has also found himself telling jokes for the financial equivalent of table scraps—sometimes in bizarre, even bloodstained, situations. "Now they're sanctioned inside the city, but back then you couldn't have them on Vancouver city property: Ultimate Fighting Championships. I don't even remember who [booked] us into this… but it was myself and [three other stand-up comedians] … None of us were feeling great about what was about to happen. I don't know what we thought. We thought there'd be a separate stage. We performed stand-up in the ring … We noticed when we were walking in that they were handing out three-packs of golf balls—some promotional thing … they were thrown [at us] during the set. We got paid $100."
By 2003, the weekly comedy night at the Urban Well was the epicenter of Vancouver's comedy scene. It far surpassed the city's two comedy clubs that, at the time, were widely perceived by both comedian and crowd alike as outmoded and depressing. The Urban Well, by comparison, attracted a more erudite public and became the desired venue of choice for famous comedians passing through town. The restaurant welcomed unexpected, drop-in performances from Kevin Nealon, Robin Williams and Zach Galifianakis on several occasions. There was also a bizarre evening that featured an unforgettable run-in with Saturday Night Live alumna Victoria Jackson.
Clark was readying himself to go on stage in front of a packed house while a group of fellow comedians tried to determine if a familiar looking woman in the crowd was indeed the malodorous voiced SNL cast member. "It's definitely her," confirmed Sara Fenton, who was working the door. "There's no mistaking that voice." Those in attendance assumed that Victoria Jackson was there for the same reason many of her famous contemporaries had appeared in the past: to perform a stand-up set. Jackson had recently changed personas from a well-known sketch performer to a regular on the church circuit, performing Christian-themed stand-up comedy. However, this particular evening, Jackson made no effort to introduce herself to any of the comedians in attendance. Instead she sat in the crowd, without fanfare, as if she were just another audience member. When Graham Clark took to the stage, Jackson brought out a small, handheld camcorder, placed it at table level, and recorded his act. "What the hell does she think she's doing?" fumed Peter Kelamis, one of Vancouver's most widely respected stand-up comics. Kelamis had to be subdued, so incensed was he at what looked like potential joke thievery. Clark left the stage seven minutes later, leaving an audience convulsed. He was surprised when informed that the blonde notable had just recorded his act. Clark decided to tiptoe over to her table. He introduced himself and confirmed her identity. He asked her why she had recorded his act. She explained nervously that she would be shooting a TV show in Vancouver soon and was just "scouting locations." Moments after this polite confrontation, Jackson and her camera quietly left the venue. She never filmed a television show in British Columbia.
Clark, on the other hand, would film a television show in B.C. For a full year he co-hosted a five-night-a-week TV comedy, until it fell victim to recession era budget cuts. The City News List was a humorous take on a variety of current events and was infinitely more successful than his previous television ventures. "I've written for television in subsequent years in different forms as a gag writer," he said. "I helped write a script for a television show I've never seen. It was on the Aboriginal People's Television Network. I don't even remember the name of the show. It was a family sitcom where some of the members of the family were First Nations and some of the members were Ukrainian." Asked if he just recycled the old Seinfeld script he had written when he was 14, Graham joked, "Yeah, instead of talking about bagels it became about bannock."
Clark has regularly impressed high profile comedians who are unfamiliar with his work. Brian Posehn, best known for his roles on the television programs Mr. Show and Just Shoot Me, hosted an evening at the Vancouver Comedy Festival in 2007. The lineup included notable American comedians Maria Bamford, Todd Barry, David Cross and Janeane Garofalo. Clark was the only local on the bill and he was to perform first. Posehn, in his usual sardonic fashion, introduced Clark with great skepticism. "Your first act is a local guy," he said without enthusiasm. "I hear he's funny. I guess we'll find out. Please welcome Graham Clark." Clark performed ten minutes of sure-fire material that not only overwhelmed the crowd, but also made it impossible for the nay saying Posehn to follow. Posehn's act would falter the rest of the evening. It was a sweet revenge.
Clark remains one of the most prolific stand-up comics in Canada. Unlike many of his contemporaries who often use the same 20 minutes of material for, literally, years, Clark's act is consistently changing. A return audience is usually treated to something both new and hilarious. His rapid development and ever-changing act was born out of necessity. For approximately five years, Clark welcomed return crowds to his weekly Laugh Gallery, an innovative comedy night for the hipster set, taking place at an El Salvadorian restaurant. The El CoCal on Commercial Drive was notorious for some of the city's worst bar service, an annoying yet inherent part of its charm. Clark scoured thrift stores and flea markets for one of the evening's most beloved features—a consciously crummy prize draw. The prizes doled out at Laugh Gallery shows were loved by some and abandoned by many. At the end of the night, tables could be littered with not just the residue of spilled beer, but often Alf paraphernalia, Erik Estrada VHS tapes and all manner of nauseating, pop culture ephemera.
Clark's offbeat comedy show became a favourite for Zach Galifianakis, star of the motion picture The Hangover. Living in Vancouver at the time, Galifianakis was working on a FOX series called Tru Calling that costarred local-boy-done-good, Jason Priestly. The former Beverly Hills 90210 heartthrob was another familiar face at Clark's weekly happening. One evening, Clark found himself doing battle with a drunken heckler. She disrupted the show several times using an assortment of ill-timed expletives. Finally one frustrated comedian on the show shouted at her from the stage, "Would you shut the fuck up!?" The highly intoxicated woman announced defiantly, "I don't have to shut up! I'm with Jason fucking Priestly!" Another time, after a series of highly attended Laugh Gallery gigs, Galifianakis insisted that some of the staff from Jimmy Kimmel Live fly to Vancouver to witness the evening for themselves. "It's the best comedy show in Vancouver and one of the best in North America," he once claimed. The Kimmel people trusted Galifianakis' endorsement. Unfortunately, the night the Kimmel people attended, they ended up being the only people in the audience. Such is the fickle fate of stand-up comedy in Vancouver.
Graham Clark was asked by weekly alternative paper the Georgia Straight what was the best thing about performing in front of a Vancouver audience. "It makes you tough," he concluded. Vancouver comedians have been saying for years that they are blown away when they perform in other metropolitan areas, how gracious and appreciative the crowds are. It can make a performer feel guilty, knowing how hard it can be to get a Vancouver gathering to laugh at the same material. Clark said that Vancouver's tough crowd reputation is made up for by the amount of places there are to perform. "I could play six shows in a week and there'd probably be an audience at all six of them. Certainly not an audience that is going there to give it up in any way, shape or form! They're not easy." Regardless, they respond to Clark more than anybody else. If there was ever such a thing as a crowd pleaser, Clark is it.
In recent history Clark, with fellow comedian Dave Shumka, has moderated Stop Podcasting Yourself, a highly entertaining Internet audio sensation (stoppodcastingyourself.blogspot.com). The informal sounding podcast has a simple premise. Two funny people (Clark and Shumka), often with the help of a special guest, banter about the ludicrous things they've encountered that week and, in doing so, entertain thousands of people around the world. The popularity of the podcast was solidified when Shumka and Clark expanded the program to include calls from listeners. The area codes on their call display came from all over America, England and Europe. They've started to mount occasional live recordings of the show, always to a packed crowd of fans that they're often meeting for the very first time. A sole photograph of the duo on the Stop Podcasting Yourself website gives no clue to the curious of who is who. Devotees of the podcast attending the live show for the first time are often astounded to discover which is which, having pictured each voice to have been emanating from the wrong body. They have recently teamed with The Sound of Young America, arguably the most popular alternative comedy show in the USA, to deliver podcasts in tandem. Guests on Stop Podcasting Yourself have included the polarizing Jon Dore and the beloved Paul F. Tompkins. Buckshot has yet to be booked.
As James Brown is dead, Graham Clark might be the hardest working man in show business today. A weekly podcast, the conclusion of a five-day a week television show, and a stand-up gig pretty much of every night of the week have made him one of the most recognizable faces in the city. The Laugh Gallery has been enjoying a quarterly revival that is frequented by many of the nostalgic regulars. Clark is the glue that makes the show worth seeing even if it turns out everyone else on the bill is a bum. Clark and his bevy of thrift store prizes can be enjoyed Friday, June 4 at the Cambrian Hall. Join the "Laugh Gallery!!" Facebook group for information about all Laugh Gallery happenings.
Graham Clark is universally loved in the comedy community. Audiences adore him. To watch Clark take control of a crowd is an impressive spectacle. Up until now, Clark had never heard of what happened off-stage his first time up at the Urban Well, the night in which Brent Butt stopped eating. "That sounds like an old timey showbiz anecdote," he said. "Like something Art Carney would have done." Indeed, the arc of Clark's comedy career seems to be mirroring his famous predecessors. He appears to be on the same path as the great comedy giants that came before him.