Next Music from Tokyo Volume 8 was dominated by feminine soprano voices reminiscent of anime opening sequences simultaneously playing mean, bass-thumping, head-banging, mosh-worthy indie rock. The tour series celebrates and introduces underground independent artists from Japan to Canada, and it is completely orchestrated and paid for by the passionate Steven Tanaka.
Instrumental trio NENGU opened up the evening. Incredibly nimble on their instruments, the group smashed their way through rapid, complex tracks that sounded rather blurry when filtered through loud, distorted speakers. NENGU's music seemed better suited to the confines of headphones, but it was cool watching such a tight group seemingly in deep conversation with each other onstage.
Another trio was the feature act, MASS OF THE FERMENTING DREGS, which I learned were nicknamed "Masu-Dore." They were powerfully led by charismatic female vocalist Natsuoko Mishimoto, who was dressed in bright red and wielding a bass. Their songs were a mass of expansive melodic lines coupled with heavy riffs that whipped the audience into a frenzy. People spilled onto the stage while others rose to the surface and crowd surfed.
The madness and radness was partly owed to Dalljub Step Club, however, who worked up the crowd up before Masu-Dore took over as the last set. More dancey and dub-steppy, this electronic party band seemed eager to infect the audience with its enthusiasm by interacting with us. Vocalist Shingen Mori introduced the world "saikou" to our vocabulary, which I think translates roughly to "totally fucking awesome."
Gozen Sanji to Taikutsu — which means "3 a.m. and bored" — was an eye-catching four-piece in uniform white coats. Once an all-girl band of university students, they brought on board a male guitarist who was a complete axe-wielding beast behind an unassuming shag of hair. Bassist Takanoshima delighted the audience by dancing all over the stage while Anisonin belted out powerful vocals.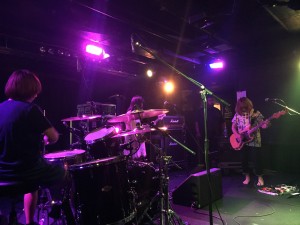 The band that really stole the show, though, was Regal Lily, a trio of seventeen- and eighteen-year-olds who had incredible talent and presence. In between lyrical, expressive melodies and careful, intricate instrumentation, they would suddenly erupt into explosive rock passages that left listeners completely entranced.
The tour's website claims that, compared to North America, women "play a much more prominent role on-stage, in the audience and as sound technicians" in the Japanese music scene, and seeing so many amazing females — especially young women — rocking it hard on stage was definitely refreshing.