Definitely the place to be on the last night of Music Waste 2016, the Wise Hall was like a mystical tent in the form of a local hall, especially with the lights lowered and their patchy disco ball spinning. Why didn't they use the stage already provided? Probably because the organizers were aware of just how many other things were going on that night. They were trying to fill the venue in a way that would encourage the performers.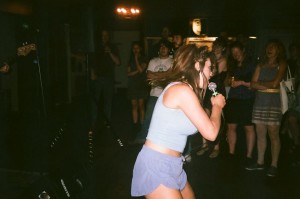 As I walked in Jock Tears had already started playing, despite vocalist Lauren Ray's declaration on stage: "Sorry… I'm wasted." Their scatter-brained, high energy punk was about real life scenarios such as Ray getting her head split open, and people she didn't like. Fast and choppy, I liked their sense of humour and their sunshine demeanors.
The end of their set was a cue for many. Waves of people entered and exited — tides controlled by the gravity of cigarette smoke and boredom. No one wanted to stay inside while the equipment on the floor was changed.
Stefana Fratila was next. Her computer-based music was a carefully curated electronic forest. Fratila's vocals were bright and clear, cutting through the bass nicely and her harmonies made me feel meditative. My only qualm was that she didn't use more deep bass like she did at the beginning of her set. When she did, I felt it go through the floor, hit me in the heart, and make me feel like she was connected to her audience.
I checked out a little for Kiso Island. I, like most of the audience, was hot, sweaty and barely there. I do love their name, though, and I really enjoyed Sleeper because of its tri-layered volume.
Poor Baby were next and it felt like they had studied all the early 2000s indie rock they could possibly listen to. Poor Baby technically weren't a bad band. In fact, it was inspiring that they could get so many musicians to play so well together, and get their hand claps in time. But they were bland and a little disappointing. They were an average-joe band in a festival that was supposed to represent the DIY and the imaginative community of Vancouver's underground scene. I don't know if they knew it but they visibly cleared the room. People who love music chose to leave because I'm assuming they were bored. The only redeeming quality was that the lead singer hugged us all and had great, charismatic jazz hands.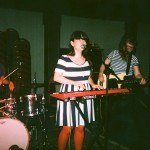 After Poor Baby, I was worried. I had never heard of Swim Team, and was just hoping that I wouldn't have to hold my breath for another set until Jay Arner came on. I was in luck, though.  Swim Team were so good. About half way through their short set, the music felt a little broken, but the audience kept creeping closer to the stage. They were an unedited fever dream of a '70s era Farrah Fawcett movie. The set ended too shortly, and we all cheered for more. Swim Team seemed a little lost, and the encore song they dug out from their back catalogue definitely didn't match the rest of their experimental sound, but I'm glad they had something to play instead of leaving us wanting more.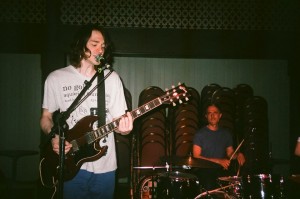 I was waiting to see the final band all night. It was nice to see the new generation of Jay Arner's band in action, and observe how well they meshed together. Music-wise, they were easy going, and fun. They felt like a distinct change of pace from the other bands, as if they were slowing down our manic vibes from the previous sets and getting everyone ready to head home for the night. Despite seeming chilled out and happy, they still made me want to dance with their quirky electronic sound.
Lethargy hit me as I left with some cool free stickers I picked up from the Art Waste vendors.
I felt like I had run a musical marathon, but was glad that I saw the night's highs and lows. I was struck with how much more I now knew about the intricate connections of Vancouver's music scene, but also glad that the night was over and I could hit the hay.