The instant I entered The Emerald, I breathed in a dizzying mix of cigarette smoke trailing in from outside and the delicious aroma of supper club fare coming down the stairway from the kitchen. Relieved from not having missed the first band, I settled into a temporal gap of idleness.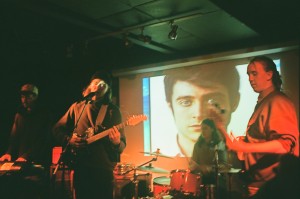 Defined as a fish that drinks malt liquor and eats cupcakes, as told to me by a friend of the band, Illacuda snuck onto the low-rise stage. That gif of Daniel Radcliffe/Elijah Wood, which had gone viral earlier that day, was projected on the rear screen and looped throughout their entire set. In spite of the amusing display, Illacuda absorbed and transported the intimate gathering to another world once they started playing "Hamid's Dream," an instrumental track off the top of their self-titled debut EP.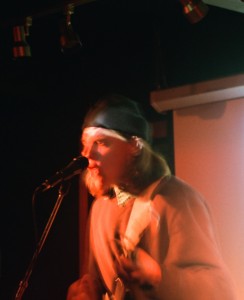 With their spell cast, vocalist and guitarist William Bennett went on to sing about a love he once lost. What followed was, as I could comprehend, a cover of Shaggy's "Angel" which segued into the band's "Allie." Bennett's deep, earnest vocals combined with Ross Nuttall's bass, Jordan Dwight's keyboard / guitar, and Nicholas Atkinson's drumming recalled Blaenavon and Mac DeMarco, but Illacuda made their mark as an indisputable case of the whole being greater than the sum of its parts.
When they played "Slacker," Bennett rose up and down on his toes, surfing the recurrent lyrics as his howls cascaded down the crowd. For their finale, Dwight stepped away from the keyboard and grabbed his guitar. They tested the water with "Night Life," a single to be released later in the summer. With Illacuda finally out, the band is already "balls deep" in recording new songs. It's been a "long time coming" and it'll be a "long time going," Dwight casually remarked.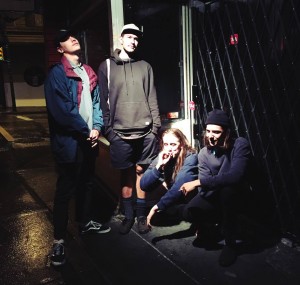 And they couldn't be more grateful to their fans. "You saw a very tame night. Normally people are naked all over," Bennett said. With an out-of-country tour in sight, they'll be setting off a riot in no time.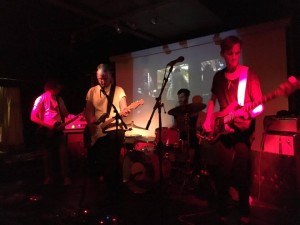 Also celebrating an album release, Owl Skowl took to the stage with a heavy, electrifying sound. Lead vocalist Pascal Le Vasseur went hard on his guitar, throwing in some classic arm swings during "Marchin'." With David Kandal on guitar, Tylor Piffer on vocals and bass, and Ian Huntley on drums, Owl Skowl reeled in the crowd. I overheard someone say, "They get better and better."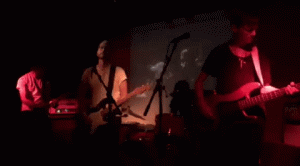 Even with a happy song, Vasseur pointed out it's "heavy as fuck." Their EP Pludge is a testament to his statement, but its weight is outmatched by its effect. If they get any better, there will be no words to describe them.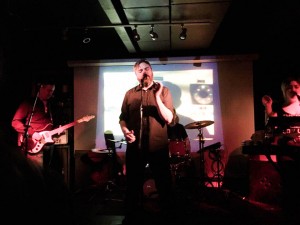 After their set, the crowd dwindled and calmed, but Sex With Strangers ensured the calmness was short-lived. An old sci-fi film started playing silently on the rear screen, then we were all hurled into deep space. With songs from their latest 4-track EP Space In Time, it's no wonder the floor seemed to open beneath us and swallow us whole.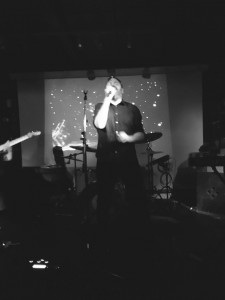 They brought eclecticism, raw energy, and mastery to the dedicated remaining listeners — perhaps even good timing. When bassist Mike Gentile took the mic for a song called "Mouthful of Blood," the rear film coincidentally showed a scene where the characters' eyes were pouring blood. It was a sublime moment.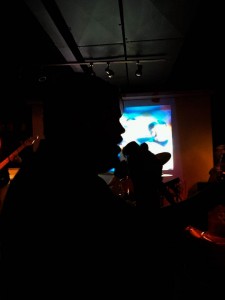 Towards the end, vocalist Hatch Benedict sprung up and down to the floor, singing with the force of rage. There was no limit to their energy and experiencing its loss after their set was only soothed by looking up their band description: "A European fight club where school-girl robots go to get empowered and deflowered."
There's really no better end.