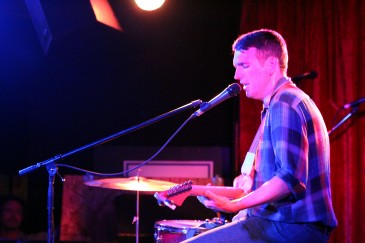 It was a fun night of indie rock and reminiscing, as Manitoba-based musician Shotgun Jimmie tore up the Biltmore Cabaret on June 11. Shotgun Jimmie has been a fixture on the indie music scene since the release of 6000 True Stories of Love in 2004. Since then, he's toured coast to coast, singing songs about love and sweet nostalgia. On this night, he brought good times to the Biltmore with his one man show and provided an upbeat soundtrack to a room full of fans and a few of his pals.
Any hint of shyness couldn't be detected in his set, as he was cracking jokes and swigging back beer during any pauses. Shotgun Jimmie's music went back in time often, as songs like "Suzy" explored themes from his youth (I used to walk Suzy home from school / she painted my portrait in a red dress / her parents always had a lot to eat in the fridge). It was very earnest, and it was clear that he's spent a great deal of time searching his life for meanings to put in his music. It was refreshing to hear a man talk so vividly about his young life and loves.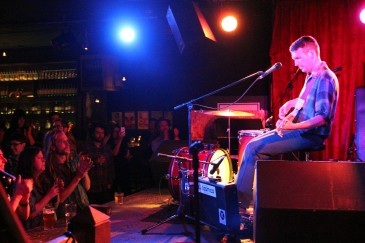 Jimmie's set was quite long, nearly an hour, as he took the crowd through a decade worth of his music. Taking in these songs in a live setting was the musical equivalent of sitting down on your uncle's knee and listening to all of his stories about the good old days.
He told the crowd he'd been on tour for much of this year, but was especially happy to be back on the West Coast, and on this night Shotgun Jimmie proved that you don't need much more than a voice and a guitar to have a good time. Some of it may have had to do with the large turnout at the Biltmore, but, as he pointed out, a lot of it has to do with the awesome fish in Vancouver that he doesn't have access to in Manitoba.