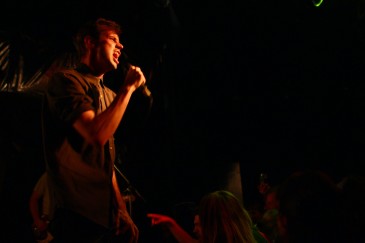 On Friday, June 5, I had the privilege of doing a whirlwind tour of the Music Waste venues around Vancouver. Like a kid in a candy store I giddily gallivanted about town and took in some great acts, and was reminded of the strength and diversity of Vancouver's music scene.
Starting off the evening at the ANZA Club was guy/girl duo Still Creek Murder. They were the most recent Shindig winners, and it's easy to see why. They were catchy, they were crashy, and they managed to produce a wide range of sound, despite being only two. A variety of intelligently written and thoughtful songs kept the set engaging, and I hadn't nearly gotten my fill of them by the time they were finished their set. This is a band I will see again soon.
Following was Revered. I guess you could have called it a music act, but it would be more accurate to say that music is the medium through which they conveyed their delightfully weird and comedic material. The dapperly dressed lead singer and his aviator-clad back up vocalist evoked an almost Tenacious D-esque kitsch, despite looking and sounding completely different.
Old school electro beats provided the soundtrack to which the crowd was elucidated and edified through mystical epics and deep, dark existential musings. "Cold, Cheap Sun" provided a scathing rebuke of the centre of our solar system, after which the singer admonished the crowd that "hope is the disease that keeps us going, folks." Everyone present got off on their calculated black humour, let alone the authenticity and originality of the act. Plainly put: these guys were quirky as hell.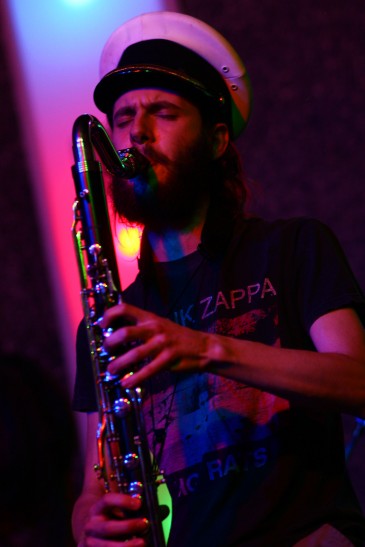 When I had made my way to the Remington, in the middle of the room a somewhat diminutive and unassuming girl stood in front of her electronic equipment, wearing a floral dress and brown oxfords. Her stature was small, but the sound she made was huge.
The music was dark and gorgeous, like something tragic being remembered, yet something important and beautiful was being extracted from that memory. At times she emitted primal screams that were then filtered through vocal effects to create a terrifyingly beautiful cry into the night. It was the kind of haunting music that you would soundtrack an ancient war film to as a panoramic shot captures the aftermath of a bloody battlefield – except with contemporary electronic accompaniment. This was definitely one of the treats of the evening.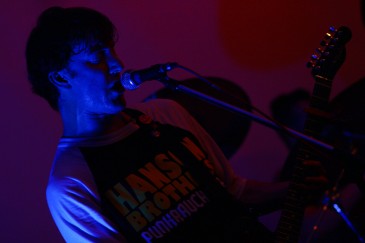 From there, it was on to the Red Gate for Dirty Spells, who had some seriously deep grooves, and I found myself mesmerized by their exotic yet relatable music.
Creating a surprising range of sonic environments, they took their time and relished the moment. They fashioned very slow musical builds, and revelled in an equally slow release. The effect of the amplified violin gave it a Far East flavour.
This band works through osmosis and, over time, their sound seeped into the hearts of onlookers. Drummer Ryan Betts augmented the feeling with sporadic and exploratory drum fills. In the very last few seconds of the set, a long buildup erupted into an intense blur of percussive blows that that left my head spinning and proved Dirty Spells to be a very accomplished group of musicians.
I hope everyone got a chance to get out and catch some Music Waste acts this past weekend as the event is a great way to check the musical pulse of the city. If not, there's always next year, and I'll definitely see you there.