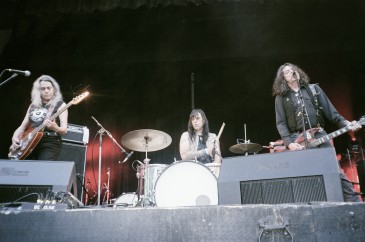 Originating as Austin Psych Fest, the inaugural Levitation Vancouver was only the second time the festival travelled beyond its Texan home. Founded by the Black Angels as a celebration of the psych-rock revival, it's a broad church for everything from norm-core bedroom pop to grizzled heavy metal. After a sweltering weekend in Stanley Park's Malkin Bowl, could we tell apart our Dead Moons from our Dead Meadows, our La Witches from our Black Wizards?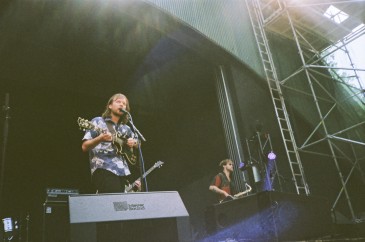 By Saturday lunchtime it felt like Levitation had always been camped in Stanley Park, as Discorder favourites Dada Plan eased us in with saxophones and strummed ditties. Seattle's Tacocat were equally feel-good with blasts of punk-pop that probably only exists on cassette. Things rapidly took a turn for the '70s with Three Wolf Moon. The name says it all of course, firmly in homage to the folk roots of early psych they nearly, nearly made us levitate. By mid-afternoon, however, it was apparent that the line-up was stretched thin.
California's Mystic Braves were a derivative '60s nothing and The Shrine's cheesy metal should never have left their parents' basement. Lesson learned: bands wearing corduroy or bandanas should be avoided like the plague.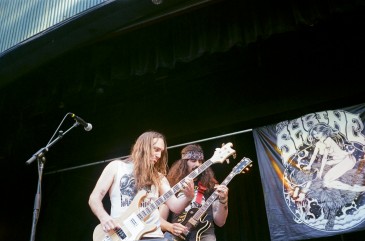 Though all was forgiven with the wonderful Dead Moon. The Portland trio, formed in 1987, transformed Stanley Park with gnarly, knuckle-dragging blues. Husband-and-wife Fred and Toody Cole owned the stage with minimal set-up and raw, ragged rock 'n' roll that made it easily the show of the weekend. As dusk descended, local heroes Black Mountain took us into more expansive territory, a rare psychedelic moment as Stephen McBean's solos duelled with cranky electronics.
Work commitments meant missing Sunday afternoon so I can't vouch for Inuk singer-songwriter Willie Thrasher, or Joel Gion of The Brian Jonestown Massacre. Though much like the previous day, the Malkin Bowl's early evening line-up didn't deliver much psych or rock. Curtis Harding has a velvet voice and nice boots but it was essentially the kind of music dads like. Beach Fossils were Pavement sound-alikes that were over-promoted to third from top. And this was the Levitation experience thus far: a psychedelic rock festival with a distinct lack of psychedelic rock bands.
Thankfully, and not before time, a proper band kick-started a proper festival. With J Mascis of Dinosaur Jr on drums, Witch were everything a rock supergroup should be, and settled somewhere between stoner-rock and biker-metal. All of Witch made way for the Black Angels to close the evening with a much groovier and haunting take on the blues. Sounding so much louder than the average outdoor festival set, "Indigo Meadow" particularly showed why they do psych-rock better than anyone in the current wave.
With late night shows at the Rickshaw, Cobalt, and Electric Owl, Sunday night offered a heavy repost to Levitation's lighter daytime moments. It was a tough call between the Rickshaw's Burger Records night and the Cobalt's dive bar vibe, but the Main St venues won out with their amped-up bands and draught IPAs.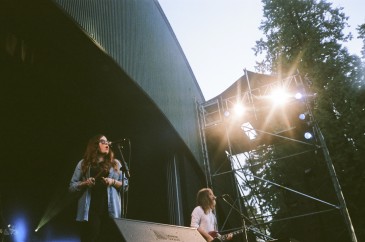 Opening at the Cobalt was Vancouver Island's White Poppy who delivered in spades what Levitation was missing: shoegaze! Lost in a dreamy squall of reverb, it was a delicious taster of her upcoming album Natural Phenomena. Drug-pop being a definite theme of the night, Gateway Drugs then came a close second for Band of the Weekend, blowing us away with a colourful racket of Mazzy Star-times-My Bloody Valentine. By the time Anciients' doom-metal closed the weekend over at the Electric Owl, no one could hear themselves think.
As a first-time event, Levitation Vancouver did stretch itself thin at times. But the musical muscle of the late-night shows remains the festival's strength, and may it be for years to come. Next year let's hope they bring more of that experimental streak to the green fields of Stanley Park.