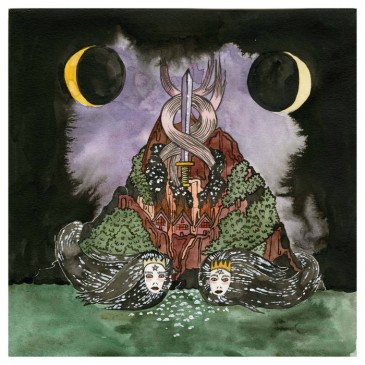 There is something curiously magnetic about it: pushing the play button for the debut album of Island Eyes (formerly Wand) manifests an auspicious premonition. And it is one that proves to be more than rewarding. Ιsland Eyes seems like a topographical prototype; the artist carves his landscape with dream-pop lines and coats it with phosphorescent powder of electronic frequencies. Moreover, Derek Janzen's dramatic vocals, layered with their distinct trembling and sobbing texture, and also his intense lyrics, contribute the three-dimensional element of outbreaks in this otherwise demure scenery.
"O, your violent clouds / Are a wind in this house / Where your flames have gone out / O, I'm afraid of this heart / I'm afraid of your ghost / I'm afraid of your love." These are the last words heard on the cassette, a temporary ending in a story of loss, agony and wandering that unfolds through the album's nine songs. In the track "Εvery House Is On Fire", there is a new-wave, disco-noir essence. The emotional distress and traumatic experiences,described in the the album's lyrics, are washed in laid-back or vibrant, almost playful synth vibes: a contradiction and healing process leading ultimately to catharsis.
"I heard your voice inside the room / as all your storming clouds came in for you / I called your name, I called on high / But everybody's houses are on fire." Surrounded by burning homes and roaring skies, the hero tries to escape the demons and whispers of the past. Isolation appears to be a self-fulling prophecy.  But even into this vortex, human will and inner strength do not fade away. "I won't run, I won't hide / In the dark of the night / Now I know, you were right / I'll remain in the light of the sun."
Island Eyes' original album art, created by Courtney Loberg, completes the transmission of its reality's atmosphere. The mystical scenes impressed upon the J-card reflect a feeling that something profound is about to happen. A war between the sun and the moon? A giant light forces alliance against the total darkness? The question is a double reminder: the synthesis of human nature is structured with these same components of the universe and human relationships are governed by the same laws that rule the interactivity between cosmic forces.
Derek Janzen returns with a new name and a chance to reinvent himself; and he succeeds. He remains loyal to his ability to produce dreamy sound waves, but this time through transcension; Island Eyes is full-grown, focused, and introspective. It is a work of art made in Victoria.