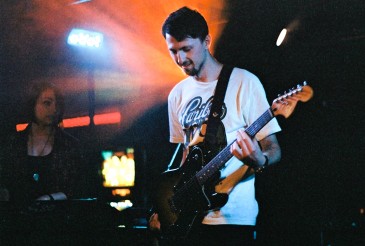 As thousands flocked to English Bay to gorge on the remains of food carts and check out the fireworks, a modest—though nonetheless enthusiastic—crowd gathered behind the doors of the Biltmore Cabaret on July 26. Inside, The Good In Everyone were busy sound checking for the release of their self-titled EP party.

Kicking off the show were first openers Alea Rae, who, upon completion of their first song, earnestly proclaimed to the crowd "Oh God, that felt satisfying." The trio, comprised of frontwoman Alea Rae Clark and counterparts Patrick Farrugia on guitar and Jeremiah Ackermann on percussion, fuse cool, atmospheric tones with warm, folksy progressions, echoing the likes of Daughter or The Jezabels.
Though performing a lyrically strong collection of songs that were varied, textured, and engaging, it was their shadowy rendition of Arcade Fire's "Afterlife" that took the night. Piecing their set together with a mixture of endearing, self-deprecating banter, Clark proved to be a dynamic force, vibing well with the crowd. As they continue to find their sound, I have no doubt Clark will only gain ground in the Vancouver scene.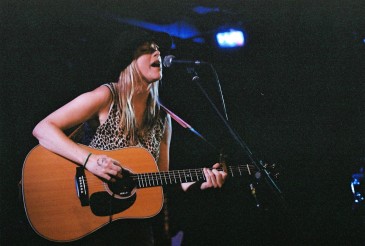 Perhaps the most established artist on the bill, Lisa Joyce, otherwise known as Joyce Island, was next up to take the stage. Even with a less than attentive crowd, Joyce was nonetheless commanding. Pulling out a striking set complete with punchy guitar and effusive vocals, this one woman band produced a unique construction of lush, hazy Canadiana.
Regardless of Joyce's southern-tinged charm, it became painfully apparent that the crowd had grown more concerned with what was on tap than what Joyce was crooning.
The Good in Everyone came out roaring, seamlessly snatching the attention of the audience and focusing it back on the stage. Sonically, I've come to expect the band's signature sprawling aesthetic, consisting of an enmeshment of the rock sensibilities, breezy pop, and folksy tones found scattered throughout their EP. I was not disappointed.
Tight vocal harmonies characterized much of their act thanks to the soaring voices of Nick Russell and Laura Genschorek supported by expansive, hooky guitar riffs and the backdrop of pounding drums. Pacing their set well, the band incorporated a varied selection of songs from their catalog, though their rendition of "Manning Park" proved to be a highlight.
Even though fans were largely comprised of friends and family, The Good In Everyone were wonderfully unabashed, as lead guitarist Benjamin Mott jokingly called out: "Thanks, Mom; thanks, Dad!" after a particularly loud cheer had been emitted from the audience. Admittedly, there were a few missed moments where the band could've take the opportunity to visibly loosen up, but I have no doubt this skill will come as they continue to play other gigs. In the meantime, their performance proved that The Good in Everyone deserve a seat at the Canadian indie-rock table, probably sandwiched somewhere in between Edmonton rockers Scenic Route to Alaska and Saskatchewan sweethearts Rah Rah. But, wherever you place The Good in Everyone, it's clear this band has set out to make its mark on Vancouver.