And yes, it was pouring outside, but the metaphorical message of Sled Island's 2014 tagline prevailed as the first day of performances wrapped. And at the two-level Commonwealth Bar, the seven-band line-up, perhaps hand-picked by organizers while listening under the influence of equal parts Godspeed You! Black Emperor and Joy Division, the mish-mash of acts from across the continent all played like this might be their last Sled ever.
The festival cherry was popped by Tomahonqi, an experimental garage rock band from Grand Prairie, new enough to remain anonymous in the Google galaxy. The lean crowd, who stood at about 40 people, mildly insulated the 400 capacity upstairs area of the venue. When you're playing Sled though, you play like your life depends on it, whether there are three or 300 people in the crowd.  The threesome plowed through a half hour-ish set, focussed mostly on centre stage through matted hair; docile enough that the crowd stayed mostly stationary; thrashy enough for the lead singer/guitar player's glasses to fly off his face on their closing song and for the shirtless drummer to earn the right to remain topless.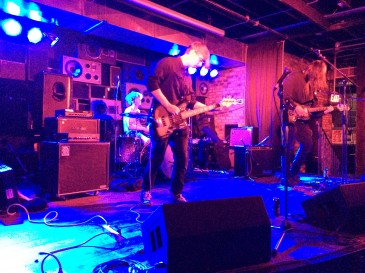 A quick jaunt downstairs brought me to Dirty Spells, the Vancouver instrumental post-rock trio who recently released their third EP Teeth. A lot has changed since their 2012 performance at Sled and if anyone in the audience had seen both shows, they likely wouldn't believe this cinematic powerhouse of 2014 was the same garage band of 2012. They played a tight six-song set, with seamless transitions between songs, which blended together to shape more of a movie score than a sequence of songs. The combination of regular shows recently on their home turf and healthy hit of adrenaline after a cancelled flight put drummer Ryan Betts in the venue only 30 minutes before set time made for a polished, high energy set.
Back upstairs Montreal's Girl Arm were playing to a crowd that had tripled in size since the first act. The experimental post-punk quartet played syncopated yet calculated tunes and had a playful stage presence, feeding off the growing energy of the audience. Snappy tracks from their Trading Cities EP, sometimes with a touch of The Knack, left me with a hook pleasantly repeating in my head once they closed.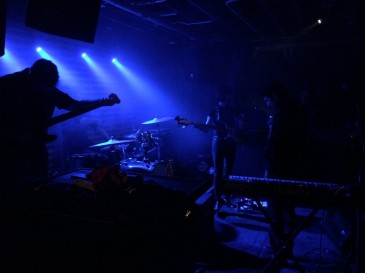 The dark, intense vocals and marching rhythms of Calgary's Burnt Shrines cut through the remnants of Girl Arm. Brooding, ominous, somewhat forgettable, although this was just their second show. To contrast, the lighter orchestral stylings of local five-piece Jung People were bigger and bolder. Despite the ambition of this multi-talented group, clearly jazzed on the accomplishment of recently released Gold Bristle, the similarities to GY!BE were a few too many for the music to feel exciting. It was great, but I didn't feel different because of it.
Victoria-reppin' Freak Heat Waves, played a driving bassy set to a room now nearly full. The trio are touted as Krautrock in the festival guide, but emitted a more arty, post-punk sound on stage. Regardless of genre, the three are nothing short of cohesive, a seriously synergistic arrangement on stage, led by the stoic yet engaging frontman Steve Lind.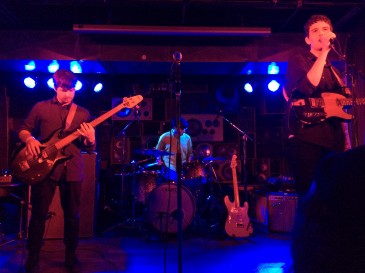 Having to make the decision earlier in the night about whether to see Dan Boeckner's latest band Operators or to stick around for Chicago Krautrock quartet Disappears was initially a tough one. In hindsight, choosing the latter should have been a no-brainer. Steve Shelley or no Steve Shelley, these four plowed through a 45 minute set with reckless abandon, with onstage energy, and with commitment to craft reminiscent of Sled 2012's Hot Snakes show at the Dickens Pub. Lead man Brian Case's vocals were dark, almost creepy, with a strong Ian Curtis connection. Drummer since 2012, Noah Leger was an animal, limbs flailing to choreographed perfection.
And after four hours of escalating aural awesomeness, my only question? Can Sled possibly get better than that? There's only one way to find out.