Just like my fellow reviewer Robert, 2014 was my very first Sled Island and I can promise, with you and the entirety of the Internet—or at least the part of it that visits discorder.ca—as my witnesses, that it won't be my last. It's been an absolute whirlwind, filled with non-stop shows, enough cigarettes to concuss a small child, and at least $50 in ATM fees alone, but I wouldn't have had it any other way.
My first stop on Saturday came after I'd caught wind of a house show with Vancouver favourites Dead Soft and woolworm, as well as a couple others. By the time I was in a cab heading over though, a crushing text message told me that the show had been postponed by a couple hours. While a shift from 12 p.m. to 2 p.m. might not seem drastic, that's basically a month in Sled time. Instead, while in the same cab, I headed back downtown, ready take on the day.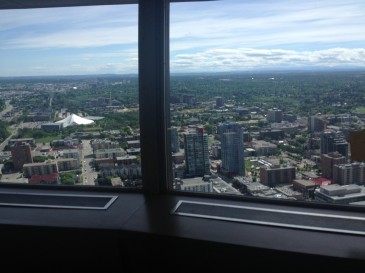 After spending way too much time mingling in the Calgary Tower artist lounge, crushing $3 tall boys and giggling with fellow Discorderian Laurel Borrowman at dad jokes, I set out to catch the second half of Beat Route's Annual Hangover Breakfast, an event that boasted two lineups: one inside of the pub Local 510 and the other in the parking lot behind. Unfortunately for me, I accidentally went in the opposite direction and went to the #1 Legion, where I was confused about the lack of breakfast. Only after consulting my festival schedule did I realize that St. John's Coach Longlegs hadn't shed half of their members/dramatically changed their sound, but rather I was watching the Icelandic hardcore band Icarus. After a brief set, which was enjoyably high octane despite barely playing long enough to build momentum, I knew I had to haul ass across downtown to catch at least part of the lineup I planned to see.
The missed opportunities kept piling up as I arrived just after dreampop Village's indoor set, leaving only B.A. Johnston to close the Hangover Breakfast. For those who've never seen B.A., here's what you need to know: he performs alone, with only a Discman to back his hoarse vocals, and he's a total dirtbag. For example, midway through his set, B.A. dove into a song called "Taste the Shame," a song about overindulging in shit like 7-11 snacks and smothering them in processed cheese. B.A.'s self-deprecating humour and tendency to meander through the crowd, rubbing his armpits in people's faces usually works nicely, but this was the sixth time I've see B.A. and his usual antics seemed more routine than anything. (Fun fact: I accidentally saw B.A. more times at Sled Island than any band that I actually wanted to see.)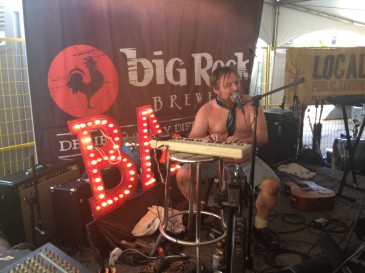 Next up for the night were Rocket from the Crypt. While I was genuinely excited for the show, having heard they give one of the best live performances of any band out there, I couldn't help but feel like I was missing something. In their first Calgary performance in 11 years, their post-modern rock resonated with the still growing crowd but, as a non-diehard fan, I couldn't see what all the hype was about.
After an extended intermission and three beer deeper down the rabbit hole, it was time for one of my most anticipated acts of the festival: Spiritualized. The six-piece shoe gaze/space rockers started their set off dangerously mellow, focussing on slower, more soulful songs for the first 20 minutes or so. The vibe reminded me of Wednesday's Rhye, but the venue didn't match quite as well. (Rhye had performed in a ghostly church, while Spiritualized were playing outdoors, in a pit area that had been flooded for most of the festival.) Thankfully the set picked up quickly and Spiritualized mowed through most of the classics like "Always Forgetting With You" and "Come Together," the last of which got the most crowd response. Surprisingly absent from the setlist though was "Ladies and Gentlemen We Are Floating In Space."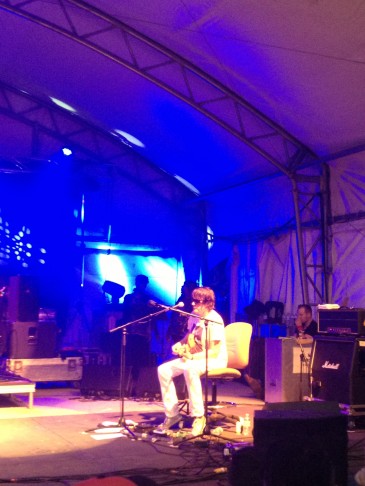 From what I can remember, the band didn't once address the massive crowd that turned out to see them, but the negligence paid off nicely, creating the impression that they weren't performing for us but just performing in general. After playing for close to an hour and a half, a halo of golden white fireworks erupted from behind the stage and the venue fell dark. While an encore would have been nice, it likely wouldn't have matched the radio silence the band had created with us.
While part of me wishes I had staked out the St. Vincent show, which took place around the same time Spiritualized were ending, I knew the venue was at max capacity and instead opted to end my last night at the festival the only way I knew how: with drunken, sweaty karaoke.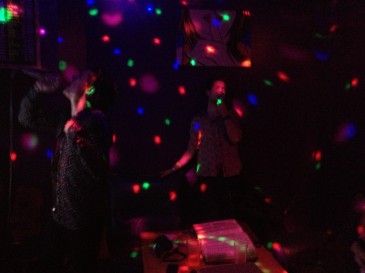 Though Sled is over for me now, we still have one more recap coming at you tomorrow from Robert, where he'll be talking about the final day and giving a bit of a retrospective on the festival. It's been a painstakingly fun adventure and I can't wait to do it again next year.