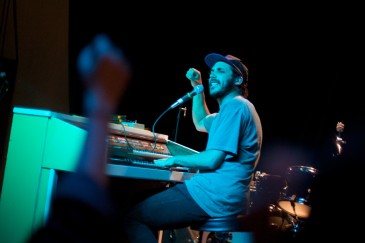 Playing host to the 2014 wrap-up party, the Anza Club was packed with both music fans and performers alike on the last day of this year's Music Waste.
One of the most talked-about acts of the festival, Jordan Minkoff's one-man experimental/comedy act Wetface was the first performance I managed to see. Playing fifth in the evening's lineup of eight bands, Minkoff began by fiddling on his double keyboard/electric organ, spewing out some tacky but groovy synth beats. The set was peppered with surreal incidences, like Minkoff inviting any bassists in the audience to come up and join him or when he started banging on a drum kit with his hands and later a pen.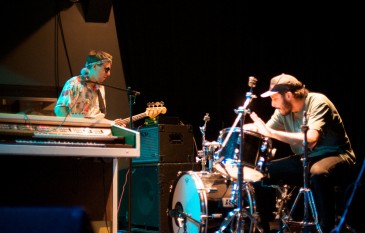 After a brief rendition of "Killing Me Softly," Minkoff then exclaimed that this had all been a soundcheck and he was ready to get down to business—what made it even more humorous was that the whole set still went on like some wacky soundcheck. Improvising lyrics and belting out his best gospel pipes like a sweaty James Brown fallen to his knees, Minkoff was born to perform. His nods of approval and zany grin at the audience came off as entirely sincere rather than some stupid shtick, and though most of the time it did feel more like an SNL skit than a serious music performance, underneath all the silliness were some catchy beats and an impressive voice—albeit way, way underneath.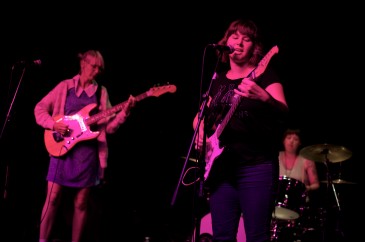 Continuing the carefree, I-don't-give-a-shit-train, was pop-punk trio, Love Cuts. Sporting the Riot Grrl attitude to a tee, Love Cuts' songs often ended before I could even decide if I liked them. But the track "Extra" stood out as a definite gem where guitarist Kaity McWhinney chanted "E-X-T-R-A" with total conviction. Whereas McWhinney had the more desirable lead vocals, bassist/vocalist Tracey Vath had the personality with her quirky style and gangly stance. Falling somewhere between the Marine Girls and Bikini Kill, Love Cuts are circling around the sounds of some beloved bands but haven't yet pinned down a sound that's uniquely them. For now, they delivered an enjoyable head bobbing set that you really can't do much complaining about.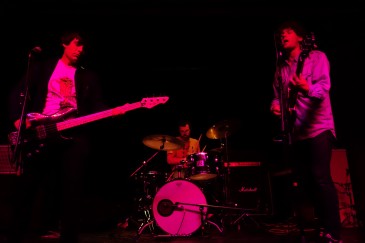 Up next were Defektors, who were—for lack of a better adjective—loud. They had an expected crunchy guitar and a fat booming bass that was pretty sweet when Jeremiah Hayward plucked those rapid running bass lines featured in a couple songs here and there. But overall their set was undeniably sloppy since they had to restart a couple tracks from being off tempo; the best part of the set actually had nothing to do with the band but was when Music Waste director Dustin Bromley walked on stage and slowly took off one Music Waste shirt after the other and threw them out to the crowd. When Defektors weren't just thrashing away at their instruments and went for their good ol' fashioned punk tracks like "Far Away," the crowd was just an "oi oi" and a "hey ho" away from shoving some bodies around. But with such a tight time slot, the set ended before any such thing could happen.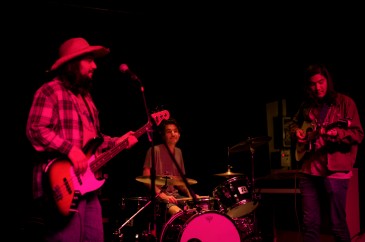 Closing off the night were Shindig runner-ups Skinny Kids, with their beach bum, reverbed tunes. Opening with one of their strongest tracks, "All Gold," it's almost instant to get what the band is all about. Harnessing the familiar West Coast, surf elements with a hazy wash of distortion and echo, Skinny Kids hone the sound effortlessly.  Lead singer and guitarist, Trevor Gray, had a real ease and chill presence on stage, with vocals that were a healthy balance of Liam Gallagher and Ty Segall. One downside to the set was that all the tasty guitar solos and licks were barely audible and overly washed out.
Having Skinny Kids as the Music Waste closers fit rather nicely, since they represent what Music Waste is all about: discovering budding new bands that you know you'll want to follow and keep your eyes and ears on for years to come.