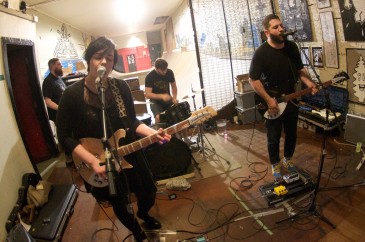 It's no longer an exaggeration to call Music Waste—which turned 20 this year—a venerable institution. Like every installment that came before, Music Waste 2014 boasted a spectrum of local talents as diverse as the city it's hosted in.
Surrey's She Dreams in Colour, who bill themselves as an "all-girls alternative punk rock band," seemed in their element at Kingsgate Mall on Friday. Playing a Go Your Own Waste show as part of Kingsgate Waste—part of artist/filmmaker Casey Wei's month-long installation event called Kingsgate Happenings—they sounded exactly like a band of high school-aged kids from the 'burbs, Paramore covers and all. (Not an act you'd generally expect at Music Waste.)
But lest you think this is a pan of She Dreams in Colour, it is not. Nimble-fingered guitarist Ashleigh George's chops are undeniable, and the band's last two songs showed they can do rugged and garagey, too. Give them a couple of years, and maybe a few Dead Moon and the Pack A.D. albums, and who knows where they'll be at.
After She Dreams in Colour's set, yours truly hoofed it from Kingsgate and headed to Main and Hastings, missing what probably would've been a phenomenally incongruous noise/EBM set from //zoo.
It's another thing about Music Waste that's not at all hyperbolic: it's really hard to decide which shows to go to, since there are usually more than one phenomenal performances going on at any given time. Good problems, right?
Alas, I very much wanted to check out the show going on in the SBC Restaurant, the cafe-come-skate shop located in the space once occupied by a historic venue in Vancouver. .
After a stint across the street at the Remington Gallery, which was exhibiting photographer Steve Louie's documentation of recent local music history, I popped into SBC well in time to catch a black-clad TAXA pummel a small audience into submission with Rickenbackers. Indebted to noisy post-hardcore bands like Unwound, TAXA's two guitarists (and vocalists) deftly played off each other over the unrelenting, elemental rumble of the drums and bass—the guitar lines moving from legible and melodic to blurred cacophony with a certain jouissance, the vocals turning from crooning and cooing to spine-chilling shrieks and back again.
Napkin Records mainstays Night Detective resumed the attack on SBC, this time clawing at an equally small audience with goofy yet intense prog-punk—think the brothers Wright meeting the brothers Dyck. Against a backdrop of skateboarders going up and down SBC's ramps, the three-piece tore through their set with the velocity of the B-Lines. I wanted more.
It wasn't long before Lié's set came up though. Featuring members of //zoo, the band wasted no time getting started as a throng of onlookers glutted the shop, their garbled post-punk filled the room like a head-bobbing gale. It passed as quickly as it came.
A refugee from the onslaught on SBC, I wandered into Pat's Pub just as hard rockers Brass were getting ready to thrill a corn-fed, check-shirted audience. Sadly, I had to take off soon after their set, but not before heading back into the Remington Gallery to see Fake Tears, whose ethereal yet personable synth stylings were a fitting closer for this reviewer's night.