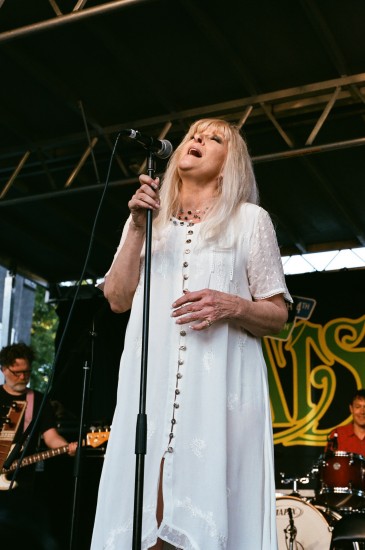 "It feels good to be back," Susan Jacks smiled at the thick crowd. The lead vocalist for the Poppy Family, Vancouver's own music royalty from the late '60s and '70s, was addressing the jam packed audience that had formed for one of the most anticipated performances of this year's Khatsahlano Street Party.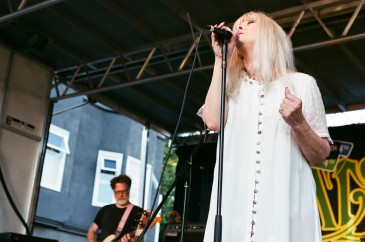 The annual summer festival was held along a 10-block stretch of West 4th Avenue in celebration of local music, art, and curios. Jacks, original guitarist Craig McCaw, and percussionist Satwant Singh hadn't played as a unit since they disbanded some 40 years ago. Now, backed by John Collins and Kurt Dahle of The New Pornographers, Ted Bois of Destroyer, guitarist David Sinclair, vocalist Mary Saxton, and Joshua Wells and Amber Webber of Lightning Dust and Black Mountain, they reunited to bloom again as The Poppy Family Experience.
A powerful rendition of super-hit "Which Way You Goin' Billy?" showcased the band's natural chemistry as their folksy sound filled the air with warm and nostalgic vibes. Singh took to the tablas for "What can the Matter be?" and Jacks, a vision in a white, floating dress, tilted her head back and squeezed her eyes shut as her songbird-like voice rang out alongside the pangs of McCaw's sitar in a two-minute dream of whimsical, meandering psychedelia. The set closed as Jacks wiped away grateful tears; the experience, a trip worth taking.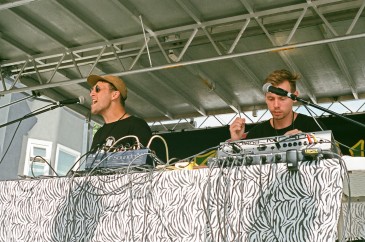 The earlier part of the afternoon saw Humans bring their intoxicating concoction of feel-good indie electro to the hot stage. Members Robbie Slade and Peter Ricq doubly impressed as they worked over their gear like seasoned veterans, churning out smooth transitions, upbeat mellow funk, and beats you could feel in your bones. Head bobs and smiles expressed their genuine pleasure to simply be up there jamming. Ricq was focussed and Slade's voice was sublime, soulfully crooning through the lighthearted "Possessions" and then pitched down for "At the Beach," an infectious bass-driven boogie that became even groovier as the beat dropped. The crowd, now transformed into a sweaty dance party, began to overflow onto the sidewalks. A fan offered the duo a cold beer. They accepted. Colourful beach balls volleyed through the happy mob as another attendee cried out, "These guys are so much fun!"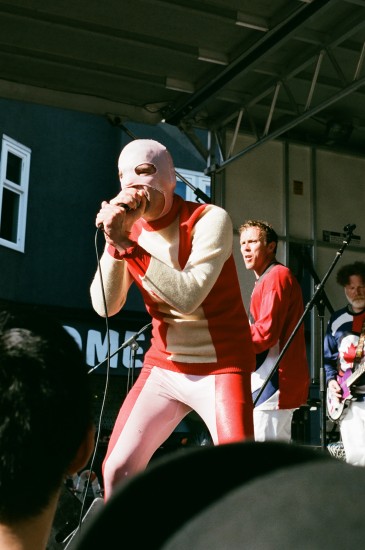 Next, CiTR radio legend Nardwuar the Human Serviette and his band, the Evaporators, pounded out floor rumbling garage punk in what was one of the most entertaining sets of the day. Squeezed into a red spandex onesie and looking more like a human Canadian flag than a napkin, our hometown hero burst onto the stage in a frenzy with bandmates Stephen Hamm, Nick Thomas, Shawn Mrazek, and The New Pornographers' John Collins in tow.
The show was full of wonderful ruckus including sing-alongs, costume changes, a dedication to the late Tommy Ramone, and hilarious quips like, "Gimme some ointment, I need an appointment, I've gotta RASH!" to introduce classics. A full-fledged mosh pit induced during their cover of The Monks' "Higgle-Dy Piggle-Dy," as the band played furiously at each other while Nardwuar bounced between jumping jacks and running through the throbbing throng with a pair of maracas. For his next antic, he put on a helmet and crowd surfed atop his organ. Undoubtedly, part of Nardwuar's brilliance as a frontman is his manic energy and constant audience interaction—a special quality that keeps fans coming back for more.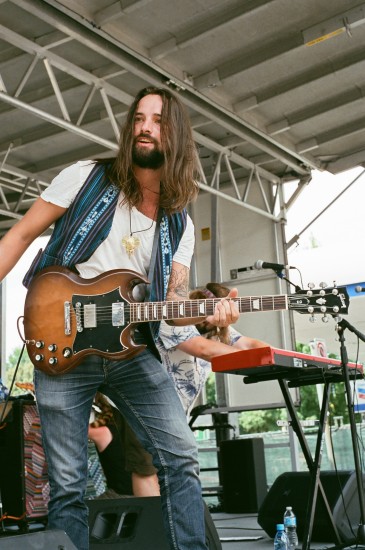 Notable Khatsahlano mentions include Bend Sinister, whose high voltage performance of summer anthem rock was pure magic and featured blistering solos and an excellent cover of Elton John's "Benny and the Jets," and Phoenix Thunderbird, who served up talent-driven power thrash amazing enough to make even Metallica blush. I khan't wait for next year.