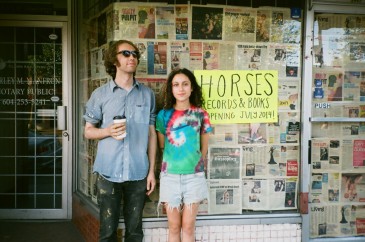 Far from the bustling Main Street patios and sun-speckled coastline of English Bay, I'm crossing the intersection of East Hastings and Nanaimo, the epicentre of Hastings-Sunrise. Relatively untouched by the chic image the rest of Vancouver has come to know, this resilient neighbourhood is one that I find myself spending an increasing amount of time in. However, like almost everywhere else in this city, change seems inevitable.
"At least five cafes have just moved in around here," says Katayoon Yousefbigloo, Red Gate Arts Society mainstay and bassist for local garage-psych outfit Other Jesus, "but it's still a very normal neighbourhood."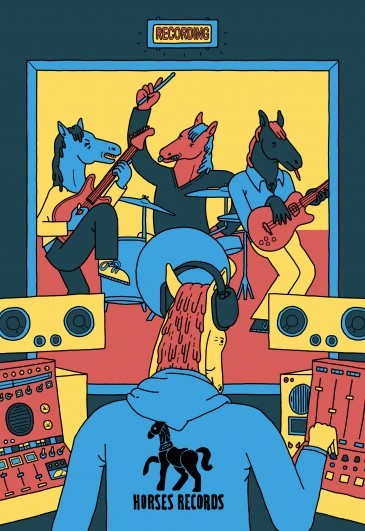 A last bastion of unpretentious and working-class residents, I absentmindedly stroll past the Horses Records storefront on my first pass even though Yousefbigloo, the store's co-proprietor, is standing out front waiting for me. She's right in calling this an unassuming location.
Inside principal songwriter and frontman for indie-rock quartet Peace, Dan Geddes, greets us. Together, Geddes' and Yousefbigloo's combined interests and workmanship at 2447 E Hastings have become Horses Records. Quick to admit the namesake's Patti Smith allusion, Yousefbigloo continues: "They're also just a beautiful, majestic animal representing freedom and power."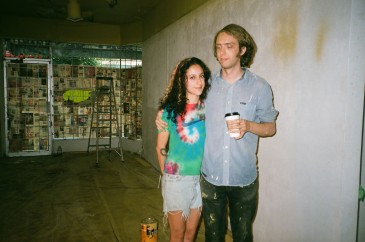 A symbol of liberation, the record store was born out of Yousefbigloo's impatience with bouncing in and out of university and the looming spectre of complaining neighbours, permits, and police crackdowns that come with running underground venues—it was time to go legit.
Initially the two had secured a 300 sq. ft. space at the corner of Hastings and Jackson. The city, however, denied their permits on the basis of a shared entry with the commissary they had agreed to sub-lease from. "After being bounced around from desk to desk at city hall, they basically told us we couldn't sell used records there unless we created a separate entrance and divided our shop from the commissary kitchen. We knew that we could conceivably get away with not dividing it, but the question was for how long? I have been running underground venues for long enough now to know how to do it, but this time I really wanted to do things legitimately."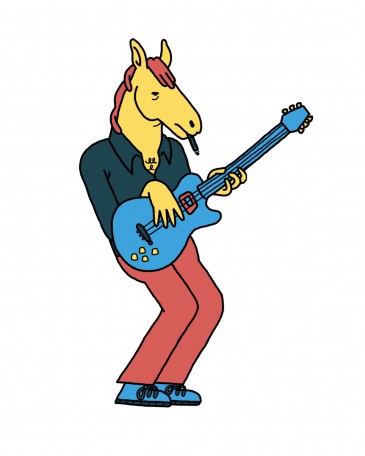 But this isn't your typical record shop, insists Yousefbigloo. Horses has been envisioned as a purveyor of local culture on the whole. "There are like 10 cafes on this block but nowhere to be exposed to culture besides the mediocre cafe art," she says.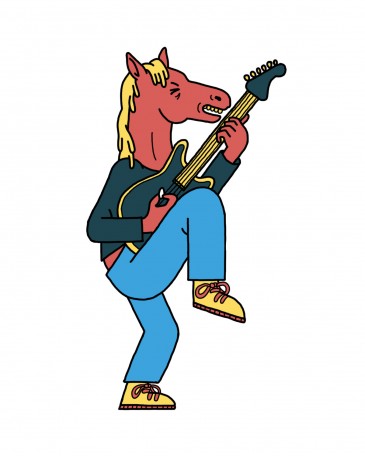 Built on the crate-digging of suburban basements, Horses will start out with about two thirds used stock from the personal collections of Geddes and Yousefbigloo. The former adds that the shop will incorporate books of poetry and those about music along with a small exhibition space and live music when possible. There will also be a cassette vending machine on site. (Local musicians seeking exposure take note.)
Given these diverse offerings, Geddes believes that Horses will quickly stand out amongst other record shops. And with the promise of couches, coffee, and a circulating zine rack, you can count on a laid back atmosphere, says Yousefbigloo, "I feel like the best kind of record store is one you'd want to hang out in … and I'm really into hanging out. I'm good at it."
Horses Records is set to open at 2447 E Hastings on July 6 with a kick-off celebration of art, friends, and in-store performances by Wetface, N.213's Group Vision, and Gretchen Snakes starting at 8 p.m. You're invited.