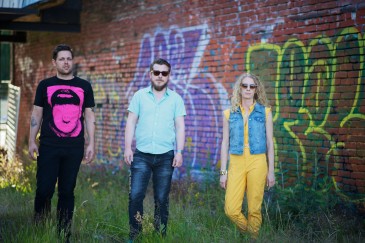 "We were eating nachos the last time you interviewed us, too."
The last time I sat down with Dirty Spells—for the April 2012 issue of Discorder—also included that venerable staple of musicians and journalists alike. And, while the faces across from me are familiar from that meeting two years ago, the band I'm interviewing couldn't be any more different.
It was a fair spring day when I met up with Dirty Spells back then, and the seven-piece outfit were coming off their recording-day highs at Foundation after completing their psych-rock EP, Greetings from Hangover City. Now, I'm sitting with three of the original members at the Narrow, celebrating the release of their third album, Teeth, and their first as a post-rock trio. It's a huge change for violinist Emily Bach, bassist Doug Phillips, and drummer Ryan Betts—not to mention their fans, who have stuck through genre and lineup changes between then and now—but that's a part of what makes the Dirty Spells of today so interesting.
At its core, the musicians insist Dirty Spells is, in spirit, the same band as the one I talked to underneath Foundation's hyper-loud hip-hop environment. Despite the massive shift in cast and content, the band is still Dirty Spells in their eyes. "A lot has happened in two years. We only lasted as a seven-piece for a few months after [recording our first EP], but this lineup is effectively a year old," Betts confirms. "There was a short period where we thought we might want to change the name—but we kinda like it, so fuck it."
As to how the band came to adopt a post-rock soundscape over rock 'n' roll underpinnings, Bach has a deceptively simple answer: "The three of us had all these interludes that we wrote and played while Greg [Pothier, their original guitarist] was tuning his guitar. They were tiny little things, but … they were so different, and the three of us vibed so easily."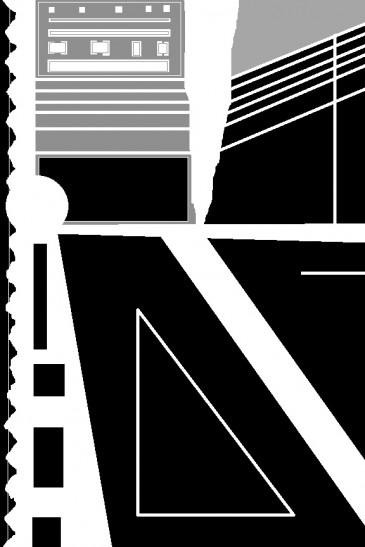 "Vibing" is a strange concept considering the backgrounds of each of the musicians involved in Dirty Spells. Bach is a classically-trained violinist familiar with sheet music, orchestras, and conductors; Betts is one-third of machine-gun art-punk darlings the New Values; and Phillips is otherwise known as the Dooouge in the franken-stoner-rap group Too High Crew. It's a pedigree that, on paper, mixes like oil and water. In practice, it makes for one of the most fascinating Vancouver bands to pop up in a long time.
The aptly-named Teeth is a full-length easy to sink your jowls into. The mostly-instrumental affair has just the faintest whiff of No Fun City in its space-rock violin chimes, but apart from the occasional production nod it's miles away from Vancouver's familiar rock community. Bach's violin doubles as a saxophone, synthesizer, guitar, and organ by a creative combination of pedals and playing styles, and Phillips' bass lines more often than not creep their way into each song's melodies.
This isn't Godspeed You! Black Emperor Lite, nor is it Mogwai-minus-15-guitars—instead, Dirty Spells borrow much from Japanese post-rock bands like Sgt., Hyacca, or even Vancouver's own the Barcelona Chair. The unique blend of punk drumming, classical melodies, and heavy bass lines makes Teeth a unique record with plenty of bite. The band owe a lot, says Phillips, to producer Felix Fung. "He was integral in terms of us realizing that, as a three-piece, we could make it all work. We've just evolved as a result."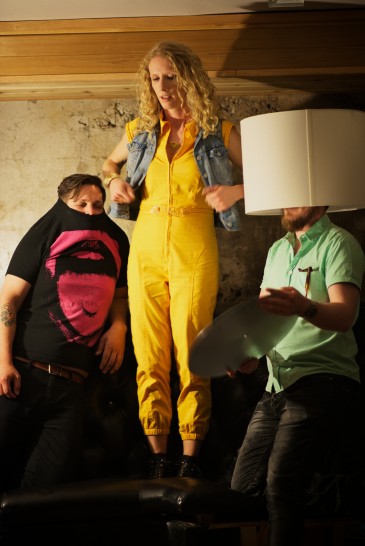 Not to be outdone by their own recording, Dirty Spells are just as captivating in a live context. Figuring out how each weird sound is being generated, or how the odd trio work around equally odd time signatures and rhythms, is half the fun, like watching someone stuff broken jigsaw puzzle pieces together and admiring the abstract result.
And what's next for the ever-changing band? "What history tells us is, who the fuck knows?" Betts chirps. "We're slowly moving towards a band in which there are zero people, and no music whatsoever. The [next] album will be a tribute to John Cage."
While the band figures out when/where the album release party will be, you can buy Dirty Spells' latest album Teeth through their Bandcamp page.