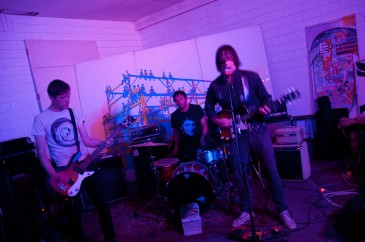 The last week of June has seen Vancouver happily coasting on the coattails of this year's Sled Island festival. To the city's benefit Montreal power-pop outfit Sheer Agony, eager Calgary psych-pop quintet Lab Coast, and Alberta fem-punkers Hag Face have all made stops within the week. Not to mention seeing once more the welcome faces of Victoria pop-punk queens Open Relationship and Fountain's Wire-inspired methodical post-punk.
However, a visit from the highly anticipated pair of Eastern Canadian noisemakers, Soupcans and Crosss, was what I had been holding out for. Returning from Victoria's SHAKE/arama fest, the Telephone Explosion labelmates were on the last night of their tour that began in the label's hometown of Toronto.
Having seen the latter open for punk mainstays Strange Attractor and the Spitz at Calgary's Golden Age Club just one week before, this was a chance to get a closer look at the last of the Sled Island fallout in a slightly less chaotic environment.
As I entered the dimly lit venue, local garage rockers Tycho Brahe were adjusting amps and setting up pedals as they prepared for only their third show to date. The quartet went at it for a loud and fuzzy half hour: David Rogers and Spencer Davis writhing with feedback as Jeremy van Wyck pummelled his four-piece drum set-up to a sparse but engaged crowd. As they ran through the heavier side of early '70s-inspired blues-rock cuts like "Bad Faith" and "Leaps and Bounds," the trance of their largely instrumental breakdowns got heads bobbing and, for many, one knee pumping. Letting "The Sheltering Sky" meander through a haze of riffs to close out their set, Davis got precariously close to the drummer as he perched himself atop the kick drum, back to the audience, spreading the fuzz like wildfire.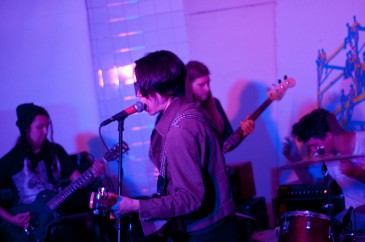 Foreshadowing their unique brand of spastic and hypnotic avant-hardcore that would shock any suburban mother, Soupcans frontman Dave let the wall of feedback grow before pairing it with his disenchanted vocals, perpetually looking like he had his finger stuck in a light socket as his feet parted and shook him across the concrete floor like a jackhammer. That is, until he decided a metal chain would be more punk and so would a beer can, so he unstrapped his guitar and dragged the two across the neck of his guitar in succession, creating a most metallic and organic dissonance that made me proud to be a Metal Machine Music fan. Before the art school antics had time to wear off, Dave announced that they had two more songs and ran through the chaotic "Deadbeat" before a particularly possessed version of "Razorface" closed the set.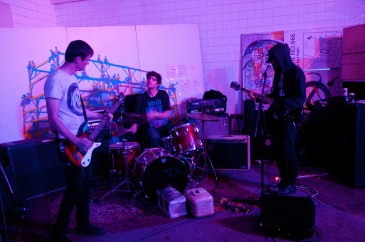 Up next were Crosss, who merged an awkward synergy of math, drone, and noise between a simple bass-guitar-drums trio. Dark and occult, the brief, yet tight collection of uniquely formed grunge tunes rattled eardrums as songs like "Old Sound" and "Smoke" were strikingly reminiscent of turn of the century Northern California stoner-rock, with Andy March's ominous vocals floating beyond loose, jangling bass riffs.
Drumming like a feverish free jazz Todd Trainer, I wasn't sure who was more possessed now: Dave or this mild-mannered, yet maniacal drummer, Nathan Doucet, whose kit was barely hanging together. With a top hi-hat that was cracked nearly in half and a tambourine that refused to stay put during the hammering of "Lucky Loki," plus the mammoth pummelling the kit had endured for the past two and a half hours, the whole thing looked on the brink of implosion. But Crosss howled through their set without fail and although the crowd had not filled out the room to show the appreciation the weary travellers deserved, the trio thanked all in attendance nevertheless. And we thanked them back.