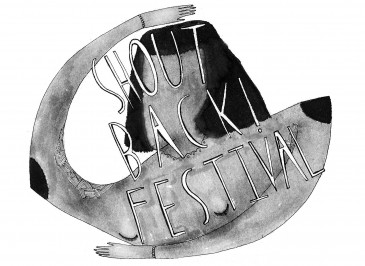 Last summer one of the most exciting festivals happened completely under-the-radar. Shout Back! Festival took place in punk houses and parks throughout East Vancouver on one August weekend. The all-ages, pay-what-you can festival showcased almost 50 indie bands, including local acts Screaming Queens, Lunch Lady, Dead Soft, and Cris Derksen. This summer, from August 23 to 25, Shout Back! Fest enters its second year.
What exactly is driving this festival? In a nutshell, Shout Back! is radical, queer, and D.I.Y. in spirit, and celebrates anarcha-feminist and anti-capitalist principles. The goal of Shout Back! is to bring the idea of inclusivity to the forefront of music by showcasing musicians who may feel underrepresented and left out of current indie and popular culture.

"The intent is to connect different scenes, and to connect music with politics, which maybe doesn't happen that often in Vancouver," says Shout Back! organizer and local musician Marita Michaelis.
In addition to live music, workshops and dialogues round out the festival. Last year's workshops included "Safer Spaces in Punk Communities,""Zine-making," "Anarchy is Queer," and "Capitalism and Patriarchy." This year's fest will see similar sessions as well as a return of the bizarrely appetizing "Waffles and Noise" breakfast show.
The Pacific Northwest has a strong history of feminist response to the male-dominated music industry, starting with the Olympia-based Riot Grrrl movement made popular in the '90s by bands like Bikini Kill. Girls Rock Camps have spread across the world, with Girls Rock Camp Vancouver now in its fifth year. Over the last few years, a number of D.I.Y. queer festivals have sprung up. FOC Fest and Not Enough Fest have their roots in Portland, Oregon, and have inspired other cities from Winnipeg to New Orleans to host their own events. Most recently, MoWave, Seattle's first annual queer music and arts festival, took place in April, with a goal to "challenge the status quo, to push cultural boundaries, to redefine and set global definitions of art and music."
Like these festivals, Shout Back! Fest is going one step beyond the "ladyfests" inspired by Riot Grrrl by not only showcasing female artists, but rather by expanding feminist principles to give voice to everyone who wishes to challenge dominant heteronormative and patriarchal values. The aim of Shout Back! is not to play identity politics as much as it is to challenge mainstream gender binaries that perpetuate deep-rooted stereotypes and inequality.
________________________
Shout Back! is on at various venues throughout East Van from August 23 to 25. To volunteer, play a show, submit artwork, or help define its mission, get in touch at shoutbackfest.tumblr.com or shoutbackfest@gmail.com!