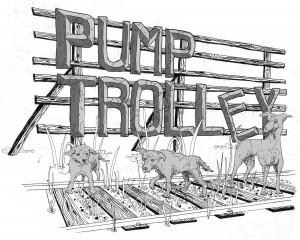 Comedy has this image of being a lazy art form. It's all catch phrases, fart jokes, and people who sleep in and get day-drunk. But for Vancouver eight-piece Pump Trolley Comedy, they approach humour from the other end of the spectrum. They work hard. For the group, who performs monthly sketch shows at the China Cloud Theatre, a rigorous work schedule has always been commonplace.
"We meet once a week. Week one is pitch meeting, where we pitch the first round of sketches, read them, give notes," says Tegan Verheul, the lone member I sit down with. "Week two is where we pitch the second round of sketches, read them, take notes. Week three we meet, have all the rewrites done, read all the straggler sketches, and then choose the lineup for the show, start rehearsing, organizing dress rehearsal, and at the same time we're also planning fringe shows, festival applications, stuff like that."
This routine means there can't be any egos involved. The group, comprising Tom Hill, Nik Bunting, Alex Hudson, Ember Konopaki, Devin Mackenzie, Tegan Verheul, as well as members Warren Bates and Nick Harvey-Cheetham currently on "sabbatical," acts as a collective in every sense, from changing lines to changing venues.

"We're essentially a bunch of comedy pinkos," says Verheul, who goes on to state that the group, who has been together for over three years now, acts as a "creative juggernaut machine." This semi-communistic approach to comedy has led to all of the group's big decisions, including what type of shows to put on as well as how many shows they would do.
"We were originally a 12-piece and we did weekly shows, which we call the 'dark years.' Not the best quality, but tons of fun and it really helped us get into the groove of writing, writing, writing, writing, hammering stuff out, figuring out what our aesthetic theory was, and shaping our own comedic taste," says Verheul, pinpointing the group's multi-faceted creative approach. "I think we do, in the group, have really distinct voices, and a lot of the time people will come up to me after the show and say, 'Okay, you wrote that sketch, Devin wrote that one, Ember wrote that one, Tom wrote that one.'"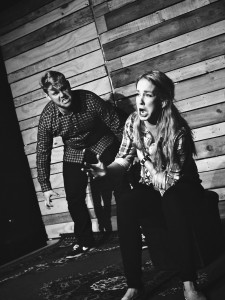 For the group, one of their biggest assets is their venue, the much-adored (and seemingly rowdy) China Cloud Theatre.
"We'll go there to hang out. Devin will use it as a writing space. I'll use it to practice for my auditions. It's our home now," says Verheul, grinning as she leads into the venue's juicier aspects. "It's also a great place to party. On more than one occasion, I've watched the sunrise from the roof just too wasted to stumble out and go home. Sleeping over there, people have definitely crashed, barfed in the hallways. It can get pretty crazy. Especially in the summertime when it's hot out and people go on the roof. It's a lot of fun. I don't want to incriminate anyone. I've got a lot of stories."
Of course, at the heart of Pump Trolley are the sketches. Usually about two to four minutes in length, self-described as "weird but funny and hopefully charming," some sketches can strike in a brief half-minute.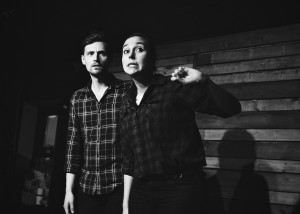 "In our History of Canada show, Devin wrote a sketch about Terry Fox where he walks on-stage and says, 'And now a moment of silence for the fact that we can never make fun of Terry Fox.' There's a moment of silence, of course everyone's laughing, but then after about thirty seconds, a fart noise plays over the P.A. and he just walks off," says Verheul. "That's the whole sketch. Thirty seconds long."
And as to how the name "Pump Trolley" came about? Even the group had a hard time remembering. It took a Facebook message to Tom Hill to finally figure it out.
"We settled on Pump Trolley because it's got that old-timey fun, but also you can't operate a pump trolley (the cart) with just one person," says Hill. "We were creating a leaderless, democratic comedy group so that idea appealed to us."
But for the group, Pump Trolley is more than a comedy group.
""I like to think we're all friends first," says Verheul. "Pump Trolley are my friends."
_________________________
Each member of Pump Trolley, as described by Tegan Verheul:
Warren Bates: "Adorable. Kind of like the White Rabbit."
Nik Bunting: "Handsome and charming. I don't know why he doesn't have a wife yet. The Robert Redford of the group."
Ember Konopaki: "Sarcastic. Very passionate about what she does, but she can also be very blunt and say something like, 'Guys, this is shit. We have to do this tomorrow.'"
Nick Harvey-Cheetham: "His nickname is DJ Kitten Who Loves Milk. He's a bit of a lone wolf. He'll go off on solo camping trips with nothing but a canoe and a hatchet."
Tom Hill: "I hesitate, but I would say that he's kind of a Don Draper."
Alex Hudson: "Honestly, he belongs in the eighteenth century. Very erudite, intellectual, verbose, but at the same time loves sci-fi novels and Lord of the Rings."
Devin Mackenzie: "He's super handsome and a charmer and a ladies man, but he's also just the biggest dork. I know the whole outside world sees him as 'Oh my god. So handsome. What a catch,' but he sends me Snapchats of his poop."
Tegan Verheul (herself): "The weird one. Darker humour. Awkward. Loud."
_________________________
Pump Trolley will tour History of Canada at the Vancouver and Victoria Fringe festivals. Visit pumptrolleycomedy.com for news about upcoming shows.