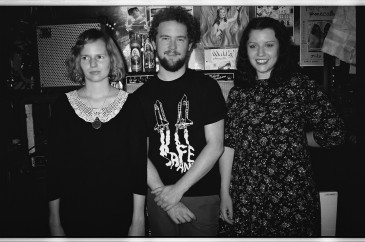 DIANE, the grungy, feedback-saturated gloom queen, is on a first name basis with East Vancouver's music community. Featuring Mel Zee and Ben Goldberg of Phonecalls, and Katie Gravestock who played with Goldberg in Bad Fate, they provide years of experience and unique compositions to the Secret Location, one of Vancouver's most unique underground studios. Hosting Zee's art space, local recording label Nite Prison, and the rehearsal rooms of DIANE, Aquanaut, Mormon Crosses, Ahna, and many others, the Secret Location, once a premiere after hours, now hosts the most interesting collaborations in the city.
"[Secret Location] has really good politics. They're an anarchist feminist space," Zee says while describing the initiation requirements for her collective. "You have to sign a waiver (before rehearsing here) saying 'I'm not a Nazi' when you go in there. I really respect them for that." In addition to their amplifiers, the space is cluttered with keyboards, patch cables, and posters, as well several feet of menacing razor wire packed in to the skylight.

"We were broken into so many times. Then [the thieves] got smart and realized you could come in through the skylights," Zee remarks. "They broke into Jesse [Taylor, Nite Prison]'s studio and put all his stuff on craigslist. Jesse met up with them and he got it all back," recalls Zee before offering up a challenge to would-be burglars. "Since we put razor wire and bars on, we haven't had a single break in."
Zee, Goldberg, and Gravestock forged DIANE out of the remnants of personal conflicts within previous acts. After years of playing with their respective bands, Phonecalls and Bad Fate, they had a collective hiatus that wouldn't last. "I was listening to Wire every day and thinking I just want to be in a punk band and [air drums]," Goldberg reminisces. "So Mel and I talked about who we wanted to play with, and bounced a few names around when she asked, 'What about Katie?' I sent Katie a text and she replied 45 seconds later with, 'Yes absolutely!'" This resulted in a gloomy and hectic band, just as influenced by goth rockers the Cure of the '80s as it was by experimental no wave reformers, such as Sonic Youth a decade later.
The newest product of their creativity in the Secret Location is a currently unreleased 12-inch with Mormon Crosses. Recorded by Taylor at Nite Prison underneath their own jam space, it showcases a year worth of honest communication and collaboration. "We're all willing to tell each other if we don't like what they're doing, to offer suggestions," Gravestock says of their creative process. "No one gets insulted or offended and I think we end up writing way better songs. We build ideas until we're all really happy with our parts. We do have fake fights though."
The Secret Location has been DIANE's creative home for only six months, a well decided solution to their troubles with both of Renegade rehearsal space's locations. "We barely saw anyone at Renegade. They would stay in their rooms," Zee contrasts of her previous roommates, "This place is more of a community. People are always collaborating and talking about music, art, whatever." These collaborations include MT-40, Zee's debut on synthesizer, and a new recording studio set up by Reginald Bowls and Adam Cathey. Yet there's little more reason to stay than the simplest passions, as Zee summarizes, "This is my second home, I'm always here. You can just sit around and hear amazing bands play."
_________________________
DIANE's EP Phantoms is out on Green Burrito records now. Catch them at Pat's Pub for their tour fundraiser July 6, with Defektors, N213, Group Visions, and Mormon Crosses.