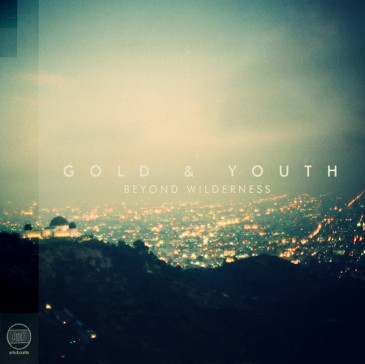 Dance music and post-punk never really sat together that easily. The dourness of the latter often gets the better of any impulsiveness of the former.
That said, Gold & Youth's full-length debut, Beyond Wilderness, splits the difference. It plays out like a reluctant dance album, invoking imagery of club dance floors in the woozy hours when few remain. The mood is similar to the retro-nostalgia of Chromatics' Italo-disco or the movie Drive's glossy aesthetic. It spurs a cathartic kind of movement coming from a state of comfort and weariness.

Musically, the focus of Beyond Wilderness is texture. All of Gold & Youth's elements wash together into a seamless stroke where foreground is background and vice versa. Coruscating guitar lines shine through thickets of synths while the gothic croons of Louise Burns and Matthew Lyall float just above the surface.
Occasionally the main vocals sink into the glaze as means of concluding songs (see "Come To Admire" and "Time To Kill"). Other standouts include the instrumental "Cut Lip" and the single "Jewel," in which the beat works to surge the dense layers of melody and texture forward. Beyond Wilderness is successful because the mix provides clarity and space for each element in the finely crafted sonic tapestry.
Taken as a whole, Beyond Wilderness is a trial of reconciling the disparate. It is equal parts pop melody and ambiance, contemporary instrumentation and classic band form, optimism and resignation. Burns sums it up just before she soars into the chorus of "Jewel": "I thought I saw a place I'd never seen before / It opened up my arms and opened up my eyes / Once more." The song's speaker then gives in to doubt: "Oh, God, will someone tell me what am I to do? / Down on my knees, nothing to lose."
As the title and cover art would suggest, Gold & Youth are combing through the synthetic world for something real. Even if they doubt they found what they're looking for, it sure sounds like they did.