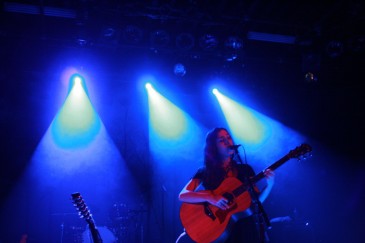 Walking into the Commodore Ballroom, escaping the Sunday gloom, there was a small crowd huddled up front as folk songstress Marissa Nadler tried to get the attention of the remaining chatty audience. The heavy reverb layered over her soprano vocals was at times rather captivating. There was a Joan Baez aura about her with her elongated vocals and long brunette locks falling down to her acoustic guitar. But the crowd was split. They must have found her acoustic set either just plain boring or angelically transcendent. Nevertheless, she was extremely gracious and was memorable enough to motivate a quick Google search the next day.

Headliners, Scottish twee-pop group Camera Obscura, have been around since 1996. They've garnered a devoted fan base consisting of bookish teens and hopeless romantics, earning comparisons to bands such as Belle and Sebastian. On tour promoting their fifth studio album, Desire Lines, Camera Obscura is certainly the type of veteran act that could have gotten away with playing a down-tempo and despondent show, especially after the opening set which seemed to suggest it would go that way. However, the show couldn't have been farther from that.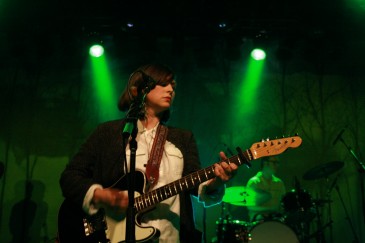 Opening with radio friendly single, "Do It Again," and two more danceable pop numbers, "Break It to You Gently," also off of the new record, and an older favourite, "Let's Get Out of This Country," the band of 17 years managed to sound delightfully fresh and vibrant. Bodies were moving and their upbeat hip shakin' tunes were so addictive that each member of the seven-piece ensemble couldn't help but move and shuffle their feet as well. Front woman Tracyanne Campbell, looking all demure, classy, and pregnant (she actually is pregnant) sounded completely effortless with her soft, melancholy vocals. For a voice so delicate it never was lost amongst the keyboards, guitars, percussions, or trumpet.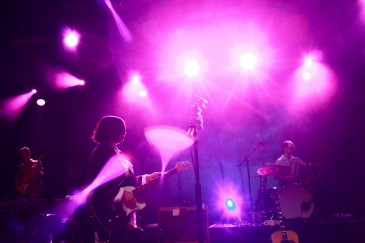 Throughout the night Campbell's guitar had technical issues, but instead of becoming a cringe-worthy distraction or misstep, it just made way for some funny stage banter. Around mid-point in the set she traded her electric for an acoustic and jokingly apologized that they would have to now play some mellower tunes. It was a tender moment, hearing in perfect clarity the heart melting lyrics of tracks like, "James" or the soul soothing pedal steel of "Desire Lines."
Capping off the night fans got to hear crowd pleaser "French Navy," and perfectly chosen closer, "Razzle Dazzle Rose." Both numbers featured the trumpet that had been sitting on the stage the whole night, itching to be played. It was definitely the star of the show during the last moments of "Razzle Dazzle Rose" as the band hammered on their instruments and that trumpet melody hovered gracefully over everything. Soaking in each little note as the band roused to a finish, the adoring audience couldn't have felt more satisfied. If only Camera Obscura could
warm our hearts every dewy Sunday night.