Carried inside pockets and backpacks, the day's heat lasted past sundown at Antisocial skateboard shop on July 12. In an atmosphere endorsing more than Etnies, the 50-person crowd stood by a wall tiled with skateboards, waiting for the first band to begin. Indeed this show was just right for the seasonal music fan; a biking destination, a post-sunburn spot to drink cold beer, and above all, somewhere to get sweaty listening to amazing music.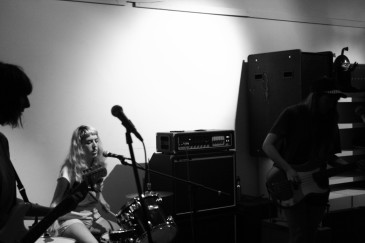 Appropriately casual and clad in sneakers, the Courtneys played first, filling the room with a busy, strumming vibrance. Stringing lyrics and drum beats, Jen Twynn Payne's fuzzy reverb charge led the group and the band created a series of quick and scratchy sound waves; three hilly lines overlapping like a grungy pulse chart.

Their final song differed from the previous, with its clearer instrumental and vocal components. It was a cover with the chorus chanting, "walk away, walk away," and regardless of the original version, the Courtneys played the song enticingly, a sound worth chasing.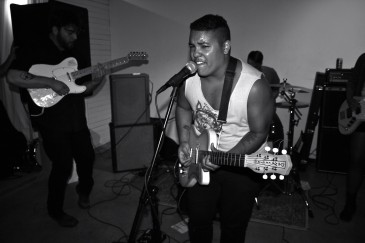 Next came the post-punk rush of Lethbridge's Fist City, Kier Griffiths lyrically interjecting any space not consumed by heat. Performing a series of short songs, most stood structured by a guitar riff that seemed to hone in head bobbing while the drum beat moved in a quick, supporting march. Rather than a blurring collective, each instrument was defined so attention could slip between intricacies in a single song. Combined with one-syllable singing, Fist City vocally punctuated their well-handled punk melodies. The set was a fun and energetic dash.
Calling the show to a close, Needles//Pins delved into their set of polished and appropriately coarse garage-punk tunes. Macey Budgell's tight drumming on "Pulse," the second song in, paired nicely with a stop-and-start guitar riff. Continuing on from their latest LP, 12:34, the trio played "Best Friend," "Drop It" and "Green Eyed."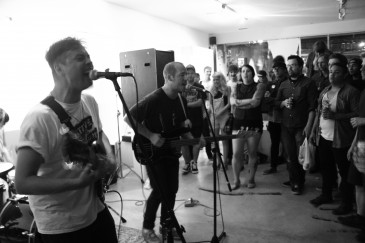 Amplifying that attitude, frontman Adam Solomonian's contagious charisma, head-bobbing and showmanship was a reminder that when it comes to music, performing is half battle. Nearing the end with "Shaker," Budgell ushered in listeners with a catchy beat, simple and iconic as the X-shape of her arms while drumming.
They closed with "Hale Bop," and charged by pleas to, "Take me / take me / take me / take me away" and a "ba ba ba ba ba" chorus backed by Tony Dubroy on bass and vocals. Bouncy, with dark buoyancy, it was an ideal end to an entertaining set, and left the audience hoping that, like the hot weather, shows like this will be forecast with more frequency.