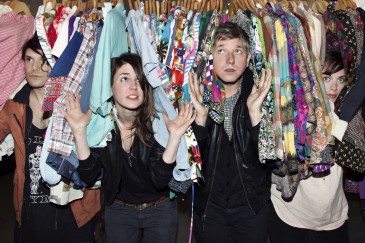 Nearly mid-June and pissing rain outside. Typical Vancouver, but for Mint Record's Hot Panda there are no dampened spirits because of the crummy weather, even after just returning home from a fun-filled two month European tour. They were in Barcelona a mere week before sitting down with Discorder. Though likely jet lagged and longing to bask in the sun again, all four members of Hot Panda cozy up at a local café, eager to talk about their upcoming album Go Outside, their dream music collaborations and finally, who would reign supreme in an ultimate panda showdown.
Chris Connelly (vocals, guitar), Maghan Campbell (drums, vocals), Catherine Hiltz (bass, vocals) and Heath Parsons (guitar, keyboards) are the four-piece eclectic group. Praised for their original mash-up of just about every genre you could think of, the band's third album, Go Outside, surprisingly reveals the band's more focused side.
"It is the least eclectic record that we've done, but the songs are a little more interesting just themselves," says Connelly. "They don't need as many tricks, I feel. With a lot of our other songs it was almost like to make it more interesting we'd just switch it off in a crazy different direction… this time, things are a little more subtle and more thought out. The songs themselves are richer without having to throw in a bunch of curve balls."
The result is a gritty, rock-pop album laced with funky bass lines and spastic David Byrne-inspired vocals. With a satisfying balance of bouncy dance tracks and mellower sonic blisses like the beautiful outro song "Boats," Hot Panda find their stride without relying on crazy genre changes or audacious lyrics like in "Fuck Shit Up/Hell Hey Hex," from their sophomore album, How Come I'm Dead?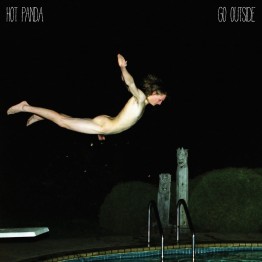 But don't worry. Hot Panda still makes music they want to make, they haven't lost their charming spontaneity and ability to surprise fans. Just take a look at the album cover. The photo, taken by local photographer and Discorder-contributor Robert Fougere, is eye-catching, to say the least.
"Present yourself and who you are out there to the world. That's a pretty good image to represent that idea. Just a guy jumping buck naked into a pool," Connelly says. But who is the naked dude on the cover? Turns out to be a friend of a friend. "I don't know if I could ever get to know him now," says Connelly, amused at the idea of seeing him in person. "It would be weird… I know what his penis looks like."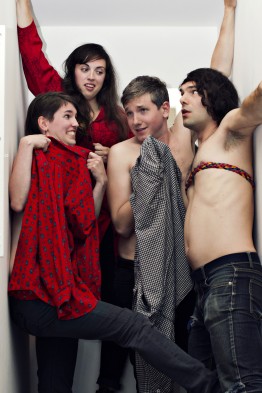 Hot Panda are a touring machine and have been on the road with an array of bands ranging from the Von Bondies to Art Brut. It made us wonder who'd they like to collaborate with. Parsons instantly suggests Flo Rida, which Connelly enthusiastically agrees with.
"Yeah it'd be great to have him guest on something. We'll [also] get Nicki Minaj on the track." Hiltz opts for the Beatles and Radiohead, creating a super-group collaboration, whereas Campbell, who contemplates for the longest, finally says Iggy Pop.
"He does some bad collaborations now though," Connelly points out.
Campbell shakes her head, "No, no it wouldn't be now. It would be Iggy Pop in the seventies. We'd transport ourselves."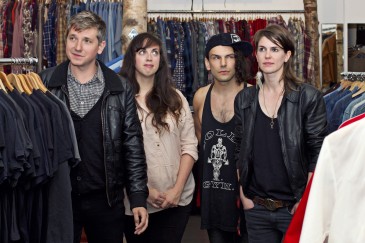 As eclectic as their sound, the members of Hot Panda draw inspiration from all sides of the musical spectrum. They embrace eccentricity and like doing things differently. They had their very own brand of hot sauce (apparently there may be one case left somewhere in Olympia, WA) and had a personalized food blog. Right now they've got a travel blog going where you can read about their tour and how Campbell managed to fall into River Esk in England, twice.
So as the afternoon comes to a close and coffee mugs are emptying, the interview ends with a question we thought the band would appreciate. Who would win in a panda fight: A) Hot Panda B) Gold Panda or C) Kung-Fu Panda?
"Everybody dies," Parsons says confidently. "Hot Panda on fire, lights the other two pandas on fire." Not everyone is convinced though.
"Wait. Are you talking about actual pandas or us fighting the band Gold Panda?" asks Connelly. "Because Gold Panda is just a DJ. We could take him."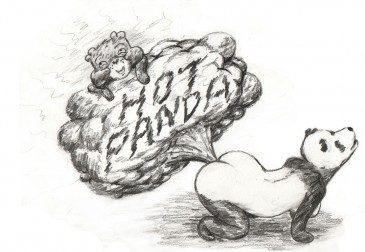 After some clarification and then careful consideration, Connelly has the answer, "Actually, pandas have a really tough time mating. They have to be shown like, panda porn, so they know how to do it. So I think if you actually had a panda that was hot and ready to go…"
"Yeah, Hot Panda would just have sex with Kung-Fu Panda," Parsons adds, "and then Kung-Fu Panda wouldn't want to fight anymore. They'd just have babies and fall in love."
It was settled. Hot Panda wins. And finds a romantic companion.
So whether it's a panda with flames, a super sexual panda, or a talented, energetic quartet from Edmonton (with an infectious sense of humor to match) one thing is for sure — Hot Panda comes out on top.