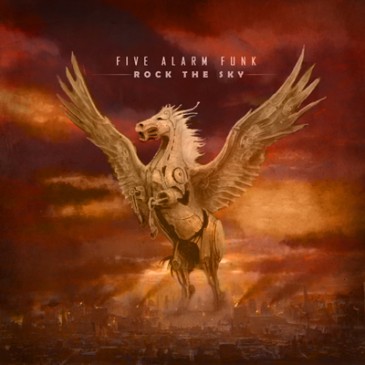 Rarely does one encounter an album with a cover which accurately matches the music contained within. A giant mechanical pegasus towering above a burning city can easily be described as fantastical, powerful, evocative, exotic and above all: epic. Five Alarm Funk's Rock The Sky is all these things and more.

This is the fourth release from this local 10-piece unit whose unique blend of funk, Latin, jazz, and progressive rock is a force to behold. Along with the staggering level of musicianship from every member, the group also has a sense of humor, particularly on "The Critic," in its sassy comic interplay between the group and a snobby music writer.
"The Iron Pegasus" is as aggressive as the title suggests, featuring some blistering guitar work by Gabe Boothroyd and Oliver Gibson who succeed at channeling the dual guitar ferocity of Iron Maiden's Adrian Smith and David Murray. "Mastodon" rides a driving Latin groove and showcases the group's incredible horn section, particularly Kent Wallace on trumpet.
The only flaw in Rock The Sky is that the extended, jam-based nature of a majority of the songs means that a few of the tracks tend to blend into one another. This, however, is only a minor criticism, as Five Alarm Funk are an absolute joy to listen to thanks to their boundless creativity and jaw-dropping musical virtuosity. Rock The Sky will rock you senseless.